If you're in the market for a plastic couch cover, you may be wondering if they are all scratch-resistant. The answer is… it depends. Some plastic couch covers are more scratch resistant than others. It's important to choose one that will protect your furniture from scratches and other damage.
In this blog post, we will discuss the different types of plastic couch covers and how well they resist scratches. We'll also give you some tips on how to protect your furniture from damage.
How To Choose a Scratch-Resistant Plastic Cover For a Couch?
Choosing a scratch-resistant plastic cover for couch is an important decision. When looking for a protective covering, it's important to consider the materials used in the construction of the plastic as well as its level of resistance to scratches and scuffs.
Some cheaper plastics can be quite easily damaged by even slight abrasions, while other more durable materials stand up well against repeated wear and tear from everyday use.
The first consideration is whether you need a cover that is scratch-resistant or not. If your couch tends to get scratched often, then it might be wise to opt for a scratch-resistant plastic cover. This will help to protect the upholstery of your couch from unwanted damage and will ensure that your furniture lasts longer.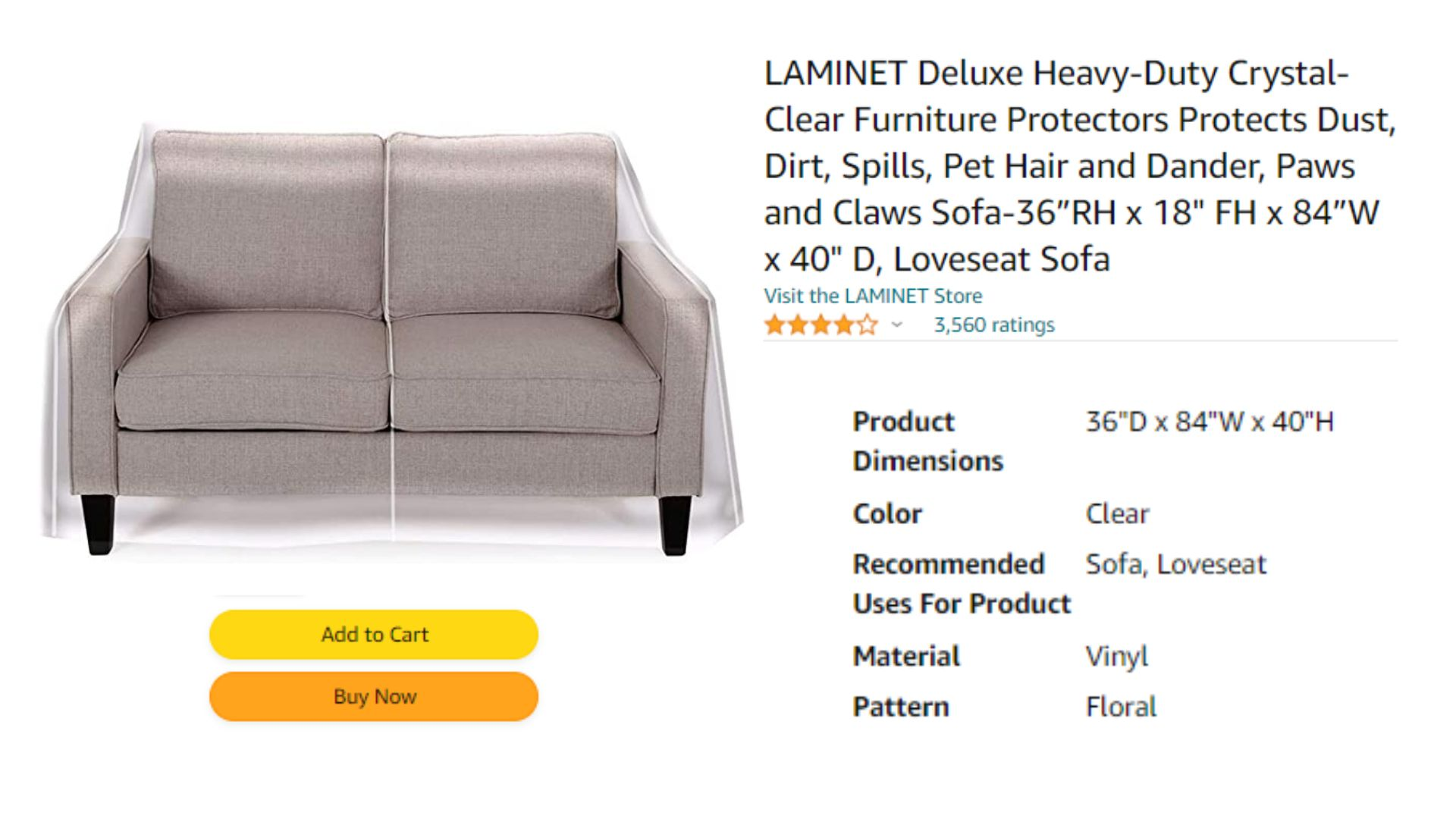 Another important factor to consider when choosing a plastic couch cover is size. How large is your couch, and do you need any accessories to go along with your new plastic covering? Make sure that you choose a plastic cover that fits well around the edges of your couch, so it won't cause discomfort if left in place for long periods of time.
Additionally, try to find a cover that comes with accessories such as clips or ties, which will make it easier to fasten securely around your furniture.
When deciding on a plastic cover for your couch, be sure to invest in a quality product from a reputable brand. Cheaper covers may not be as durable as higher-quality options and could potentially crack or split over time, which would only lead to more scratches on your furniture.
By taking the time to research reputable brands and consult with professionals about their recommendations, you can select an excellent plastic cover for keeping your furniture safe from scratches and other scuffs.
One of the best brands of plastic couch covers that are available in the market today is the LAMINET Heavy-Duty Crystal-Clear Furniture Protectors. LAMINET plastic couch covers are designed to be highly durable and scratch resistant. Made from a tough, high-quality vinyl plastic material, these covers can withstand regular use without bending, tearing, or scratching.
Unlike other products on the market, the cover is made from durable vinyl material with seamed edges that helps it stay in place without shifting or bunching up. The smooth surface of the cover is also easy to clean, whether by hand or with a damp cloth. And unlike other products, LAMINET covers are not manufactured using any kind of powder coating or adhesive, which means they won't leave behind a mess when you remove them.
Whether your couch is used daily for watching TV or frequently subjected to the pets and children in your home, LAMINET plastic couch covers can provide the perfect level of protection. And thanks to their sleek and stylish design, they will not only shield your furniture from damage but also enhance its overall appearance.
This plastic wrap couch cover is a great solution for protecting your furniture against stains, damage, and wear and tear. The smooth surface of the cover is also easy to clean, whether by hand or with a damp cloth. One of the reviewer says, "These covers are wonderful to keep your furniture clean especially if you have pets. They are easy to clean and last long."
With a size of 36″D x 84″W x 40″H, ensuring a snug fit over any standard size couch. Additionally, this cover comes in a variety of styles to match different decor needs and preferences, including dining room chair seat, all-over dining room chair, armchair/recliner, loveseat, large sofa, and elastic oblong/oval table.
So if you're looking for reliable furniture protection that will stand up to even the toughest wear and tear, consider investing in LAMINET plastic couch covers today.
How Well Does Plastic Couch Cover Protect Couches Against Scratches?
When it comes to protecting couches against scratches and stains, plastic couch covers are a popular choice. These covers are typically made from durable materials such as vinyl or polyester and come in a variety of styles and thicknesses to suit different types of furniture. While these covers can certainly help to reduce the risk of damage to upholstery, their effectiveness ultimately depends on several key factors.
For one, the type and quality of the fabric being protected will play a major role in determining whether couch plastic cover is able to protect against scratches. Additionally, how well the cover is fit over the couch will affect its overall ability to prevent damage.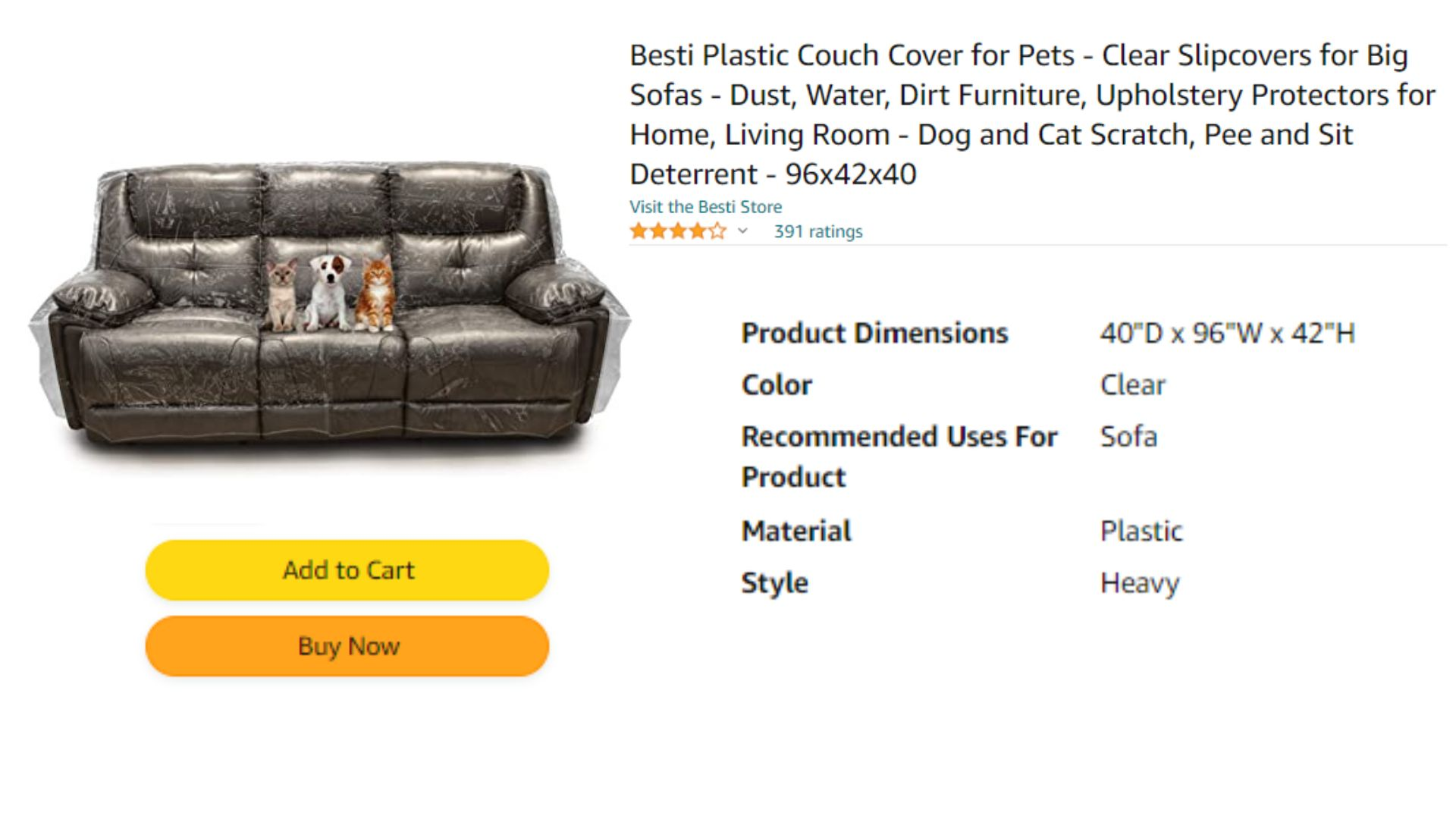 Ultimately, when it comes to protecting your couches from scratches, the best safeguard is likely still vigilant care and maintenance. But with a high-quality plastic couch cover in place, you can rest assured that your furniture will be well-protected against the most common stains and scratches.
Whether you have a playful kitten or an energetic puppy, one thing is certain: your furry friend can be hard on your furniture. To protect your sofa from scratches, fur, and stains, it is important to use a heavy-duty slipcover that is both durable and easy to clean like the Besti Plastic Couch Cover for Pets. Made from heavy-duty vinyl plastic, our vinyl slipcovers are able to withstand years of wear and tear.
Unlike other colored couch covers, they are see-through, making it possible to still appreciate the texture and details of your sofa or couch. With their durability and versatility, our vinyl slipcovers can transform your living room into a stylish space that is both practical and beautiful.
This plastic couch cover measures to 40″ in depth, 96″ in width, and 42″ in height, this scratch-resistant protector is designed to fit snugly over sofas of all shapes and sizes, providing complete protection all the way down to the base of the couch.
So if you're looking for a high-quality couch cover that can withstand even the toughest pets, look no further than Besti Plastic Couch Cover for Pets!
What Plastic Couch Cushion Covers Prevent Dust and Pollution?
Plastic couch cushion covers are often overlooked when it comes to protecting our homes from dust and pollution. While these covers do not completely eliminate dust or pollution from the indoor environment, they can help to reduce the accumulation of these substances over time. Plastic covers are typically made from a durable material that is resistant to wear, stains, and spills, helping them to stay free of dirt and debris.
They also create a barrier between cushions and other surfaces, such as furniture or draperies, which can become contaminated with dust and pollutants from outside. In addition, plastic couch cushion covers are easy to clean, making them ideal for households with allergies or sensitivities to indoor contaminants.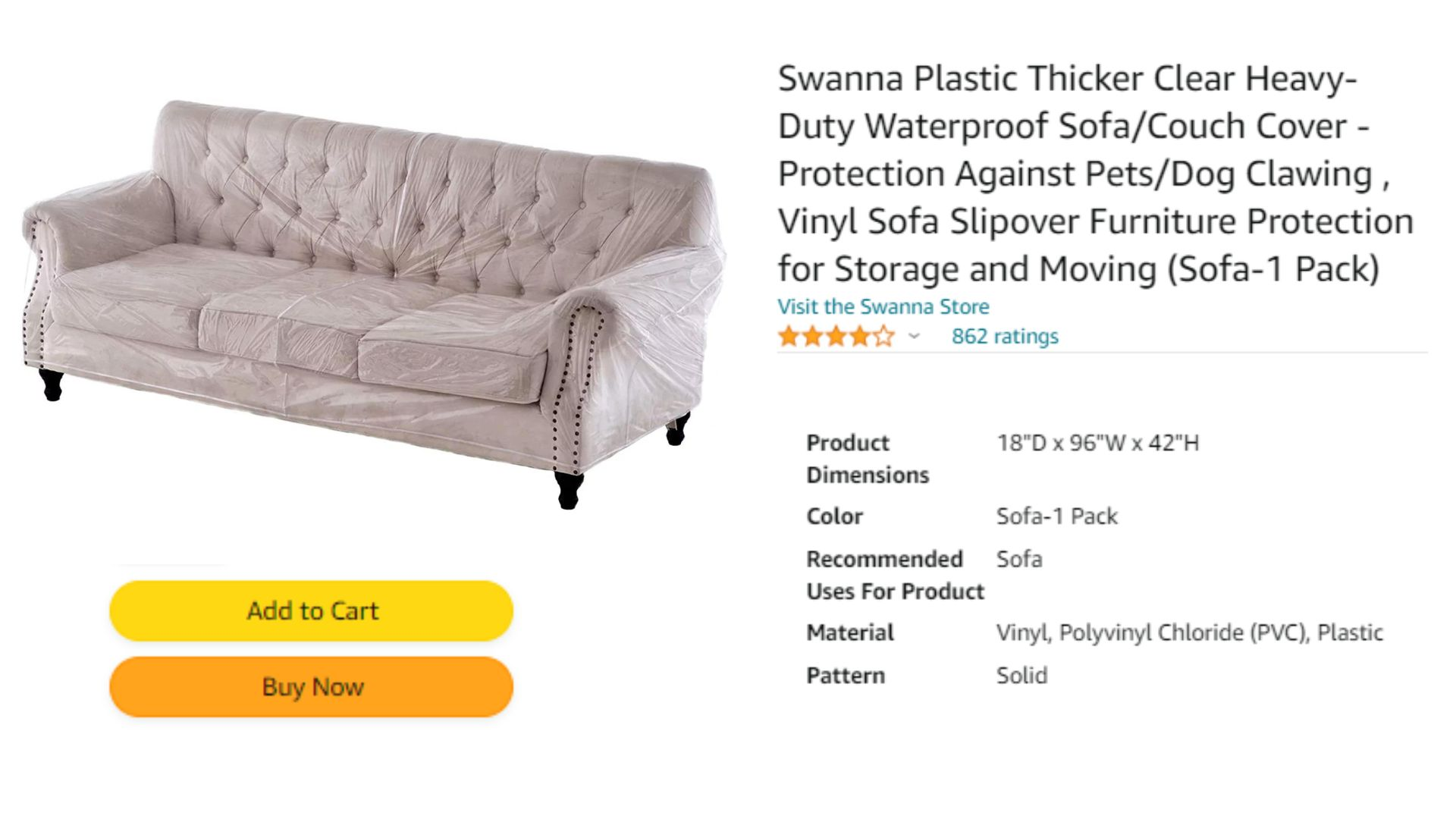 Overall, using clear plastic couch covers is an easy and affordable way to protect your furniture from potentially harmful environmental factors. So if you're looking for a way to keep your home clean and safe, consider investing in some quality plastic cushion covers today.
One of the best plastic couch covers that are available in the market today is the Swanna Plastic Couch Cover. Ensuring a clean and dust-free environment is crucial to protecting your health and well-being. After all, dust particles can cause a range of negative health effects, such as allergies and respiratory problems.
Swanna plastic couch cover is specially designed to protect against dust and pollution by forming a barrier between you and the couch, keeping harmful particles out of your living space. Made from strong and durable plastic vinyl material that is 0.15mm thick, this cover is designed to withstand even the most active pets.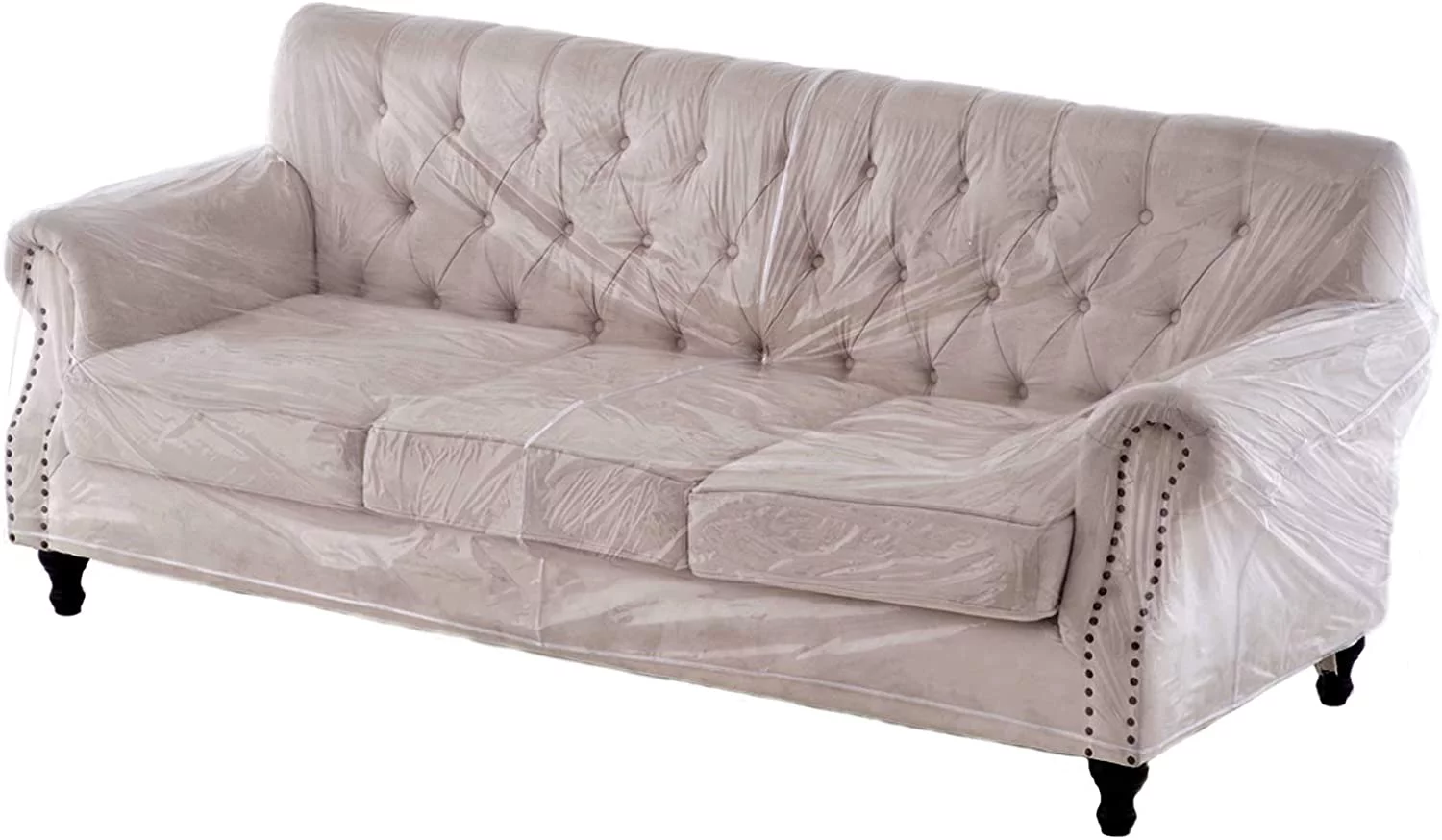 Not only is it waterproof and resistant to tearing and scratching, but it can also be easily disassembled and reinstalled when needed. One of the reviewers says, "Very pleased with the thickness of the plastic! Keeping my cat off the sofa!"
Measuring 18 inches deep, 96 inches wide, and 42 inches tall, this cover is designed to perfectly fit most standard couches and sofas. Its slim design also means that it can be easily stored when not in use. In addition, the soft yet durable material of this plastic couch cover protects against scuffs and scrapes while moving furniture, or during times when you need to store all or part of your couch temporarily
How To Choose The Right Plastic Couch Cover For Storage?
Choosing the right plastic couch cover for your storage needs is an important decision, as it is essential to select a product that will best protect your furniture from damage. When choosing a plastic couch cover for storage, consider factors such as the material and thickness of the plastic, as well as the type and amount of padding that comes with the cover.
When it comes to storing furniture during times of seasonal change or prolonged neglect, choosing the right plastic couch cover is essential. There are several factors to consider when shopping for couch plastic covers, including the type of fabric used in your current furniture, the long-term storage timeline and potential weather conditions.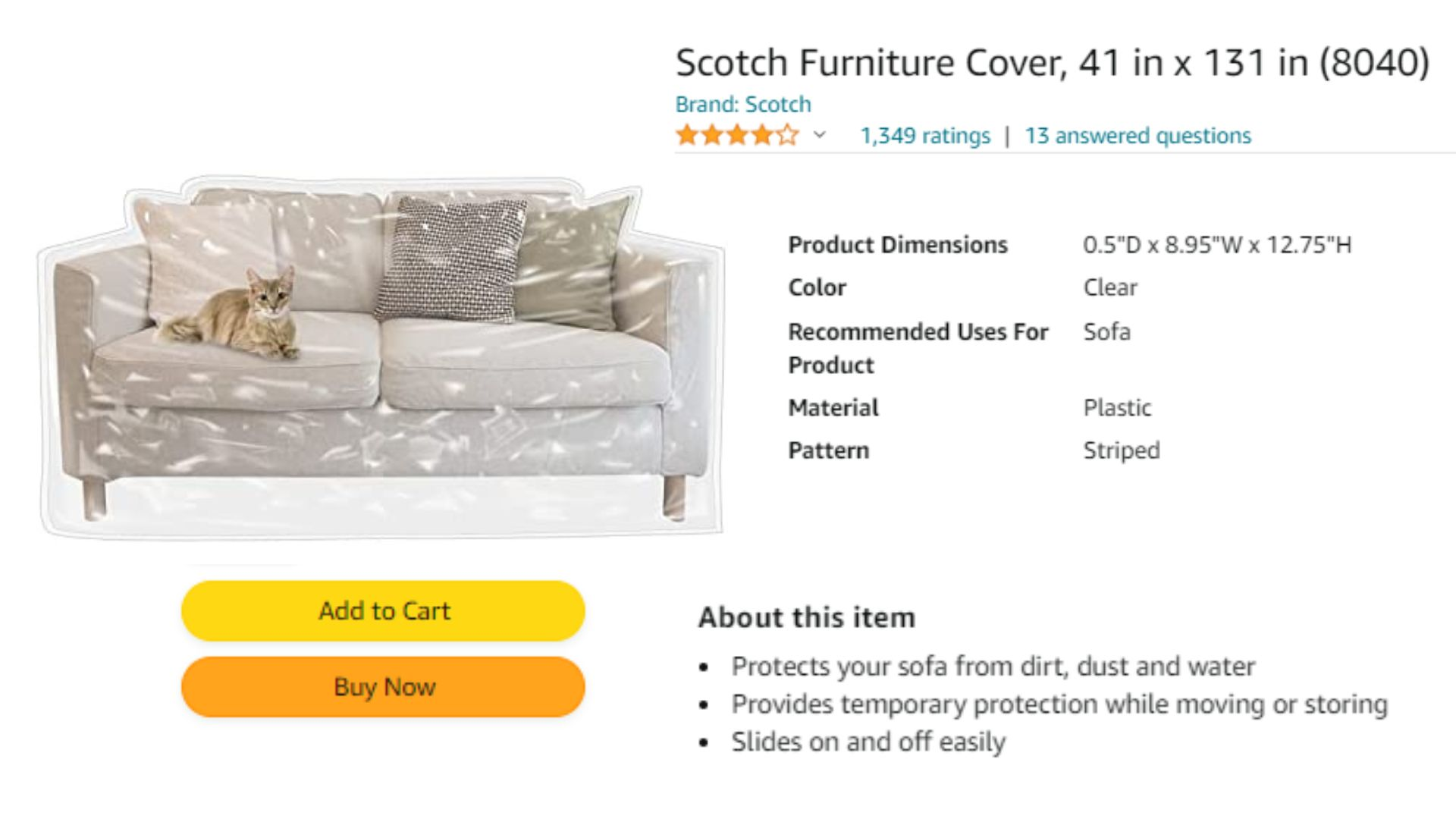 One important consideration when choosing a plastic covering for couch is the fabric used in your current furniture. Some fabrics may not be well suited for plastic covers, as they can trap moisture and cause damage over time.
Polyester and synthetic microfiber are two good options that are generally safe for long-term storage with a vinyl cover. If your current furniture contains natural fibers, such as cotton or wool, you may want to consider using a different storage method altogether.
Another important factor to consider when choosing a plastic furniture cover is how long you will be needing it. If the plan is to store your furniture during periods of emergency or unexpected change, like with a natural disaster or relocation, investing in heavy-duty waterproof covers should be your priority.
For shorter time spans or less severe conditions, lighter-weight covers that are still waterproof will likely do the trick. Finally, make sure to account for potential weather conditions where you are storing your couch; if there is a risk of serious heat or high winds where it will be stored, look for reinforced plastics that provide extra protection against these elements.
One of the best plastic couch covers in the market today is the Scotch Plastic Furniture Cover is the perfect choice for storing furniture and other large items. Not only does it offer heavy-duty protection against dust, dirt, and moisture, but it is also designed to be easy to use and to stay securely in place. One of the reviewer says, "This plastic cover was thicker than I thought from reading the reviews and it covered my sofa completely."
Whether you are looking to store a couch or an armchair, Scotch furniture plastic cover is the ideal solution for keeping your furniture in top shape throughout the year. With its sturdy construction and reinforced seams, you can rest assured that your valuables will be safe from damage during storage. 
What Are the Things to Look For When Choosing Plastic Couch Covers For Moving?
When looking for plastic couch covers for moving, there are a few key things to keep in mind. First, it's important to consider the material of the cover. Plastic is often a good choice because it is lightweight and easy to transport, as well as durable and able to withstand everyday wear and tear.
Additionally, if you are moving a large couch or other furniture that can be difficult to maneuver on its own, it's important to choose covers that will provide ample protection from scuff marks and scratches.
Another factor to consider when shopping for plastic couch cover for moving is the size. You'll want to find covers that fit snugly over your furniture without being too tight or too loose. This will help ensure maximum protection throughout your move, while also minimizing any uncomfortable shifting during transit.
Finally, be sure to look for high-quality materials and strong seams when selecting your plastic couch covers, as this will help prevent damage over the course of your relocation.
When it comes to moving your furniture, the last thing you want is your couch or other upholstered surfaces to get messy or damaged. Luckily, STARTWO Furniture Couch Covers are a great way to protect your furniture during even the most intense moving situations.
Made from 6-mil thick, tear-resistant polyethylene material, these covers are designed to withstand even the toughest conditions during moving or long-term storage. Whether you're renovating your home or simply putting your couch into storage for an indefinite period of time, these covers will keep your furniture safe and dry at all times.
Designed to be slightly longer and wider than other covers on the market, this cover is specifically designed to provide complete protection for sofas of various sizes. Whether you need extra coverage for long and deep sofas or simply want an extra layer of protection for your furniture, this cover has you covered. And with its durable construction and breathable material, your furniture will stay in top condition even during long-term storage or moving.
Additionally, they are easy to apply and remove, making them simple to use when you're on the go. So if you're in need of high-quality protection for your furniture while you move, STARTWO Furniture Couch Covers are your best option.
With their cost-effective design and long-lasting quality, these covers will help keep your furniture looking great no matter what happens along the way. And that's why they're perfect for moving!
How To Choose a Good Quality Clear Plastic Couch Covers?
Choosing a good quality clear plastic couch covers can help to protect your furniture from damage and spills. One important factor to consider when selecting a clear plastic couch cover is the quality of the material. You'll want to look for materials that are durable and tear-resistant, as well as ones that won't be yellow or easily get scratched or scuffed.
Another important consideration is the thickness of the plastic; thinner plastic may not be as effective at protecting your furniture, while thicker plastic may feel less comfortable and become hot in warm weather.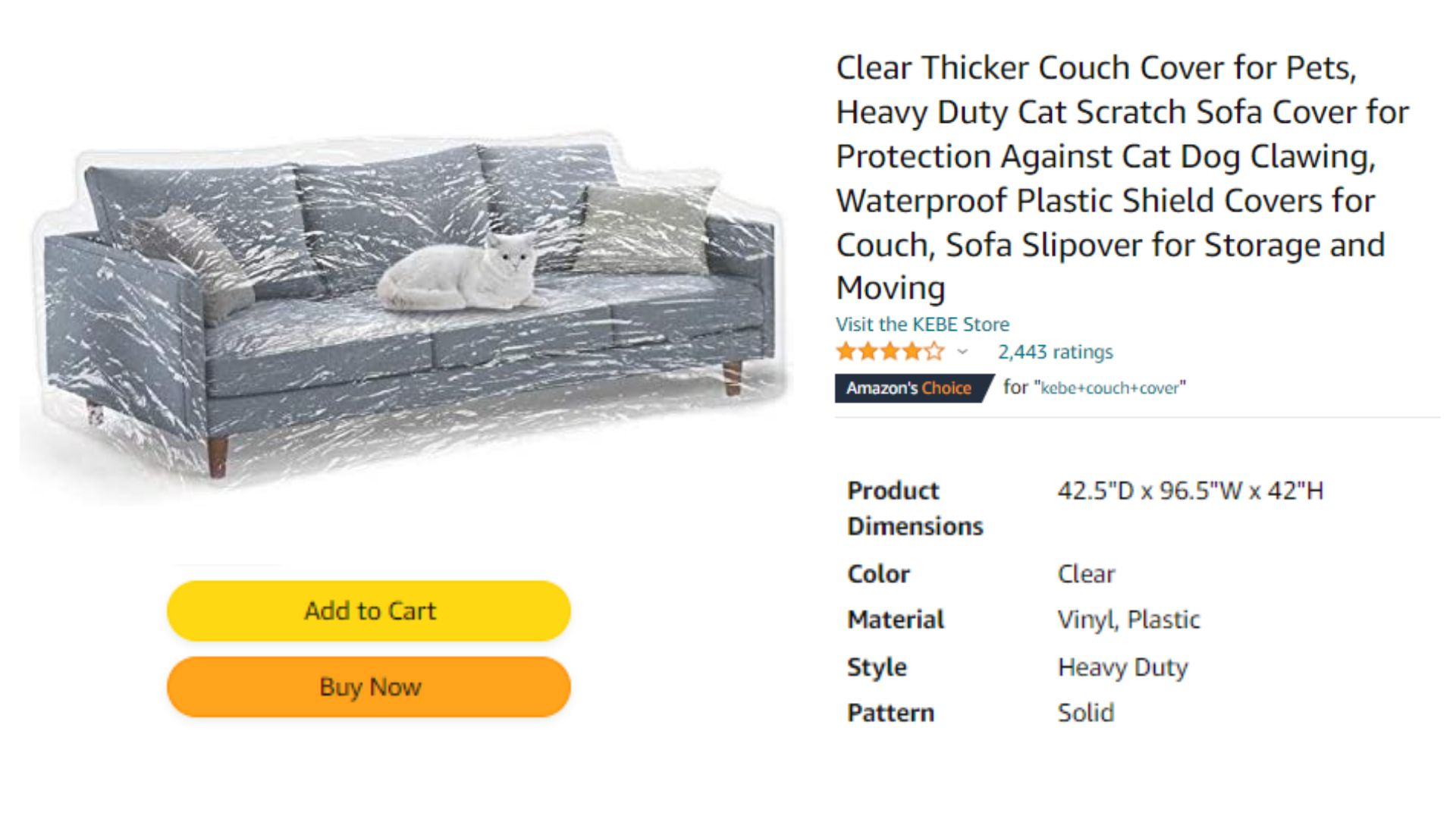 When choosing clear plastic furniture covers, it's also important to take into account the size and fit of the cover, as well as any additional features that may be beneficial, such as reinforced seams for durability or fabric panels along edges for extra protection against sharp edges on furniture legs. Ultimately, finding a high-quality clear plastic couch cover that meets all your needs will help ensure that your furniture stays looking great for years to come.
When it comes to plastic couch covers, there are many different options available. KEBE Clear Thicker Couch Cover is one of the best choices out there, thanks to its superior quality materials and design. Made from premium grade 0.17mm thick plastic, this cover is not only tear-proof and waterproof but also thicker than most other couch covers on the market.
In addition, it can be disassembled and reinstalled as needed, making it an incredibly versatile option. This protective material stands up well to wear and tear, helping to ensure that your plastic cover will last for years to come.
With dimensions of 96″W x 42″D x 42″RH, this cover is perfect for large or small sofas alike. Its elastic edges and dense stitching also ensure that it easily stretches to hug every curve and corner of your couch, providing optimal protection against everyday wear and tear.
In addition, KEBE Clear Thicker Couch Cover features all of the latest design trends and styles, giving you a wide range of options when it comes to deciding what type of cover will work best for your needs and décor.
So if you're looking for a top-quality plastic couch cover that offers superior protection along with unmatched style and versatility, look no further than KEBE Clear Thicker Couch Cover. You won't be disappointed!
Is a Plastic Couch Cover Must Have For Moving?
When planning to relocate, it is essential to take steps to protect your belongings from potential damage during the move. One item that many people overlook when packing and preparing for moving day is their couch. Furniture made of fabric or leather can be particularly vulnerable to dirt and scratches during a move, as well as exposure to possible precipitation caused by unpredictable weather conditions.
A couch plastic cover provides an effective solution for protecting your furniture from external factors during a move. These covers are easy to apply and remove, allowing you to simply zip up your couch for transport and unzip when you reach your new home. Additionally, plastic covers provide an added layer of protection against shifting or bumping that can occur during the transit process.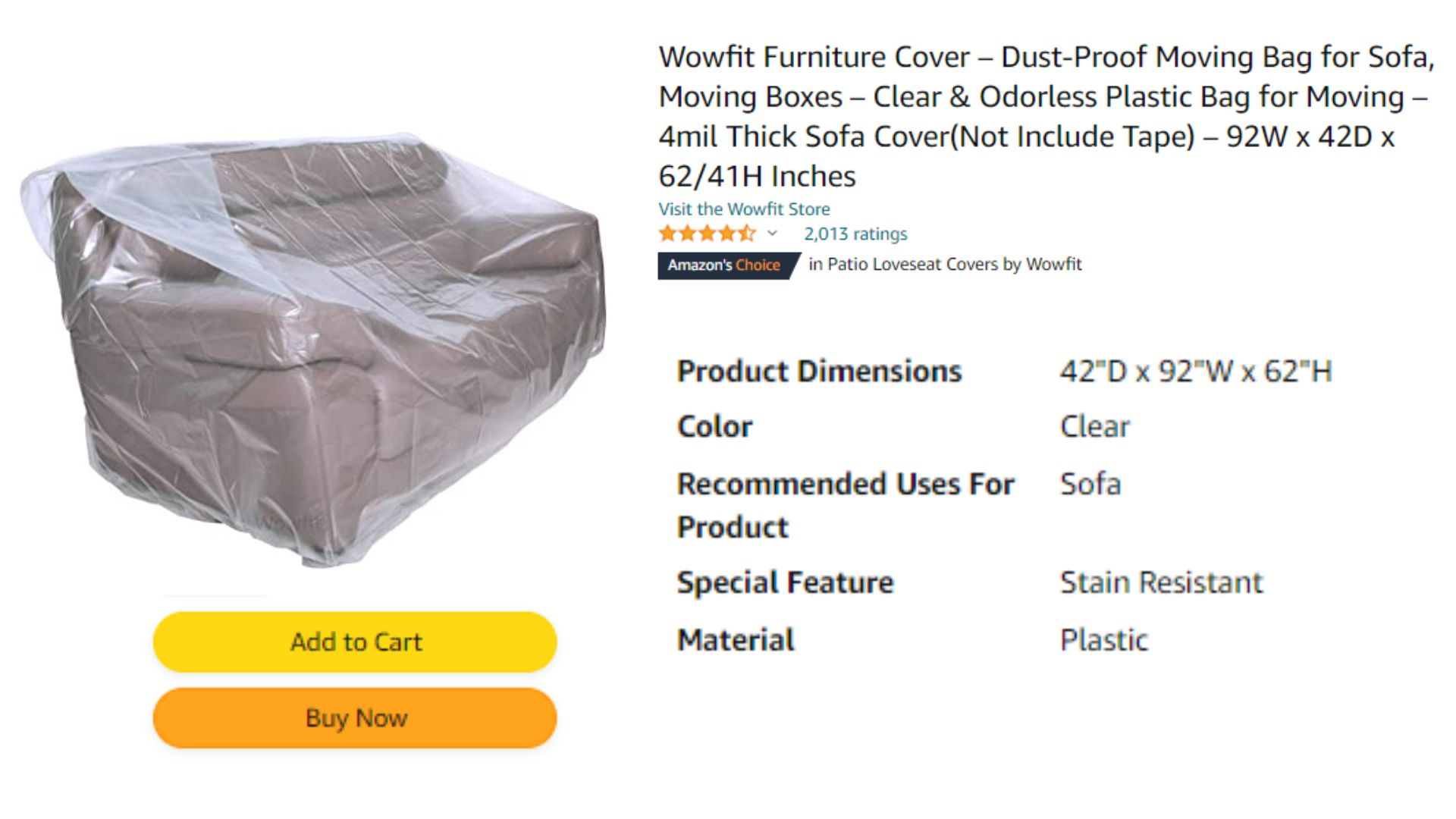 So if you're looking for a must-have accessory for any relocation, it's a sign to consider investing in a plastic couch cover to keep your furniture safe during your move.
Looking for a premium and heavy duty plastic couch cover to keep your sofa and other items well protected during moving? Are you planning on moving soon and are worried about the safety of your furniture and other belongings during the process?
Look no further than Wowfit Furniture Cover, the premium quality moving cover that is specially designed to protect your sofa, boxes, packages, and more from scratches, dirt, dust, moisture, and other potential damage during moving. This sofa bags does not have small holes like the mattress covers.
This large-sized cover is constructed from high-quality odorless plastic that is completely virgin material and contains no toxic chemicals or harmful additives. Its thick construction ensures durability and resistance to wear over time, making it a must-have for any successful move. One reviewer says, "I used it for moving, saved, and used to cover loveseat when painting. Still have it intact, ready to use again."
Designed to be a convenient and versatile furniture cover, the Wowfit Furniture Cover is perfect for protecting your sofa and other large pieces of furniture from dust and damage. Measuring 92 inches wide and 42 inches deep, this cover has a height of 62 inches when unfolded but can be sealed to cover smaller items like boxes, packages, and other furniture. 
How Important Having a Plastic Couch Cover When You Have Pets at Home?
Having pets at home can be a wonderful experience for many people, but it also comes with its fair share of challenges. One of the most common difficulties that pet owners face is keeping their furniture clean and free from pet stains and fur. This is especially true when it comes to sofas and other surfaces that are regularly in contact with our furry friends. Fortunately, there is a simple solution to this problem: using heavy duty plastic couch covers.
The benefits of using a plastic on couch cover are numerous. First and foremost, it acts as a protective layer between your furniture and your pets, shielding them from dirt and staining. Plus, not only does this is helpful to keep your sofas looking fresh and new, but it also makes cleaning up accidents much easier.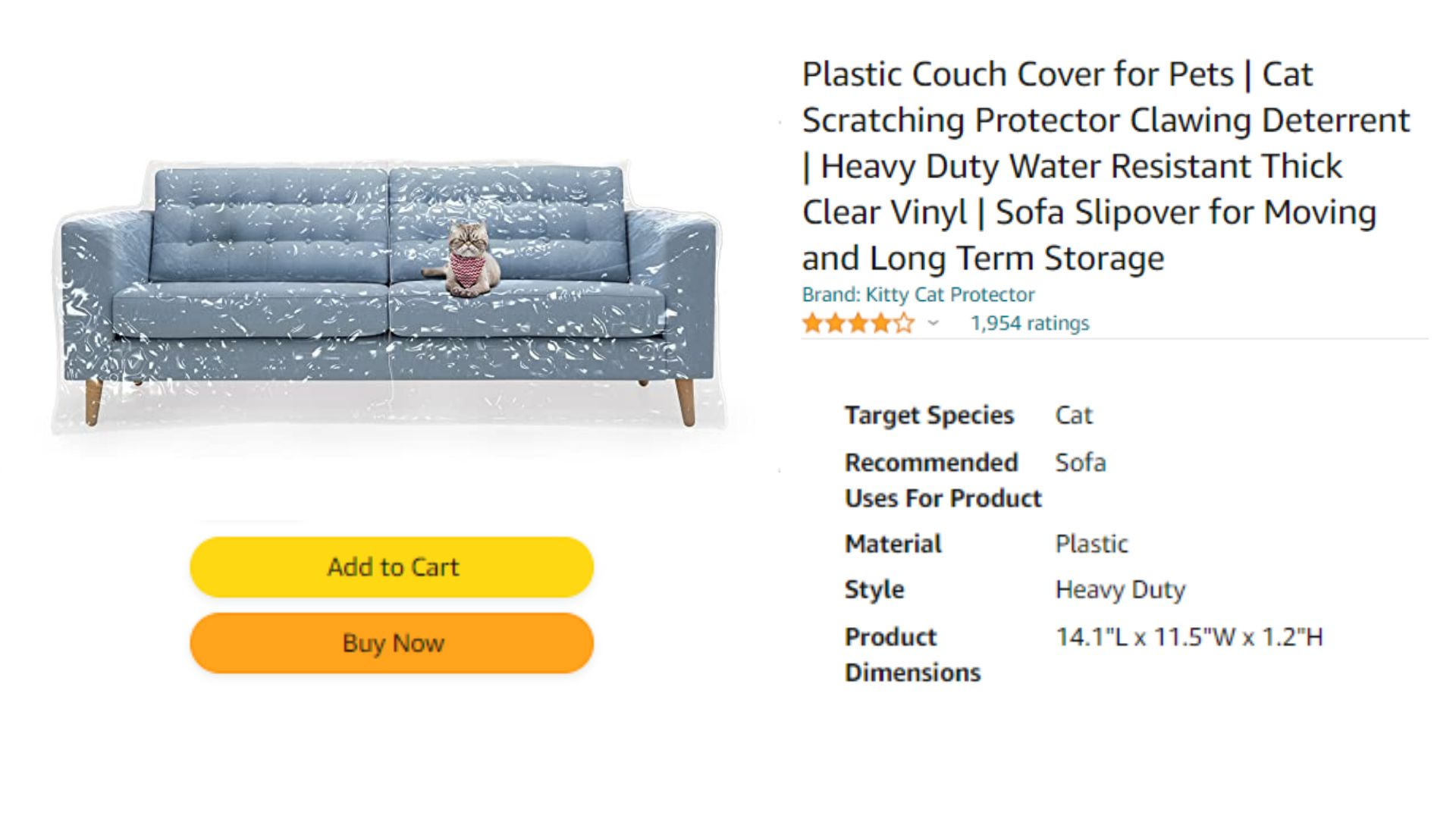 On top of that, using a plastic couch cover for pets helps to keep your furniture dry during muddy weather or wet days when your pets love to play outside. Finally, by protecting your couch from wear and tear over time, you can extend its life greatly by making occasional spot-cleaning immediate issues rather than having to deal with bigger problems down the road.
In short, having a plastic couch cover is one of the best ways to keep both yourself and your pets happy while also maintaining the quality of your furniture. One of the best plastic couch covers for pets is the Kitty Cat Protector Couch Cover.
This cover is made from strong, claw-resistant materials and features fold seams that are designed to keep your cat away. One of the reviewers says, "It's durable enough for cats and smaller dogs. Would buy again, and absolutely waterproof."
Made from durable materials that are easy to wipe clean, this cover provides an effective barrier against nasty odors and stains caused by cat waste. With dimensions of 96″ x 42″ x 18″, it fits comfortably over most sofas and is tough enough to withstand everyday wear and tear.
And thanks to its heat-sealed center binding, this cover is extremely strong and durable, providing long-lasting protection for your sofa against pet messes. So if you're tired of worrying about your furniture getting ruined by cat pee, look no further than this waterproof couch cover for worry-free sofa protection!
Thoughts
There is no easy answer to the question of whether all plastic couch covers are scratch-resistant. This is because different types and brands of plastic can vary widely in quality and durability, meaning that some may be less prone to scratches than others. Factors such as thickness, composition, and design can also affect how scratch-resistant a plastic cover is, making it difficult to generalize about their level of scratch resistance.
Ultimately, the best way to know whether a particular couch plastic covers can withstand scratches is to do some research on the specific brand you are interested in. Look for customer reviews or testimonials from those who have used that type of cover in the past. That way, you can make an informed choice about whether a particular cover will work for your needs and ensure that your furniture remains safe from damage.