You may be wondering why you would need to use plastic furniture cover when painting. Let me tell you – it's all about protecting your furniture! Whether you're trying to avoid paint drips or want to keep your furniture looking its best, plastic furniture covers are the way to go. They can help you get the perfect paint job every time.
How To Use Furniture Plastic Cover When Painting?
Painting furniture is an excellent way to spruce up your home and furniture. But if you don't want to ruin your furniture, it's essential to use plastic furniture covers when you paint them. Furniture plastic cover is a versatile and can be used for more than just painting projects. Not only do they protect furniture from spills or mistakes while painting and refinishing, but they also act as great dust collectors and keep furniture clean during the work process.
Beyond the practical aspects of furniture plastic covers, they also bring a bit of nostalgia with their stylish designs, transporting us back to a simpler era. And if you fear that the furniture plastic cover will detract from the design of your furniture, never fear! The covers come in various styles and sizes to fit all sorts of pieces. So with furniture plastic cover at your disposal, attain beautiful results without sacrificing your furniture – or stressing yourself out!
The STARTWO Plastic Sofa Cover is one plastic sofa cover that works best when remodeling or painting. The STARTWO plastic couch cover is constructed of a 6-mil thick, tear-resistant material that protects your couches while being transported and stored for an extended period. This couch cover's polyethylene construction makes it tear-resistant.
You can get the job done while relocating or renovating without worrying about how your couch covers will hold up throughout the project.
This plastic couch cover is substantially bigger than comparable goods on the market at 68′′ (Width), 42′′ (Depth), and 42′′ (Height). It has a double-overlap end flap and an expanded length to cover the entire sofa. Additionally, it is easy to clean and use!
One of the reviewers says, "Bought this plastic furniture cover while painting my living room, and I was very pleased with the results." During a move or home renovation, this will protect your furniture from dampness, smells, dirt, and wetness. maintaining the condition of your belongings even after painting!
How To Choose Plastic Sheets To Cover Furniture When Painting?
So you've decided to paint a room and want to cover the furniture with plastic sheets? Lucky for you, this is a great way to protect your furniture from drips, splashes, and spills without moving it all out of the way. However, selecting plastic sheets to cover furniture can be confusing since there are a lot of varieties on the market.
To make sure you choose the right plastic sheet protectors for the job, consider what plastic is best. Thick plastic with an anti-static agent is preferable, as it will help protect against dust and other airborne particles. Additionally, plastic that won't rip or tear too easily should be chosen so it can remain intact even if multiple layers are necessary.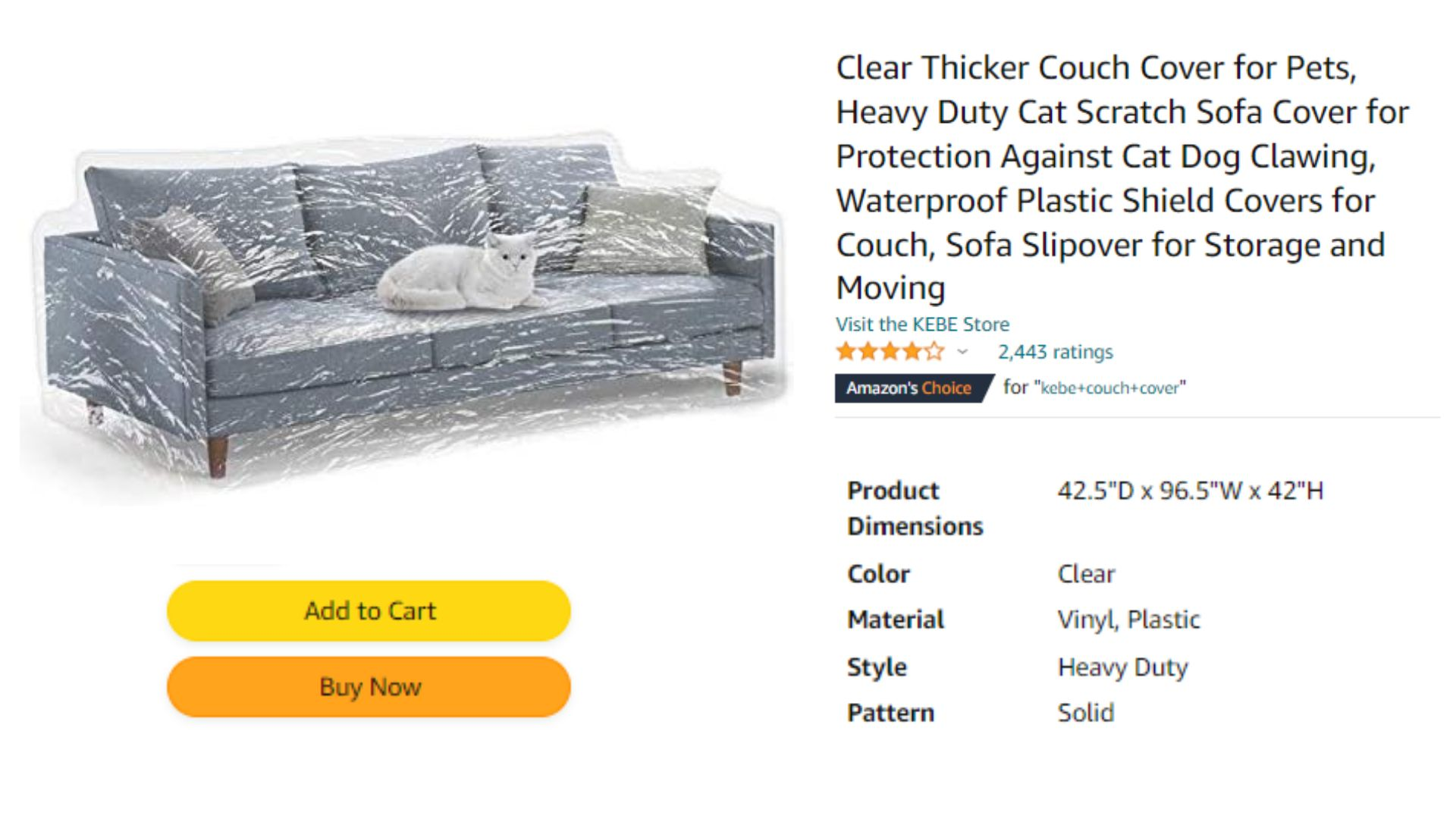 Finally, consider how long the plastic needs to stay in place: while plastic that's meant to be used just once may save you money in the short term, buying better quality plastic that can last up to two months or longer may save you time and money in the long run. With a bit of forethought and preparation, you'll soon have your furniture covered with plastic sheathing that will keep damages at bay–so go forth and paint in peace!
The KEBE Couch Cover is one of the best plastic sheets for covering widely available furniture. The best-quality, 0.17mm thick plastic is used to build this plastic couch cover. It is stronger, waterproof, and rip-proof. Additionally, you can recycle it by deconstructing it as needed and reinstalling it.
There are many reasons why KEBE clear plastic furniture covers are the best choice when painting your furniture. For one, they're made of durable plastic that will protect your furniture from paint spills and drips. Plus, they're easy to clean – wipe them down with a damp cloth after you paint. One of the customers and reviewers says, "The cover protected my furniture from paint splatters and drips, and it was easy to remove when I was finished."
So if you're looking for the best way to protect your furniture while painting, go with KEBE plastic furniture covers, you won't be sorry!
What Are The Benefits of Using a Plastic Cover For Furniture When Painting?
Are you in the middle of a DIY painting project and need a plastic furniture cover? Look no further – plastic covers have long been the unsung hero of dining room painters everywhere! By using plastic covers, you can protect your furniture from spills, dust, scratches, and sneezes.
You'll no longer have to worry about ruining your well-loved tablecloth or sheepskin throws. Plus, plastic covers make clean-up easier at the end of the day – fold up or roll the plastic cover for furniture and put it away with all the other supplies. Or better yet – if you don't want to bother folding it up, just cut through it and toss everything in the trashcan!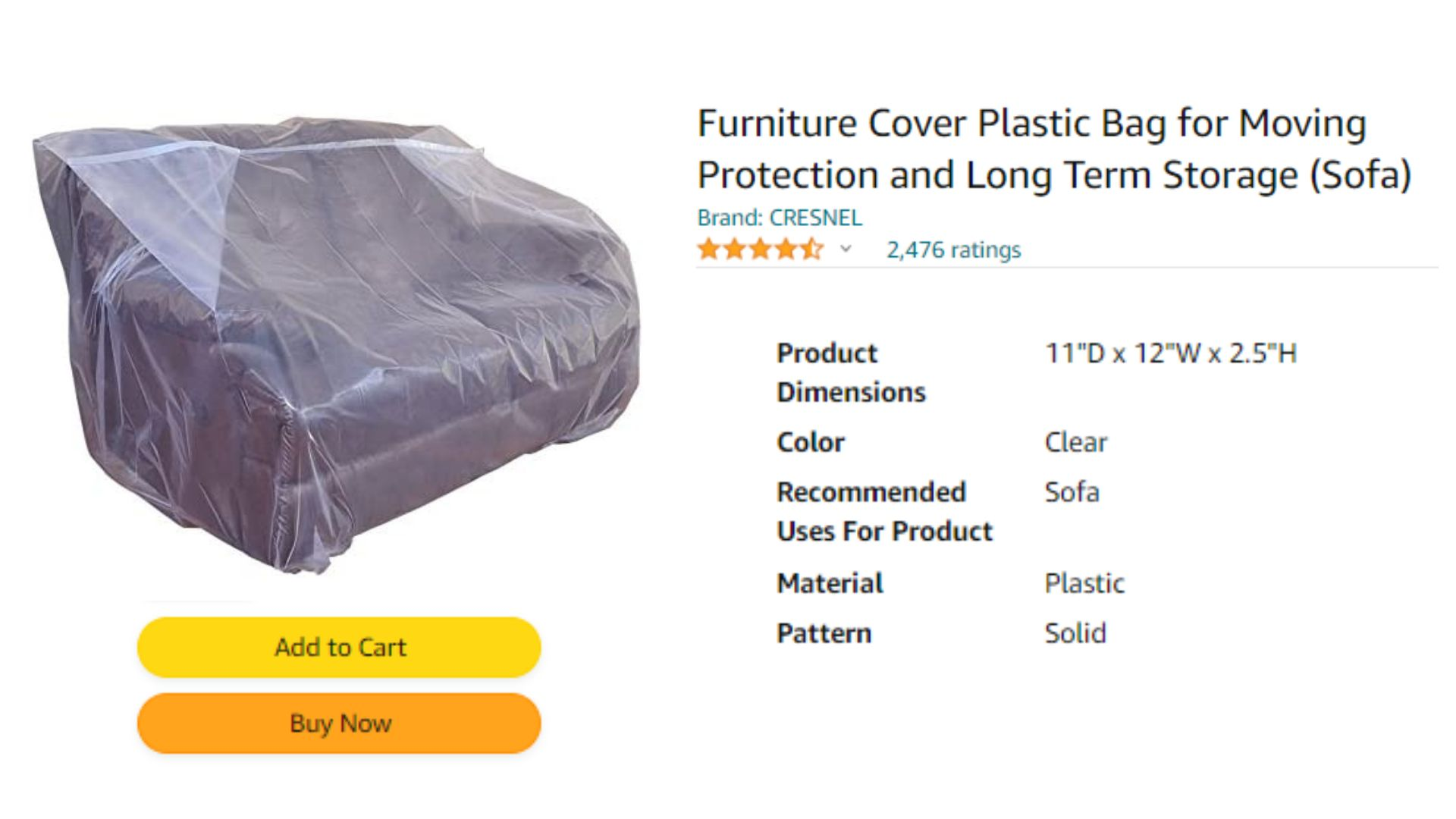 But on top of all these conveniences, plastic covers also provide some important protection for furniture when painting: they keep paint drips from latching onto wooden surfaces; they act as an extra barrier for dust particles, and best of all – plastic covers create a smooth surface which makes it much easier to achieve an even finish with your chosen color. So next time you need a furniture plastic cover – don't forget to thank it for its extra protection from paint splatters!
If you're looking for a plastic furniture cover that will stand up to the rigors of painting, then CRESNEL Furniture Cover is the way to go. Unlike cheaper covers made from flimsy plastic, CRESNEL is made from thicker, more durable plastic that will stand up to repeated use. And because it's clear, it won't obscure your furniture's finish, making it perfect for protecting your investment while you work.
According to one reviewer, "These couch coverings are fantastic. I could tell they were thick and high-quality once I opened them up. It helps me with my painting work!" Additionally, this sturdy furniture cover is really simple to use thanks to an incorporated elastic drawstring that secures it. So if you're looking for a cover that will keep your furniture looking good for years to come, CRESNEL is the way to go.
How To Choose The Right Plastic To Cover Your Furniture For Your Project?
When it comes to plastic to cover furniture for your project, there are so many choices that it can take time to pick the right one. Do you go with something light and airy? Or fluffy? Should it be clear, or should you choose something that is solid and will blend in nicely with your other decor?
What about eco-friendly plastic that is both safe and stylish? Don't worry – the answer may be simpler than you think! When deciding on plastic to cover your furniture, focus on finding a product with the right sizing options, a good fit so dust and debris won't get trapped underneath, and a thickness that offers maximum protection without losing its aesthetic appeal.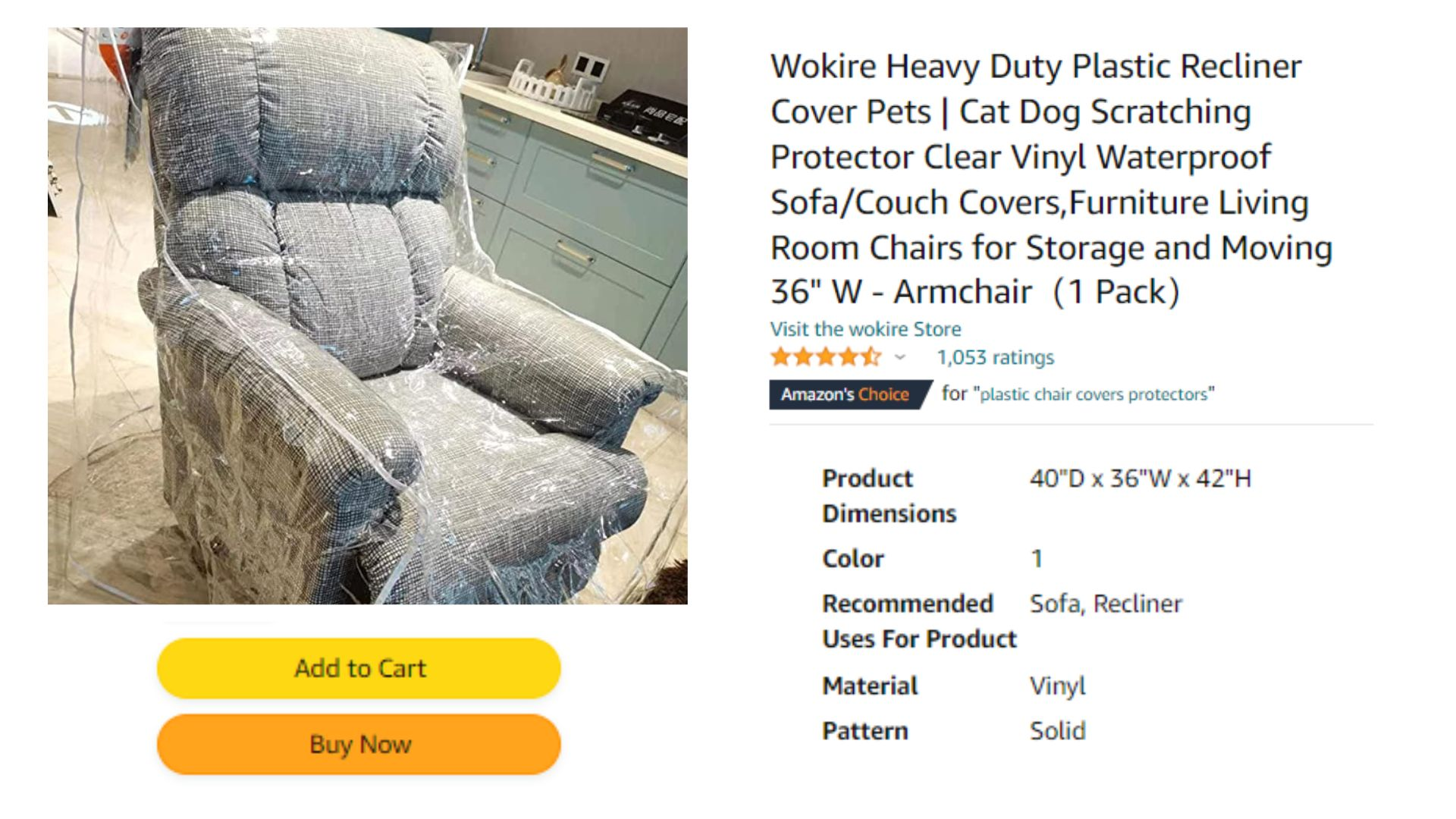 After all, your perfectly picked plastic should lead to an even better-finished piece! With these tips in mind, choosing plastic for your project should be second nature; or even easy peasy.
There are many It might be challenging to select the ideal plastic furniture cover for your particular needs because there are so many various varieties of these coverings available. The Wokire Heavy Duty Plastic Cover is top on the list.
Made with premium, long-lasting plastic that will shield your furniture from various possible risks, including moisture, dust, scratches, and UV radiation. When not in use, these covers may be conveniently stacked or rolled up, making them ideal for long-term storage and painting.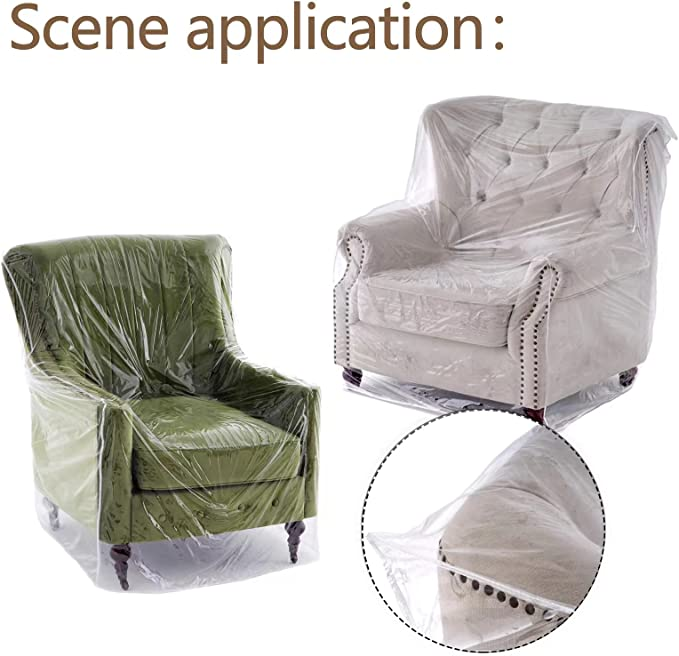 This plastic-covered furniture also has heat-sealed seams, which keep out any undesirable particles while preserving the cover's general strength and integrity. These transparent plastic furniture covers are perfect for shielding a chair when painting.
Additionally, it is reusable and easy to clean. You can easily fold it up and store it for later use if you decide not to use it straight away. Our robust, transparent clear vinyl furniture covers include transparent seams that seal the borders, making them fantastic plastic reclining armchair covers that will soothe your anxieties. They are also transparent, strong, and great for pet owners.
According to one customer, "This plastic furniture protector is a fantastic investment to keep your furniture safe when painting and is easy to put on and take off. It also saved me a lot of time cleanup. Wise investment!"
This 0.15 mm thick plastic furniture cover is perfect for protecting your chairs, sofa, recliners, and other furniture from dirt and stains. By selecting the best plastic furniture cover, you can help safeguard your priceless possessions and enjoy peace of mind for years to come.
How Effective are Plastic Covers in Prevent Paint From Staining Your Furniture?
If you've ever been in a situation where painting furniture was necessary, you may have been tempted to cover furniture with plastic to prevent paint stains. While it might seem like a logical solution, plastic covers may not be as effective as you think. Plastic isn't designed to seal out if the cover is too loose or not placed properly, the paint will seep right through it.
If any air gets trapped beneath the cover, then even small drips can create blisters in the cover and allow the paint to escape onto your furniture. Furthermore, some paints contain solvents that can actually melt through some plastics, making them completely useless at preventing stains.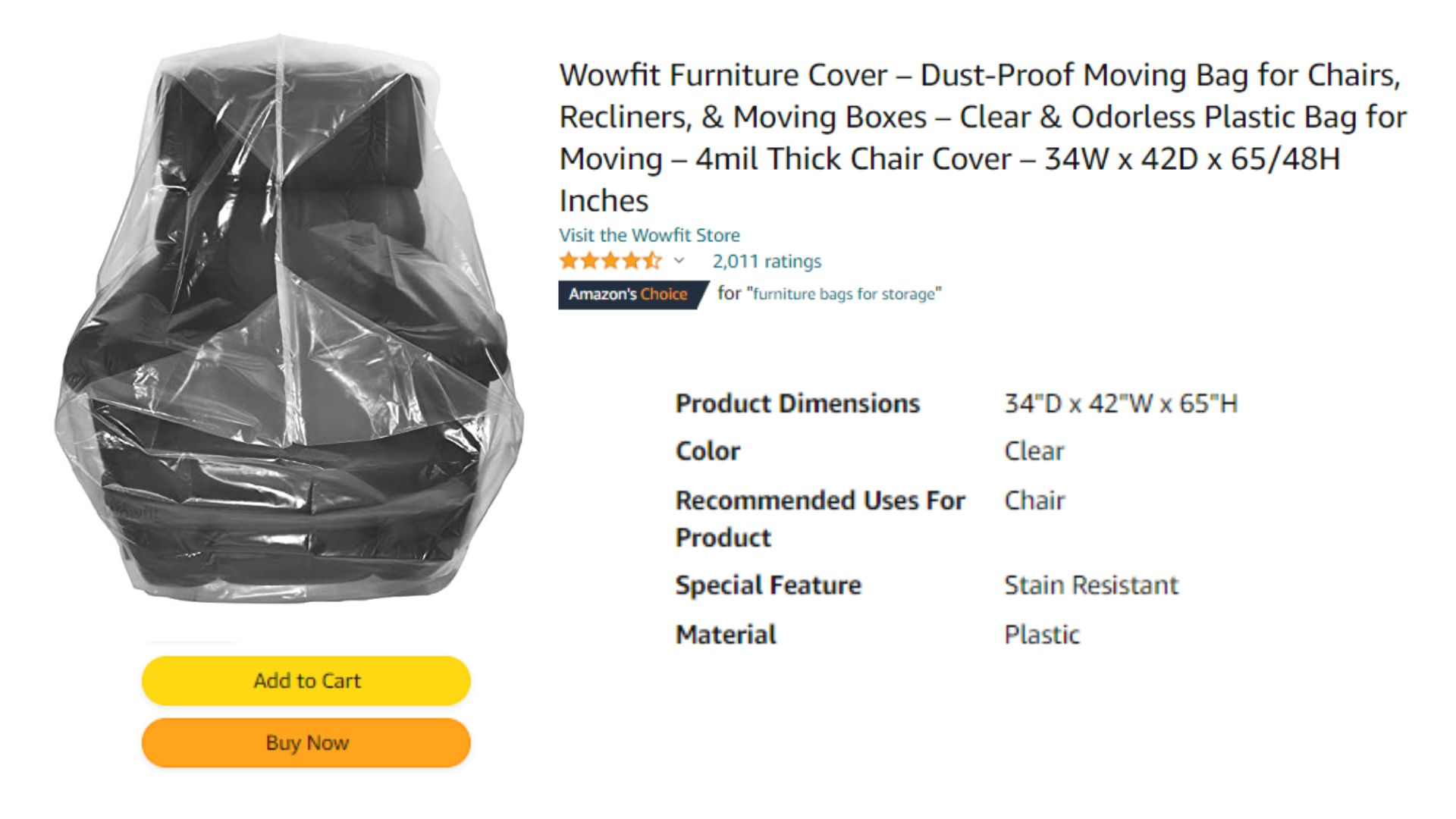 If you're concerned about staining your furniture, then it's best to take extra precautions, such as using drop cloths or choosing low-VOC paint. In other words, cover everything but don't assume that plastic is the answer!
Painting can be a messy and time-consuming process, but it's worth it when you see the finished product. One important step in painting is protecting your furniture from paint splatters and drips. While there are many ways to do this, plastic furniture covers are one of the most effective. Wowfit Furniture Cover are made of thick plastic that will keep paint from seeping through.
The Wowfit Furniture Cover is among the best clear plastic covers for furniture when painting. This furniture cover is great for keeping most of your chairs, recliners, and crates well-protected when painting because its thick, premium plastic is completely odorless and composed of virgin material to assure durability. This plastic bag is 42 inches deep and 34 inches broad. It may be 48 inches tall when sealed and 65 inches tall when used to cover chairs and recliners.
According to one of the reviewers, "This saved me a lot of time and effort in having to sand and repaint any areas that were accidentally damaged. I would definitely recommend using a plastic furniture cover to anyone who is doing any painting project."
They also have a tight seal that prevents paint fumes from escaping, making them ideal for use in small spaces. In addition, Wowfit Furniture Covers are easy to clean and reusable, so you can use them again and again. When it comes to protecting your furniture during painting, Wowfit Furniture Covers are the way to go.
How To Ensure That The Plastic Furniture Provides The Best Protection Possible?
The plastic cover furniture of today is designed to provide the ultimate protection from everyday wear and tear. Still, certain steps can be taken to ensure that plastic furniture withstands the test of time in the very best way. Firstly, plastic cover furniture should always be taken care of – for example, wiping it down to remove dirt and dust or using plastic-specific cleaning products.
Secondly, plastic furniture cover should never be exposed to extreme temperatures if possible – even climate-controlled rooms should not have drastic changes in temperature as this can cause the plastic to warp over time. Finally, plastic furniture cover should never come into contact with harsh chemicals or solvents – some may contain ingredients such as alcohol which could discolor plastics over the long run.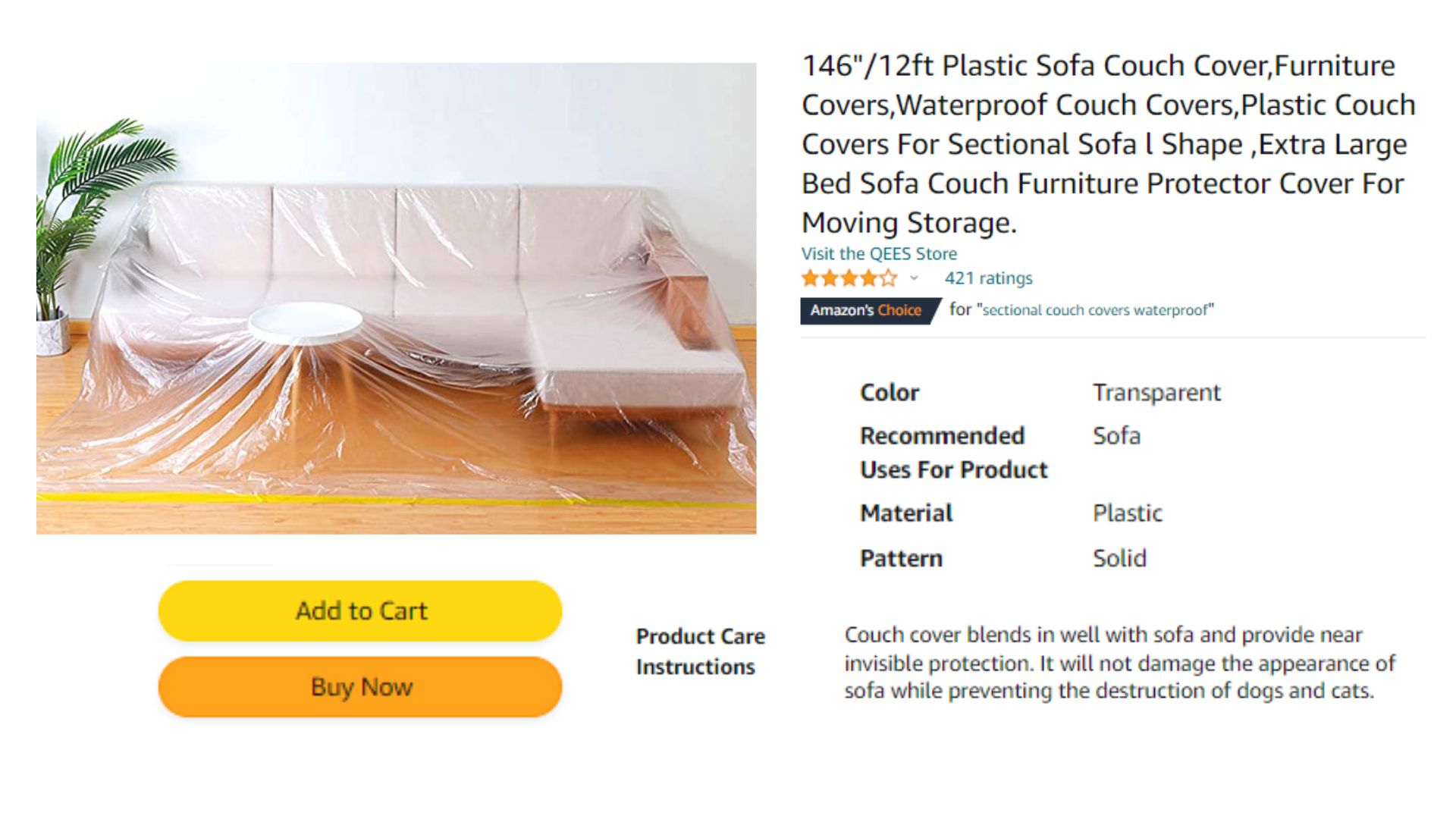 Taking these simple steps will help ensure plastic furnishings remain to look smart and protected for a long period. Of course, regular maintenance is key – moving plastic items out of direct sunlight regularly and taking special care when cleaning them will also help them last longer!
When it comes to the best protection on your furniture, nothing compares to Qees Furniture Covers. This furniture cover makes it simple to maintain the cleanliness and dryness of your furniture thanks to its high-quality, long-lasting construction and clear, see-through material. This furniture protector offers an impenetrable barrier that protects your upholstery from any form of water and paint damage.
An upholstery cover is an ideal way to keep your furniture safe and spotless whether you have young children, active pets, or filthy grandkids. Our covers are simple to clean and maintain because they are made of sturdy vinyl with seamed edges. They can easily match any style or decor because of their crystal clear coating, which also offers further protection from stains, spills, grime, and other everyday dangers.
One of the reviewers says, "I recently needed to do some painting in my house and was concerned about protecting my furniture. A friend that visit me recommended using a plastic furniture cover, and I'm so glad I took her advice!"
What is The Best Heavy Duty Plastic Furniture Cover To Use When Painting?
If you're planning on painting, you'll need to find the right plastic furniture cover to protect it during the process. There are a few things to consider when choosing a plastic furniture cover for painting, such as the type of plastic, the size of the piece of furniture, and the type of paint you'll be using.
With so many options on the market, it can take time to know which one is best for your project. However, we've done the research for you and can confidently say that the best plastic furniture cover for painting is the all-purpose plastic furniture cover. This inexpensive option will protect your plastic furniture from paint drips and spills, and it's easy to clean up when you're finished painting.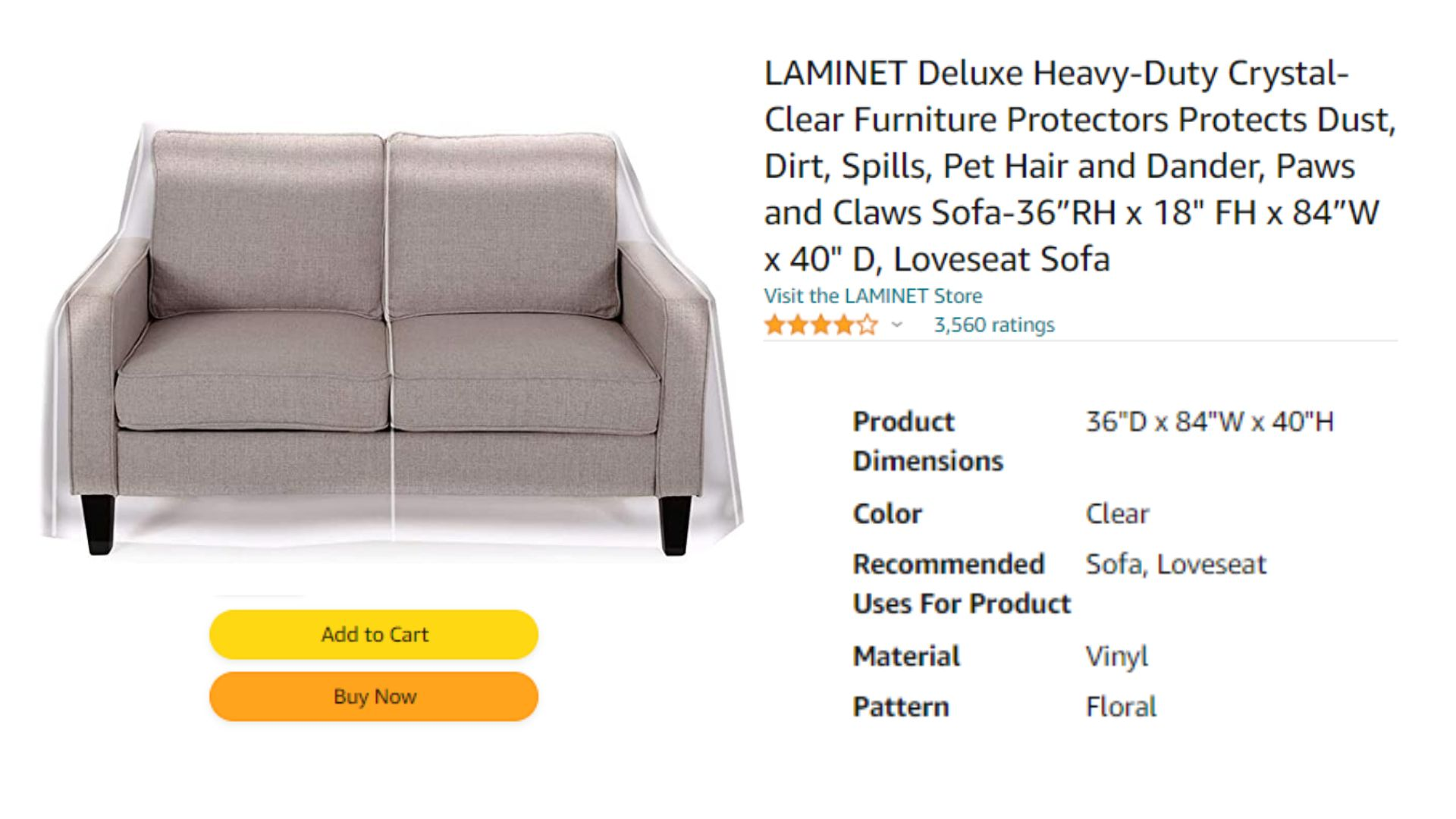 Plus, it's available in a variety of sizes to fit any piece of plastic furniture.
When it comes to plastic furniture covers, LAMINET Heavy-Duty Crystal-Clear Furniture Protector is the best of the best. Here's why: first, it's made of clear, heavy-duty vinyl so it won't detract from your furniture's natural beauty. Second, it has a grid pattern that helps to prevent paint from seeping through and ruining your furniture.
Third, it's super easy to clean – wipe it down with a damp cloth. Finally, it's affordable, which is important when you're trying to save money on your painting project. So if you're looking for a plastic furniture cover that will protect your furniture and keep it looking beautiful, LAMINET Heavy-Duty Crystal-Clear Furniture Protector is the way to go.
One of the reviewers says, "The cover slips easily over the furniture, and the plastic material is thick enough to prevent any paint from leaking through. Plus, the plastic furniture cover is easy to wipe down if there are any drips or spills."
Are There Any Risks With Using a Plastic Cover on Furniture When Painting?
There are a few risks associated with using a plastic cover on furniture when painting. First, the plastic could melt if it comes into contact with a hot object, such as a paintbrush that has been left in the sun. Second, the plastic could rip or tear if it is not handled carefully.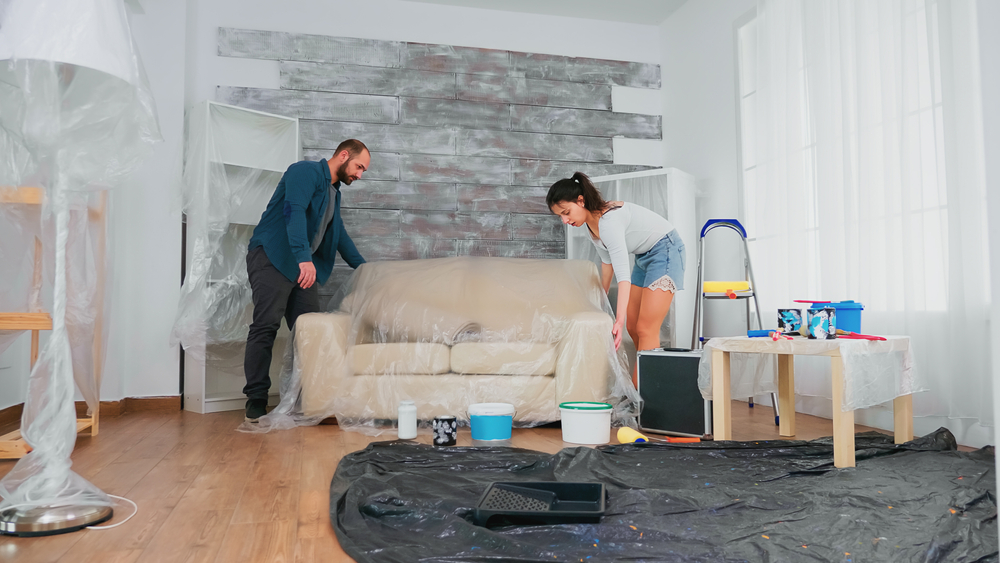 Third, the plastic could cause the paint to bubble or blister if it is not applied correctly. Finally, the plastic could leach chemicals into the paint, which could be harmful to people and pets.
However, if these risks are taken into consideration, using a plastic on furniture cover when painting can be a safe and effective way to protect your belongings.
Thoughts
If you want to avoid all the hassle and mess of painting your furniture, you could always use a Plastic Furniture Cover. It might not be the most stylish option, but it will get the job done, and your furniture will be protected from any paint splatters. Plus, when you're ready to take off the cover, the paint will come right off with it! It is now your sign to get one!