If you have plastic slipcovers, then you know how important it is to keep them clean. Not only do they protect your furniture, but they also make your home look neat and tidy. However, you may be wondering how often you should replace them.
In this blog post, we will discuss the benefits of replacing your plastic slipcovers on a regular basis. We will also provide some tips on how to choose the right replacements for your needs!
Why Do Couches Have Plastic Slipcovers?
In many homes, couches are a central feature of the living room, providing a comfortable place for relaxing, watching TV, or socializing with friends and family. However, because couches are often used heavily and exposed to frequent spills, stains, and other damage, they also tend to be some of the most difficult household items to clean and maintain.
To help address this problem, many modern couches have been designed with plastic covers. These covers not only protect the upholstery from spills and stains but also make it much easier to quickly and effectively clean the couch itself.
Furthermore, plastic slipcovers for couches are lightweight and relatively inexpensive to replace if they become stained or damaged over time. Overall, then, it is clear that one of the main reasons why so many couches today have plastic slipcovers is simply because they provide an easy and effective way to keep these essential pieces of furniture looking great for years to come.
When it comes to keeping sofas and other upholstered pieces clean and protected, plastic slipcovers are the ideal solution the Swanna Plastic Heavy-Duty Couch Cover is the perfect solution. Made from premium, 0.15mm thick PVC plastic, this extra-thick, durable and waterproof cover is designed to withstand long-term use without any wear or tear.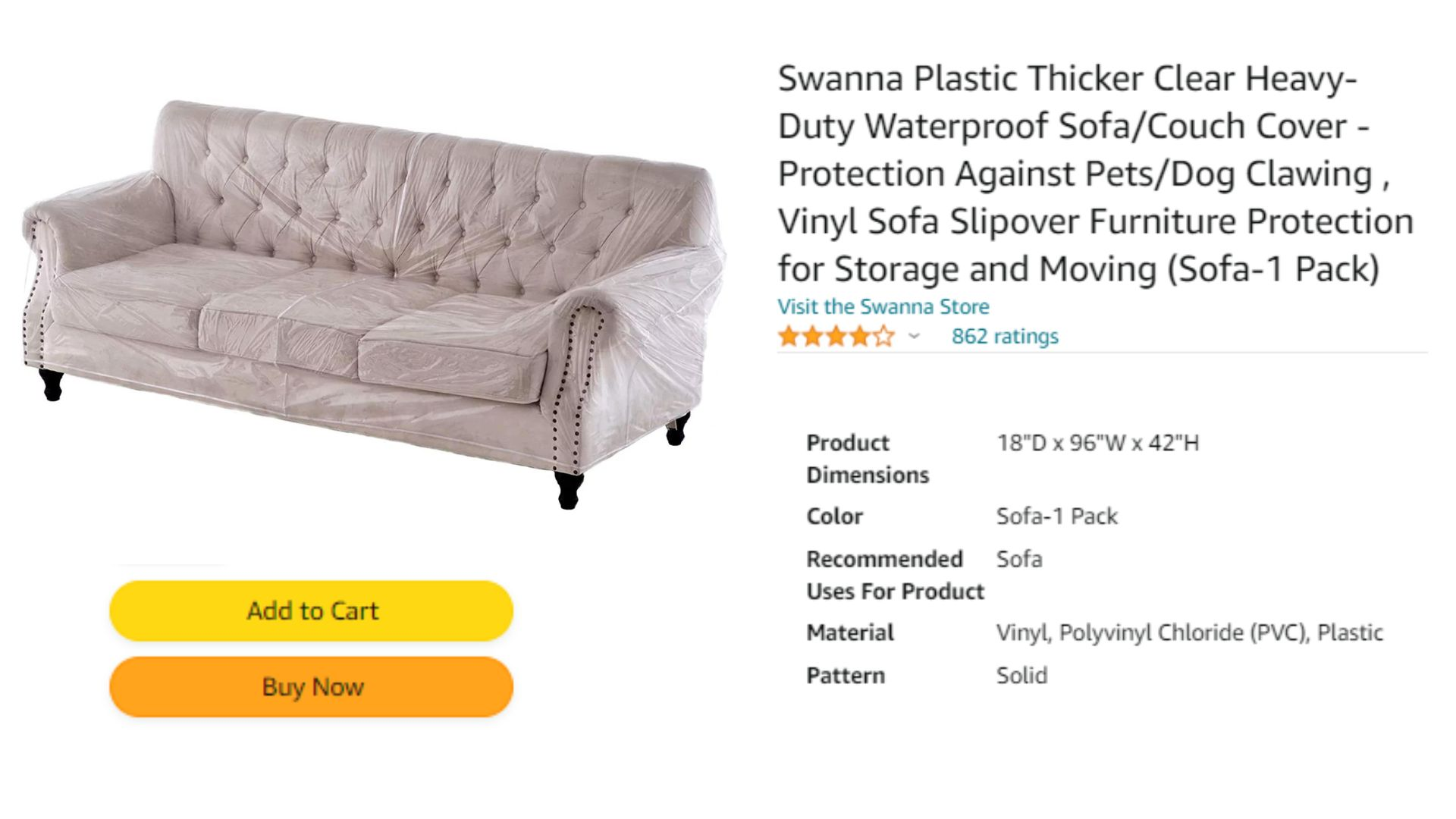 The plastic couch covers are easy to disassemble and reinstall as needed, making them ideal for homes that see constant foot traffic or have lots of kids and pets running around. Whether it's cat claws or muddy footprints, our couch covers are up to the task of providing sleek, near-invisible protection without altering the appearance of your sofa in any way.
It's also perfect when you're undergoing renovations or painting work, or simply want to store your couch temporarily while moving or cleaning, this durable cover will keep your sofa safe and damage-free. With dimensions of 96″ wide by 42″ backrest height by 18″ armrest height by 40″ deep, this plastic sofa cover is a perfect fit for most couches on the market today.
And thanks to their stain-resistant design, you never need worry about scooping up dirty paw prints or tracking down mysterious splotches; simply wipe the cover clean with a damp sponge or cloth when needed! One of the reviewers says, "Very pleased with the thickness of the plastic! Keeping my cat of the sofa!"
So why continue struggling with costly repairs or expensive replacements year after year? With a Swanna Plastic Heavy-Duty Couch Cover on your side, you can rest assured knowing your sofa will stay looking like new no matter how many messes you have to deal with.
How Helpful are Plastic Slipcovers in Protecting Sofas?
Plastic slipcovers for sofas are a popular choice among homeowners looking to protect sofas from stains, dust, and other everyday wear and tear. These covers are made from durable, easy-to-clean materials that are designed to fit snugly over furniture.
By protecting the upholstery of a sofa, these sofa plastic slipcovers help to extend its life and prevent unpleasant odors or mold growth. Additionally, many plastic slipcovers come with built-in features such as antimicrobial protection, which helps to reduce microbial populations on the surface of the cover.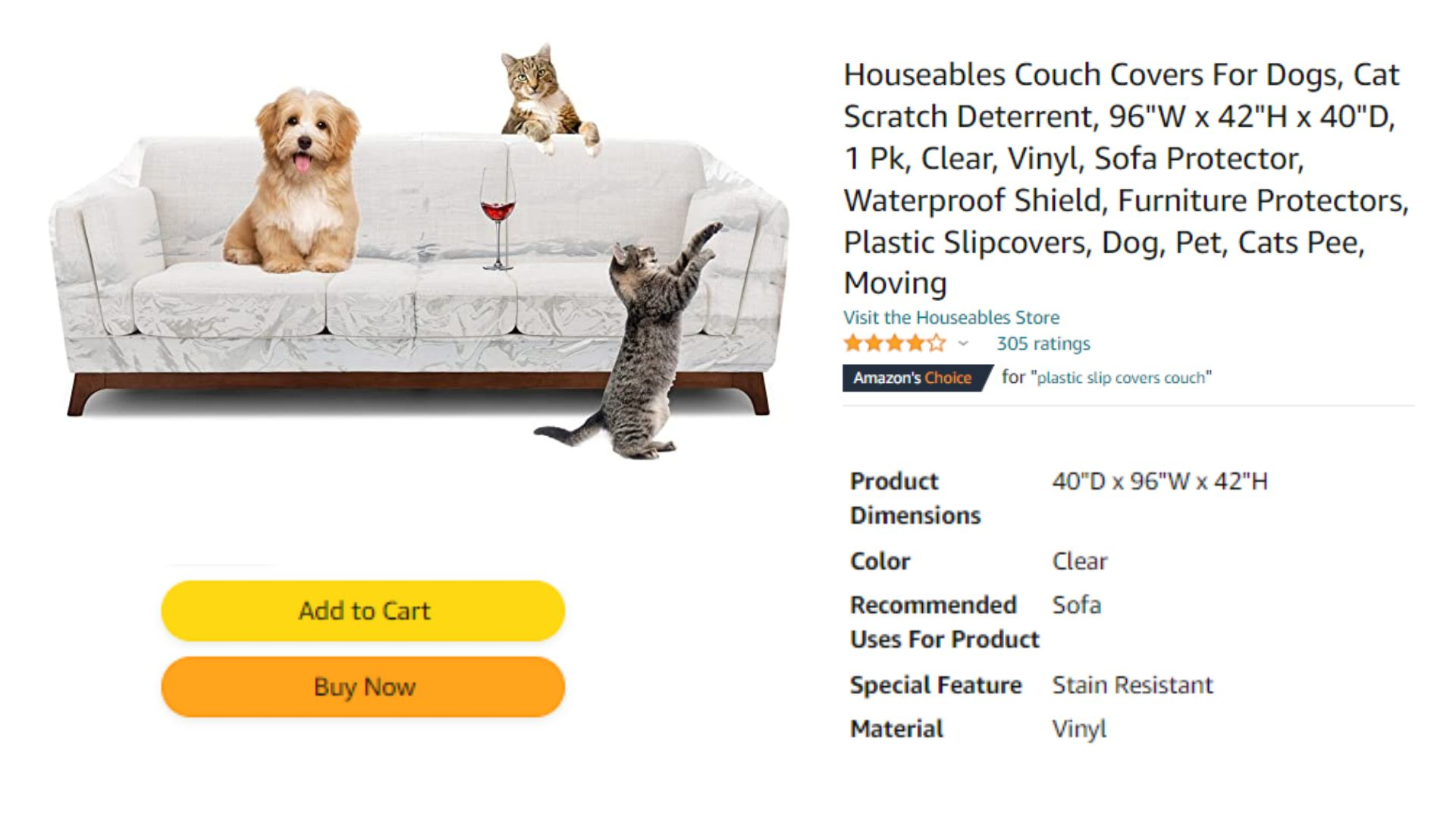 Couch plastic slipcovers benefit homeowners by giving their furniture a longer lifespan and helping to protect it against everyday damage. Whether you live in a busy household with young children and pets or simply want to keep your sofa looking fresh and new, plastic slipcovers are an excellent solution for any type of home environment.
One of the best plastic slipcovers in the market today is Houseables Couch Covers. Houseables Couch Covers have been protecting sofas and furniture for years. Made from durable vinyl and measuring 96″ in wide, 42″ tall, and 40″ deep, these covers are the perfect fit for couches of all shapes and sizes. Whether you have a home full of energetic pets or small children who love to explore and play, this cover will keep your sofa looking like new.
These clear couch covers are designed with strong, durable seams that can withstand the weight of even the heaviest and most rambunctious pets, unlike many other couch covers on the market. Not only will they help keep your furniture in top condition, but they also feature a form-fitting structure that helps them stay secure and in place no matter how many people or pets are sitting on or getting up from the couch.
Plus, with its spill-resistant design, this cover is ideal for keeping your couch free from stains caused by liquids like fruit punch, wine, or any other beverage.
And cleaning up spills is simple – just wash the cover with soap and water using a damp washcloth, and it will be ready to go again in no time. One of the reviewers says, " Works exactly as I wanted it to. Easy to clean, and change out"
What Are Some Signs That It's Time To Replace Your Plastic Slipcovers?
Plastic slipcovers are a popular choice for many households, as they provide a convenient and affordable way to keep furniture looking great. However, over time, plastic cushion covers can start to show signs of wear and tear that may indicate it's time for them to be replaced.
Some common signs that your plastic slipcovers may need to be replaced include tears, cracks, or fading of the color. Additionally, if you notice that the edges of your plastic covers are starting to curl up or peel away from the furniture beneath, this can indicate a problem with the quality of the material.
Another potential sign that it's time to replace your plastic for couches is if you're constantly having to clean them on a regular basis, as this could indicate that dirt and grime are starting to build up on their surface and contribute to stains and other problems.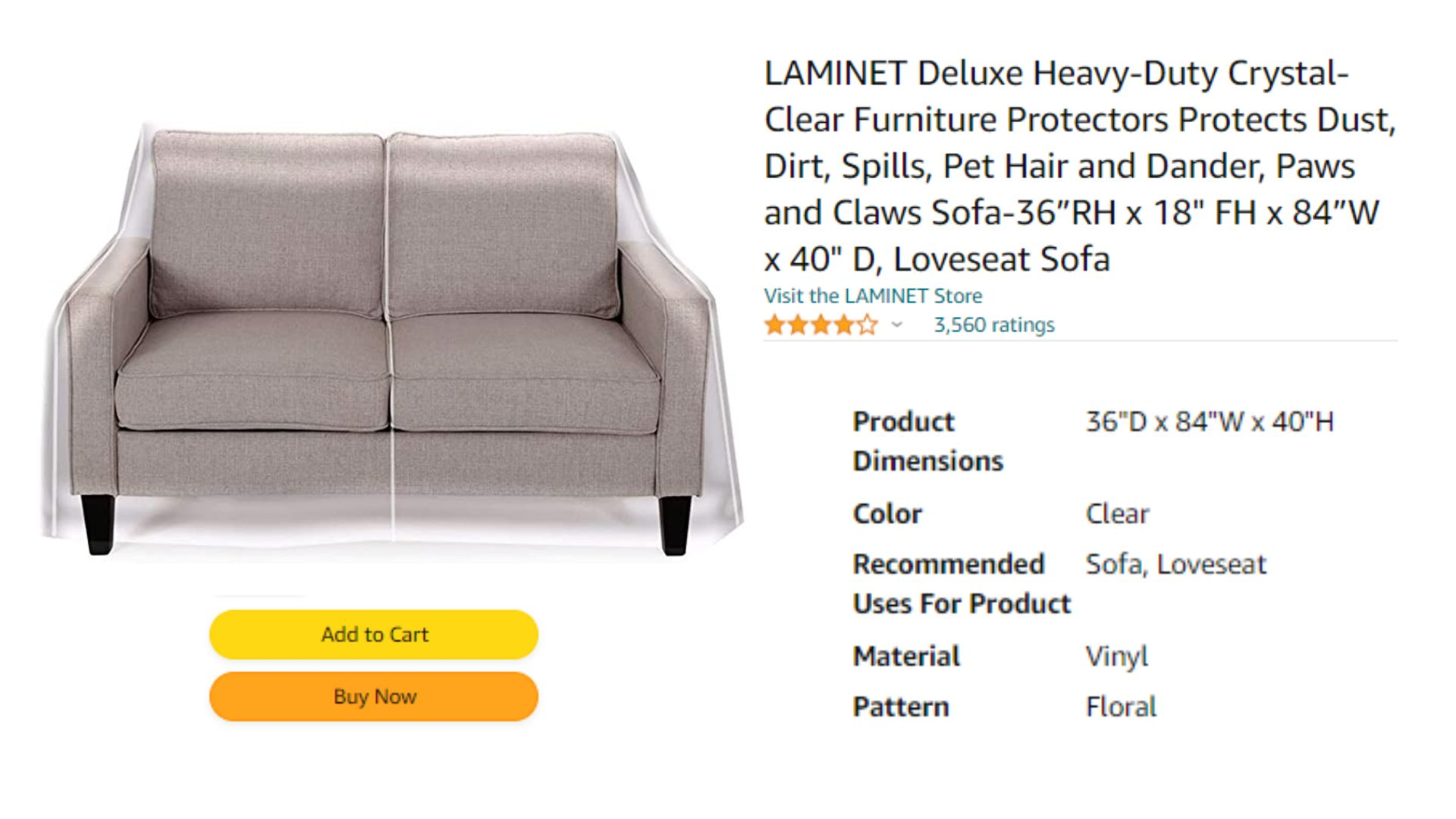 Ultimately, it's best to keep an eye on any potential signs of damage so that you can take action quickly before the problem gets worse.
When it comes to protecting your furniture from wear and tear, there is no better choice than LAMINET Heavy-Duty Furniture Protectors. These versatile protectors are perfect for preventing scrapes, scratches, and spills from causing damage to your couches and sofas. One of the reviewers says, "I like how sheer, and thick the plastic is. This couch cover fits perfectly!"
Made from durable materials that are resistant to liquids and stains, these plastic furniture protectors provide extra cushioning throughout your furniture, reducing the risk of cracks or tears. At the same time, they are easy to install and remove whenever you need to clean or rearrange your furniture.
LAMINET heavy-duty furniture protectors are ideal for protecting your furniture from the wear and tear of daily use, especially from children, grandchildren, and pets. These plastic sofa covers are easy to clean, simply wipe them down with a damp cloth.
And because they are made from clear vinyl with seamed edges, they are crystal clear and will not obscure the look of your furniture in any way.
Available in a range of styles, including dining room chair seat, all-over dining room chair, armchair/recliner, loveseat, sofa, and various sized round and oblong tables, these durable protectors will help keep your furniture free from scratches and dents.
LAMINET furniture protectors are the perfect solution for keeping your prized pieces looking like new for years to come. Whether you live in a busy household with kids and pets or simply want peace of mind knowing that your furniture will always look good as new, LAMINET Heavy-Duty Furniture Protectors are the perfect solution for all of your needs.
What Are The Benefits of Changing Your Couch Plastic Wrap Cover Often?
Although changing the plastic wrap for couches may not be the most exciting or glamorous task, it is an important one that offers several benefits. One of the main benefits of changing your couch's plastic wrap cover regularly is that it helps to prevent dust, dirt, and other particles from settling into your couch.
This can help to protect the upholstery and maintain the quality and appearance of the couch over time. Additionally, changing your plastic wrap couch cover often also helps to keep your home free from allergens.
Whether you suffer from allergies or you have pets or young children who tend to shed a lot, keeping your couch clean can help significantly reduce common allergens and irritants in your living space.
In addition to these practical benefits, changing your couch plastic cover often can also help you to stay organized and reduce clutter. With everything stored inside the clear protective cover, you will know exactly where everything is and can easily find what you need when you need it.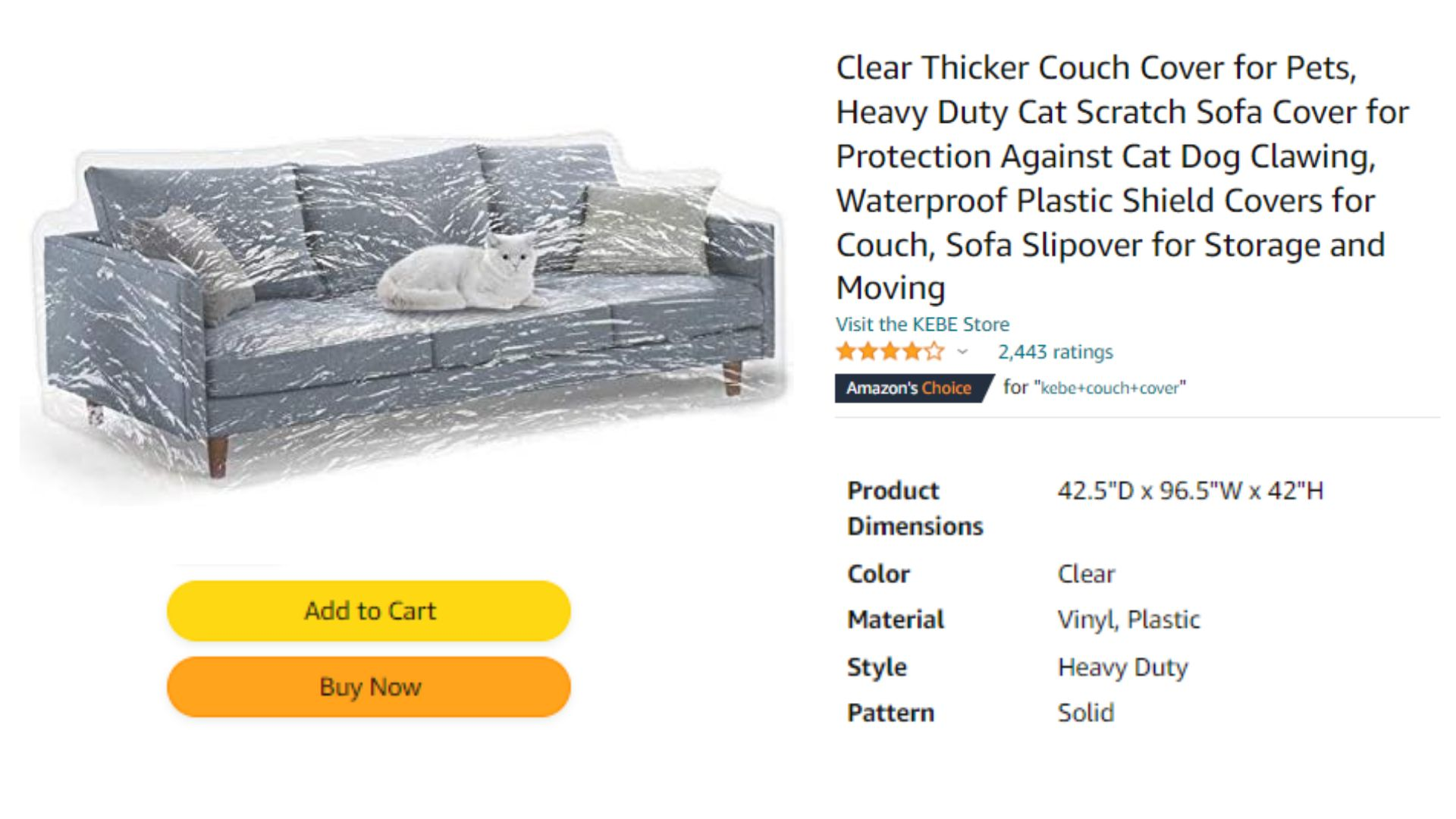 So if you're looking for an easy way to enjoy cleaner and more comfortable furniture for longer, consider taking the time to change out your couch's plastic wrap cover on a regular basis.
Looking for a high-quality pet couch cover that is durable, tear-proof, and waterproof? Look no further than the KEBE Couch Cover. Made from premium grade 0.17mm thick plastic, this couch cover can stand up to even the most active pets, providing near-invisible protection for your sofa.
The KEBE Couch Cover is the perfect way to protect and update your favorite furniture pieces. This innovative cover is made from durable and high-quality materials, which allows it to stand up to wear and tear while also providing a soft and comfortable surface for lounging.
Not only does it blend in well with sofas and other furniture, but it is also easy to wipe clean with a damp cloth and reusable, allowing you to disassemble and reinstall it as needed. Equipped with cat claws protection to prevent damage from cats' scratching, this couch cover is perfect for households with pets.
One of the reviewers stated, "This has answered my need's perfectly! We bought a new couch and I did not want the dogs to ruin it. Sturdy material. PERFECT!"
The KEBE plastic couch cover is a must-have for anyone with kids or pets, as it provides an excellent way to protect your sofa from accidents and debris. Its stitched design closely hugs the contours of your sofa, ensuring a secure and perfect fit, while its elastic edges prevent it from slipping off or bunching up.
Additionally, its dimensions of 96″W x 42″D x 42″RH make it ideal for covering larger couches or sectionals. Even when you're undergoing renovations or completing a painting project, this versatile couch cover will keep your furniture looking great and minimize dust build-up in the process.
Why is it Necessary To Change The Your Vinyl Slipcovers?
Many people choose to use vinyl slipcovers for their furniture, as these covers offer a simple and cost-effective way to keep your couches, dining room chairs, and sofas looking clean and new. However, over time, regular use can lead to wear and tear on these vinyl coverings which can diminish their appearance and functionality. Why is it necessary to change your vinyl slipcovers periodically in order to keep them looking their best?
There are several key reasons why it is important to replace old or damaged vinyl couch cover. First, these covers are prone to cracking or peeling over time due to exposure to sunlight and other environmental factors.
Second, they tend to fade over time when exposed to UV radiation from the sun, which can make them look faded or dingy. Finally, if there are any stains on the surface of your vinyl slipcover, that discoloration can be almost impossible to remove without replacing the cover completely.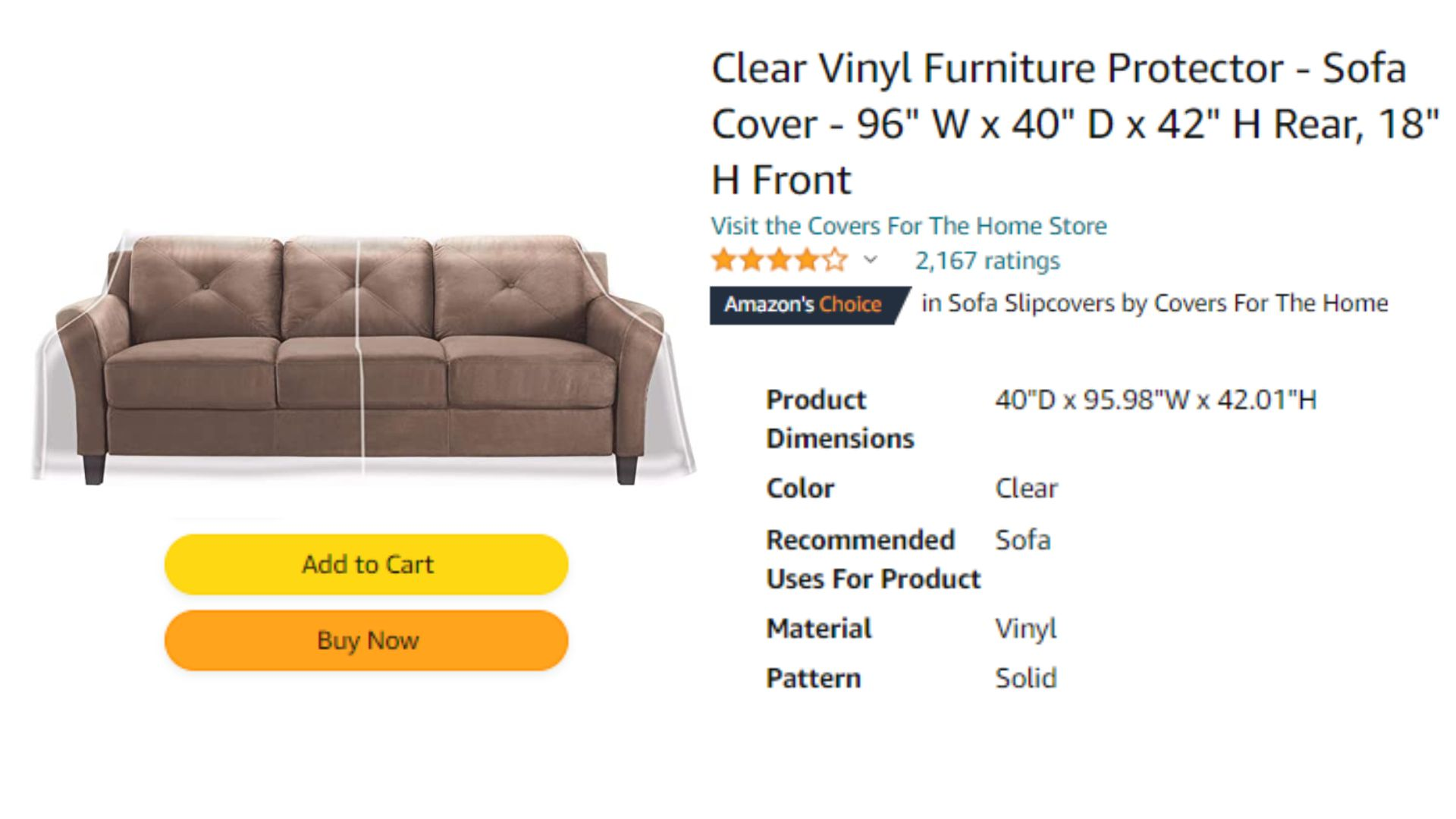 Given these factors, it is essential that you regularly replace your vinyl covers in order to ensure that your furniture remains to look fresh and beautiful for years to come. Whether you opt for new covers from a store or choose custom fabric options online, making this simple change will help protect your furniture investment for many years down the road!
One of the best vinyl slipcovers in the market today is the Covers For The Home Vinyl Sofa Cover. Covers for the Home Vinyl Sofa Covers are a great way to protect your furniture from damage, dirt, and spills. Made from durable vinyl material, these covers provide a layer of protection without affecting the appearance and feel of your sofa.
Designed to provide protection against dirt, dust, spills, pet hair and dander, paws, and claws, this heavy duty plastic sofa covers is the perfect choice for homes with children, grandchildren, and pets. With its easy-to-clean construction and crystal clear vinyl material with seamed edges, this cover offers maximum coverage that is sure to last.
At 96 inches wide by 40 inches deep and 42 inches high in the rear and 18 inches high in front, it provides a snug fit no matter what size your sofa or recliner may be. Whether you are looking to keep your furniture pristine or simply want to protect against everyday wear and tear, the heavy-duty vinyl sofa cover is an excellent choice for any home.
One of the reviewers says, "I am so pleased with this couch cover. It fits absolutely perfect and is exactly what I was looking for."
Thanks to their high-quality construction and durable materials, these covers are not only easy to use but also effective at keeping your furniture protected from the elements.
What Are The Dangers of Not Changing Your Vinyl Slipcovers Regularly?
Maintaining your vinyl slipcovers is an important part of ensuring that your furniture lasts for many years to come. Without regular or frequent cleaning and changing of the covers, they can become dirty, damaged, and worn out much faster. There are several dangers associated with not changing your vinyl slipcovers for sofa regularly, including: 
increased risk of exposure to bacteria and other harmful substances on the surface of the covers
premature wear and tear that can lead to tears or other damage to the furniture itself
accumulation of dust, dirt, and other debris that can decrease the lifespan of the covers or even make them unusable altogether
If you want to protect your valuable furniture from these dangers, it is essential that you take the time to change your plastic couch covers on a regular basis. Whether you use professional cleaners or do it yourself at home, it is well worth the effort in order to keep your furniture looking great and lasting for many years to come.
When it comes to keeping your couch and furniture clean and looking good especially from pets, nothing is more important than investing in a quality slipcover like the Kitty Cat Protector Plastic Couch Cover.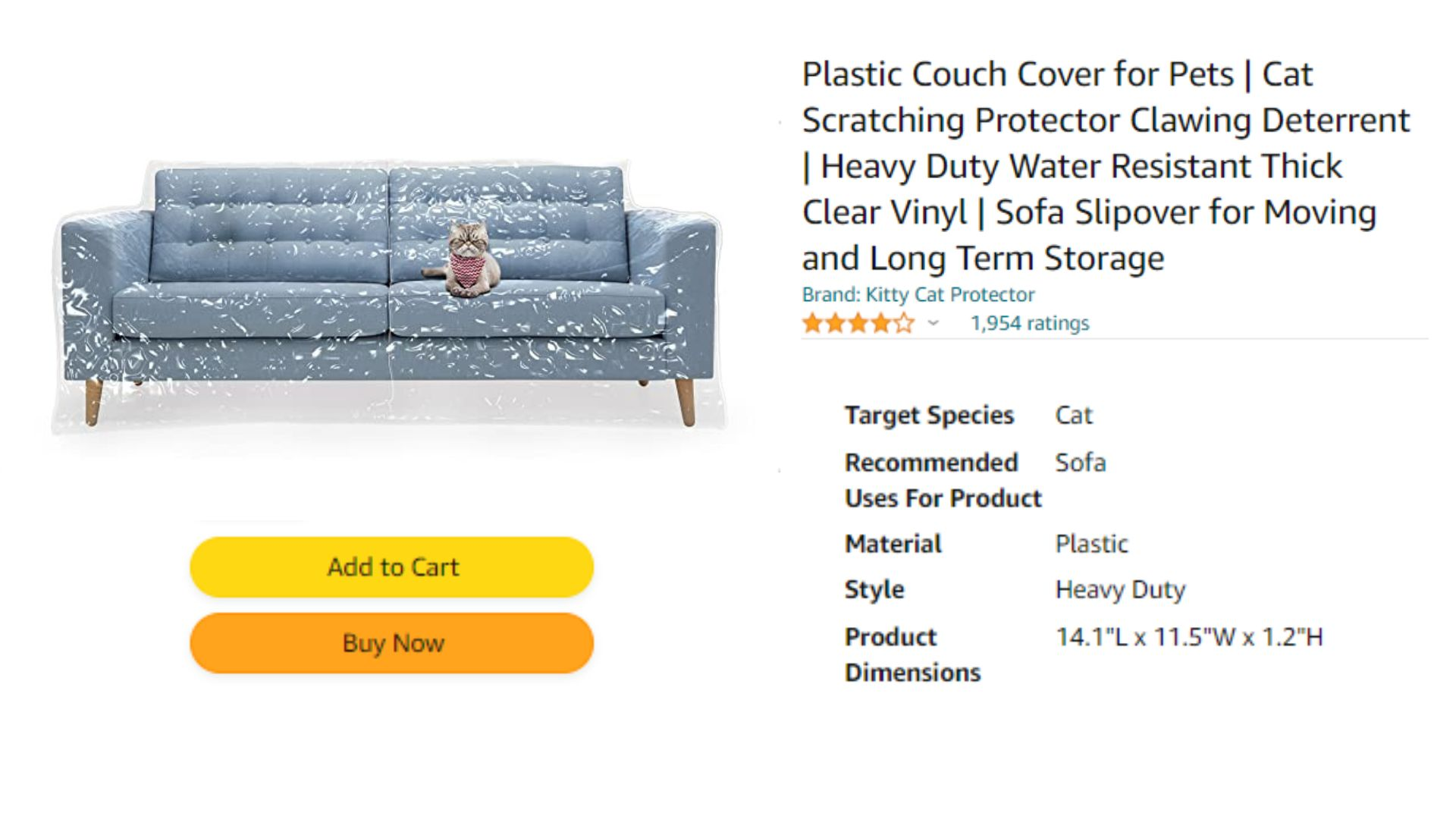 Made from durable plastic materials, these furniture plastic covers fit snugly over couches, sofas, and other upholstered furniture. Plastic couch covers help to prevent dirt, dust, spills, and scuffs from damaging the underlying surfaces of the furniture.
Featuring heat-sealed binding that is tear proof and super strong, this durable plastic cover is built to last, and can easily be fitted over most couches and upholstered surfaces. With dimensions of 96 inches wide by 42 inches high by 18 inches deep, this cover offers ample coverage without taking up too much space. And at just 0.15mm thick, it's lightweight yet thick enough to shield your furniture against accidents and spills.
Whether you are a cat owner or simply someone who wants to protect their sofa from claw scratches, a claw-resistant plastic couch cushion cover is the perfect solution. This quick and easy wipe-clean plastic cover is perfect for you.
One of the reviewers says, "I have had several people sit on the couch and it has not ripped yet. The cats stay off the cover's thick plastic, so it has remained pee-free. I have had drinks spills on it and it is truly waterproof."
In addition, the waterproof plastic material acts as a repellent against your cat, discouraging them from sitting or urinating on your sofa. And thanks to its thick, high-quality design, this cover is easy to wipe clean when necessary and will last for years to come.
They can be used as temporary coverings during cleaning or painting projects, keeping the surfaces of your upholstery clean and free of dust or paint splatters.
How Long Does a Standard Vinyl Slipcover For Couches Usually Last?
The lifespan of a standard vinyl slipcover for couches depends largely on a number of factors, including the quality and material of the slipcover itself, as well as how well it is maintained over time. Typically, a vinyl couch cover can last anywhere from 2-5 years depending on the level of wear and tear that it experiences.
Additionally, factors such as exposure to sunlight and exposure to moisture can also have an impact on the lifespan of your slipcover. That said, in general, most people find that a basic vinyl cover for couches tends to last for at least a couple of years before it starts to show significant signs of wear and tear.
So if you're looking for something that will stand up to everyday use without breaking the bank, investing in a good quality vinyl cover can be a great choice. Besti Plastic Couch Cover is a must-have for anyone with pets, young children, or messy roommates. Made from durable plastic material, Besti Plastic Couch Cover easily slips over your existing couch and provides reliable protection from dirt, stains, and other potentially damaging messes.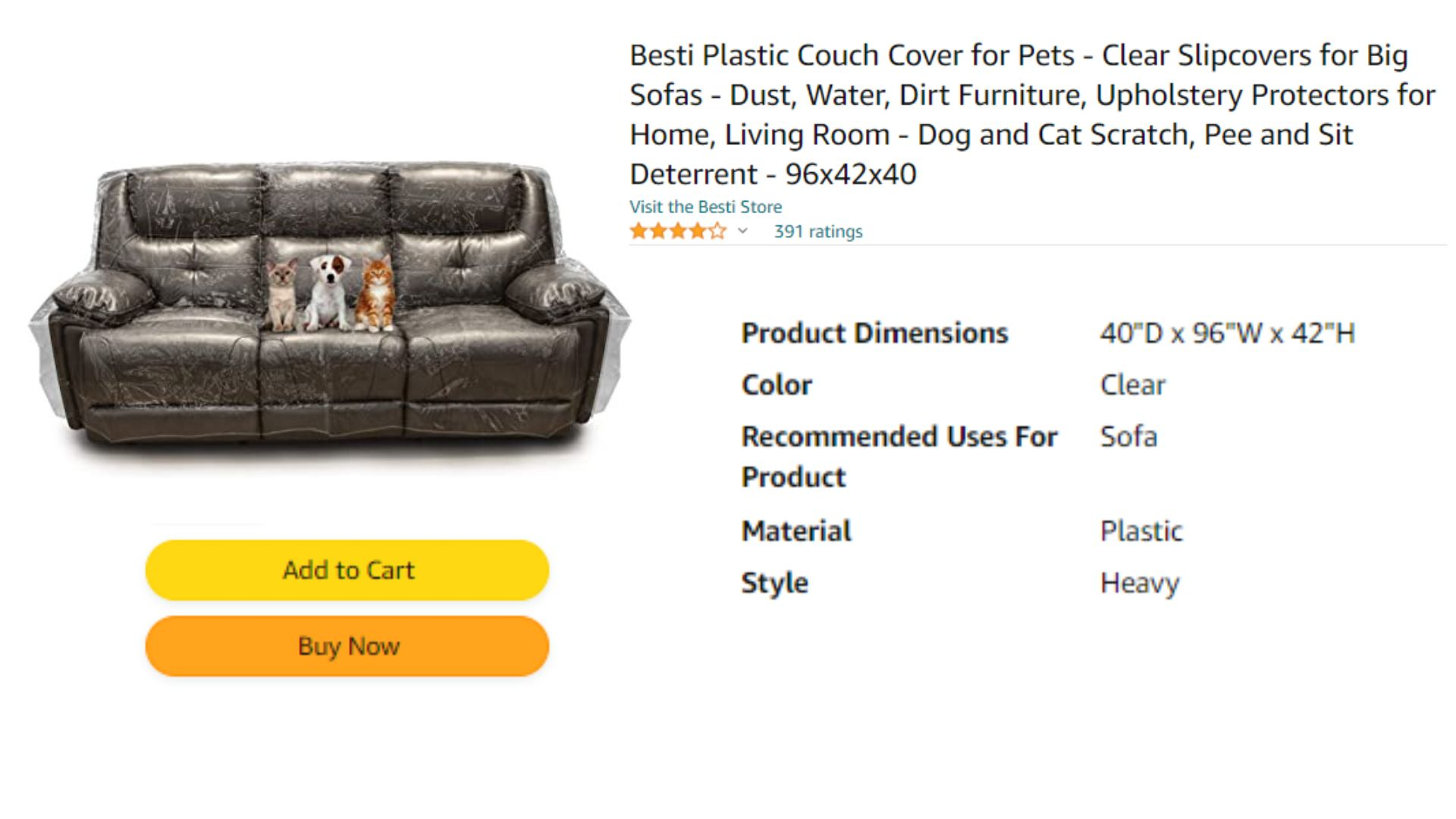 One of the reviewers says, "Honestly, this is the best plastic couch cover you can get from amazon. I bought it hoping for a sturdy, thicker material and that's exactly what I got. The plastic is not thin. I have a pit, and she loves to dig her nails into my couch."
Designed with both durability and convenience in mind, this sofa plastic cover features strong seams and a heat-sealed center binding that hold up against even the most determined clawing. And at 96 x 42 x 40 inches, it is designed to fully cover even large couches, loveseats, and sofas.
Even better, our cat-scratch protector is made from tear-proof vinyl plastic that can easily be wiped clean of fur, dirt, or any other messes left behind by your furry friend. Best of all, its see-through design means that your sofa's texture and details will still shine through, making this an ideal choice for those who want a functional protector while also showing off their furniture's style.
How To Take Care Of Your Plastic Cover on Couches?
Keeping your plastic on couches in good condition is an important part of maintaining the appearance and functionality of your furniture. There are several key steps that you can follow to ensure that your cover stays clean and in good condition.
The first step is to regularly vacuum or brush your cover to remove dust and debris. This will help to prevent the accumulation of dirt and grime, which can cause discoloration or damage over time.
Additionally, it is important to wash your cover regularly using a mild detergent, such as dish soap or laundry detergent mixed with water. This will help to remove any stains or oils that may have accumulated on the plastic from everyday use.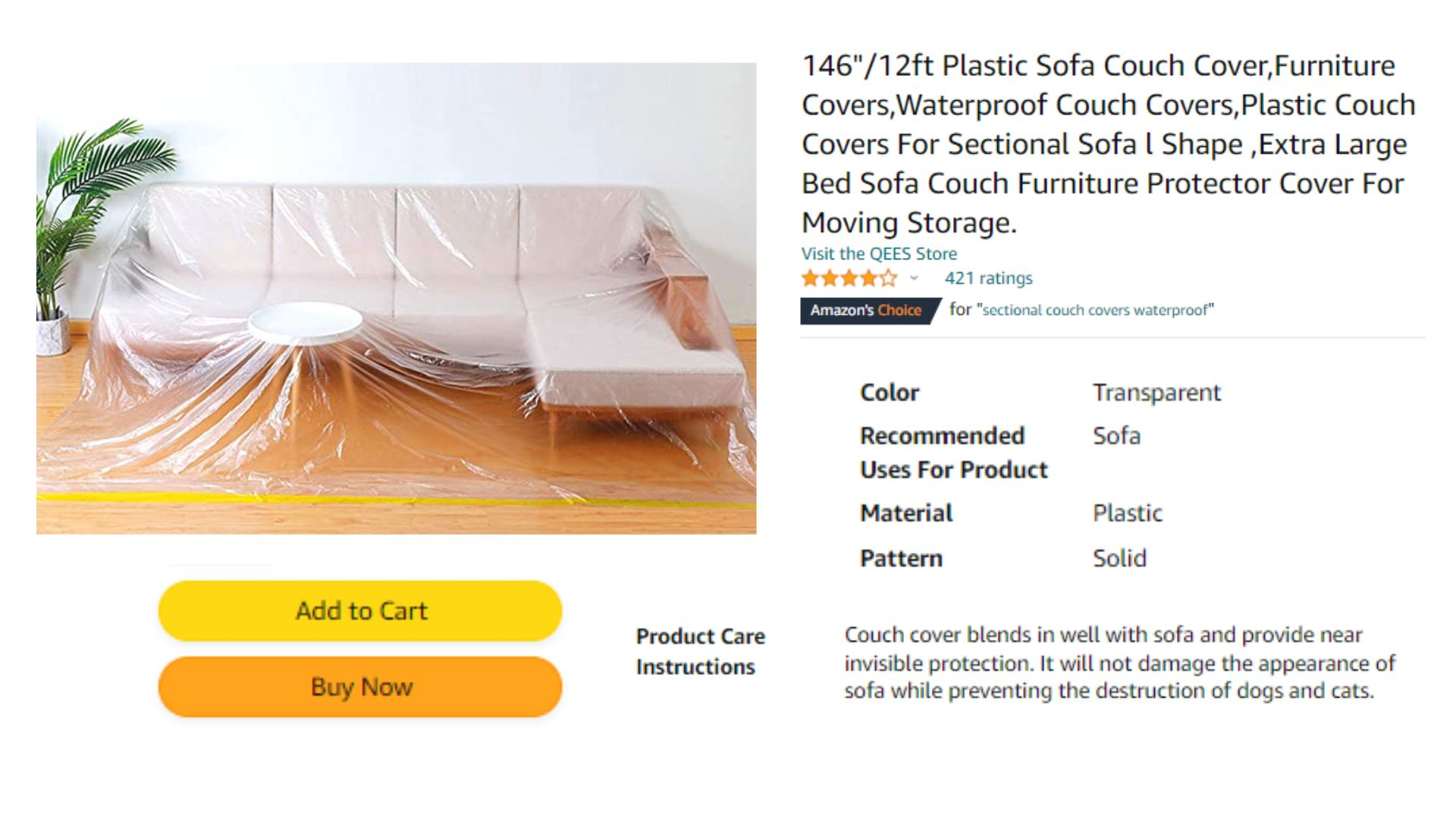 Another key tip for taking care of a plastic cover is to avoid exposing them to extreme temperatures or direct sunlight for extended periods of time. Extreme heat can cause warping and melting, while harsh UV rays can cause fading and crack over time.
To avoid these problems, try placing an inexpensive blanket or sheet over the top of your couch when it is not in use, to keep out excess light and heat. Following these simple tips will help you keep your plastic cover looking its best for many years to come!
When you're in search for the best plastic cover, look no further than QEES couch cover. This cover are designed to provide a versatile protective layer for furniture and upholstery. The QEES couch cover is a durable and waterproof cover perfect for protecting your furniture during a move or while you're renovating. Made from 100% new, recycled premium grade materials, this cover is tear resistant and built to last.
Whether you're looking for moving supplies or packing supplies, this sofa slipcover will get the job done without worrying about whether it can withstand the demands of your project. With a size of 146 inches long by 106 inches wide, this cover can be used for any type of couch, including 2-seaters, 3-seaters, corners, leather couches, garden sofas, and more options!
These durable seat and back coverings are made from a plastic material that can be used both indoors and out, making them a versatile option for homeowners. In addition, QEES couch covers are waterproof and dustproof, allowing you to easily clean them with just a damp cloth if they happen to get dirty.
Featuring a vent-hole free construction, this plastic furniture cover also help to protect your furniture from water damage, along with other common household pests like mice and bedbugs.  And because it blends in seamlessly with your sofa or other furniture, it won't interfere with its appearance while providing effective protection against common household hazards.
So whether you want to keep your furniture looking pristine until next year or simply want some extra protection for the harsh weather ahead, QEES couch covers offer a reliable solution for all of your indoor and outdoor furniture needs.
Thoughts
When it comes to caring for your clear plastic slipcovers for couches, one of the most important factors to keep in mind is how often you need to replace them. This will depend on a number of different variables, including the type of material used to make the slipcovers, the frequency with which they are used and washed (some are machine washable), and their overall condition.
Generally speaking, however, it is recommended that you replace your plastic cover for sofa at least once per year. This will not only help extend their lifespan, but it will also ensure that they continue to provide the protection and comfort you need for relaxing on the sofa or lounging in your favorite armchair. So if you want to get maximum use out of your plastic slipcovers, be sure to routinely inspect them for signs of wear and tear, and replace them as needed.