How often have you looked at your couch and thought, "I really should wash this"? But then you remember that there's a big plastic cover on it, and you have no idea how to wash or care for it. Well, don't worry – we're here to help! In this blog post, we'll give you all the tips and tricks for washing and caring for your sofa plastic cover.
Trust us, it's not as difficult as you might think! So read on, and learn everything you need to know about keeping your sofa looking fresh and clean. Thanks for reading!
What is The Best Way To Clean Your Plastic Sofa Cover?
Cleaning plastic sofa covers can seem impossible, but with a few tricks and the right products, it can be made much easier. The best way to start is by using a vacuum cleaner or brush to remove any dirt and debris that may have built up on the plastic surface over time.
Next, create a solution of warm water and mild dish detergent. Dip a cloth in this mixture and give your plastic sofa cover a gentle scrub down. Simply put, plastic furniture has to be treated delicately – no abrasive cleaners please!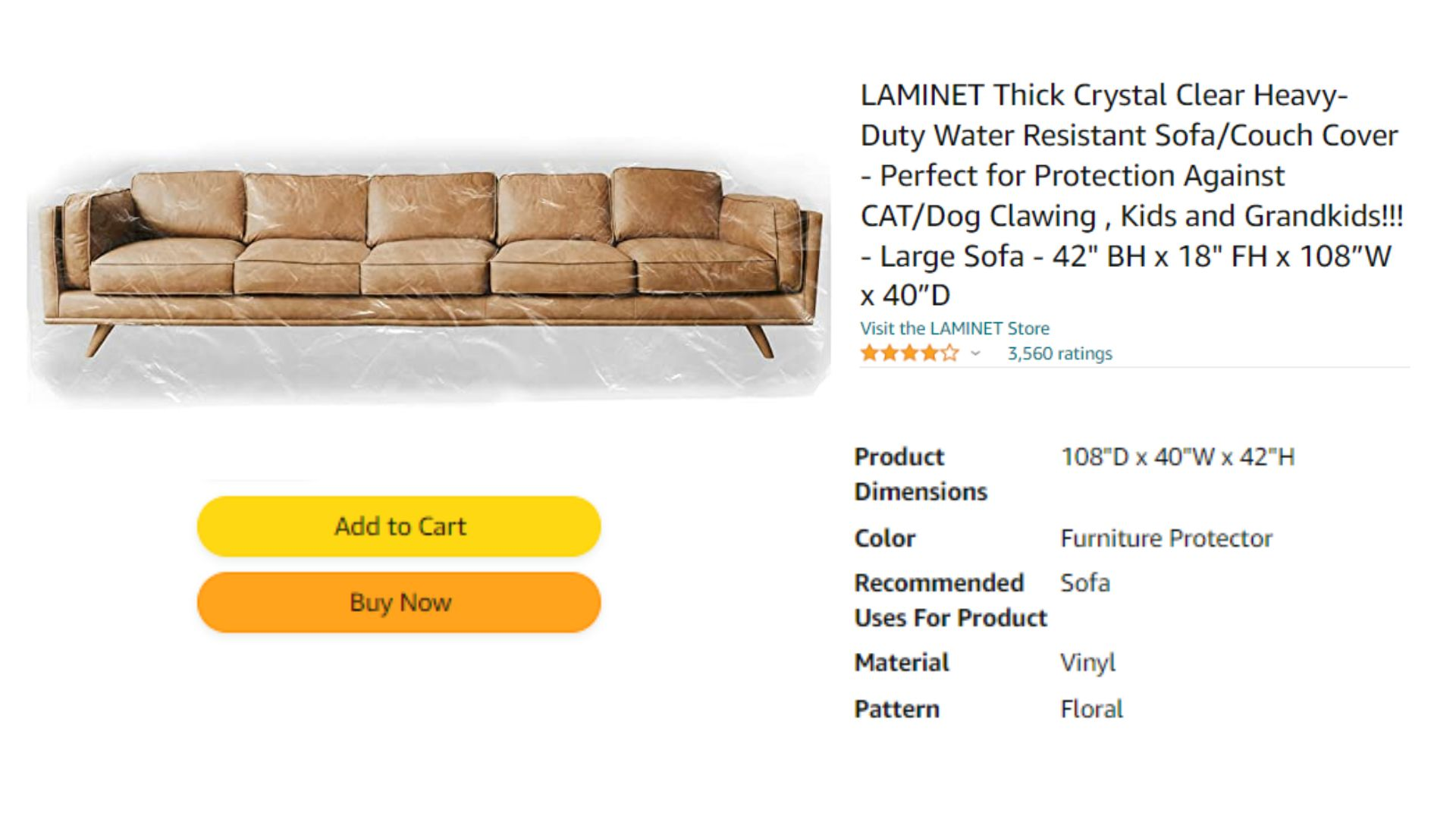 After cleaning, use a damp cloth to thoroughly rinse away excess soap residue before wiping dry with another soft cloth for a perfect finish. And voila! Your plastic sofa cover looks brand new again. Who said plastic wasn't easy to clean? It really isn't that difficult after all.
When looking for the best plastic sofa cover that is relatively easy to wash and clean, look no further than LAMINET Crystal Clear Plastic Couch Cover. The very flexible and long-lasting LAMINET Crystal Clear Plastic Couch Covers are ideal for shielding your sofa and furniture from stains and general wear and tear. These coverings, which are made of durable vinyl material and can be used for patio lounging outdoors, keep your couches and sofas looking brand-new for years to come.
It is quick and easy to set up because of the lightweight construction and seamed edges of this cover. This plastic sofa cover's dimensions shield huge couches from stains and damage. With measurements of 40 inches in depth, 108 inches in width, and 42 inches in height, it provides a ton of coverage without appearing clumsy or overpowering. The material is very simple to maintain, requiring only a quick wipe with a moist cloth to keep it in immaculate shape.
One of the reviewers says, " These are great if you're also storing your furniture and would also work very well to prevent any paint splatter when painting your room. They are easy to remove when I have guests come over, and if an accident occurs, they wipe clean with soap and water. Very pleased with my purchase!"
Not only is it easy to wash and clean, but it also has a beautiful crystal-clear finish that will make your sofa look brand new. And because it's made from plastic, you can be sure it will withstand any spills or stains. So if you're looking for a plastic couch cover that is both easy to maintain and stylish, the LAMINET Crystal Clear plastic couch cover is a perfect choice.
How Often Should You Clean Your Plastic Cover on Your Sofa?
Many have plastic covers draped like a protective barrier over our lovingly-crafted sofas. They stop dirt, dust, and various other pollutants that circulate in the air from penetrating its structure and ruining the inner parts. But how often should we clean such plastic covers?
On the one hand, cleaning it too frequently might take up your valuable time with zero benefits to you; on the other, needing to be more prompt in your resolve could mean replacing plastic cover for sofa more often than expected due to damage inflicted by everyday wear-and-tear. The safest option is to use common sense and clean plastic covers once every few months, depending on how much you use them.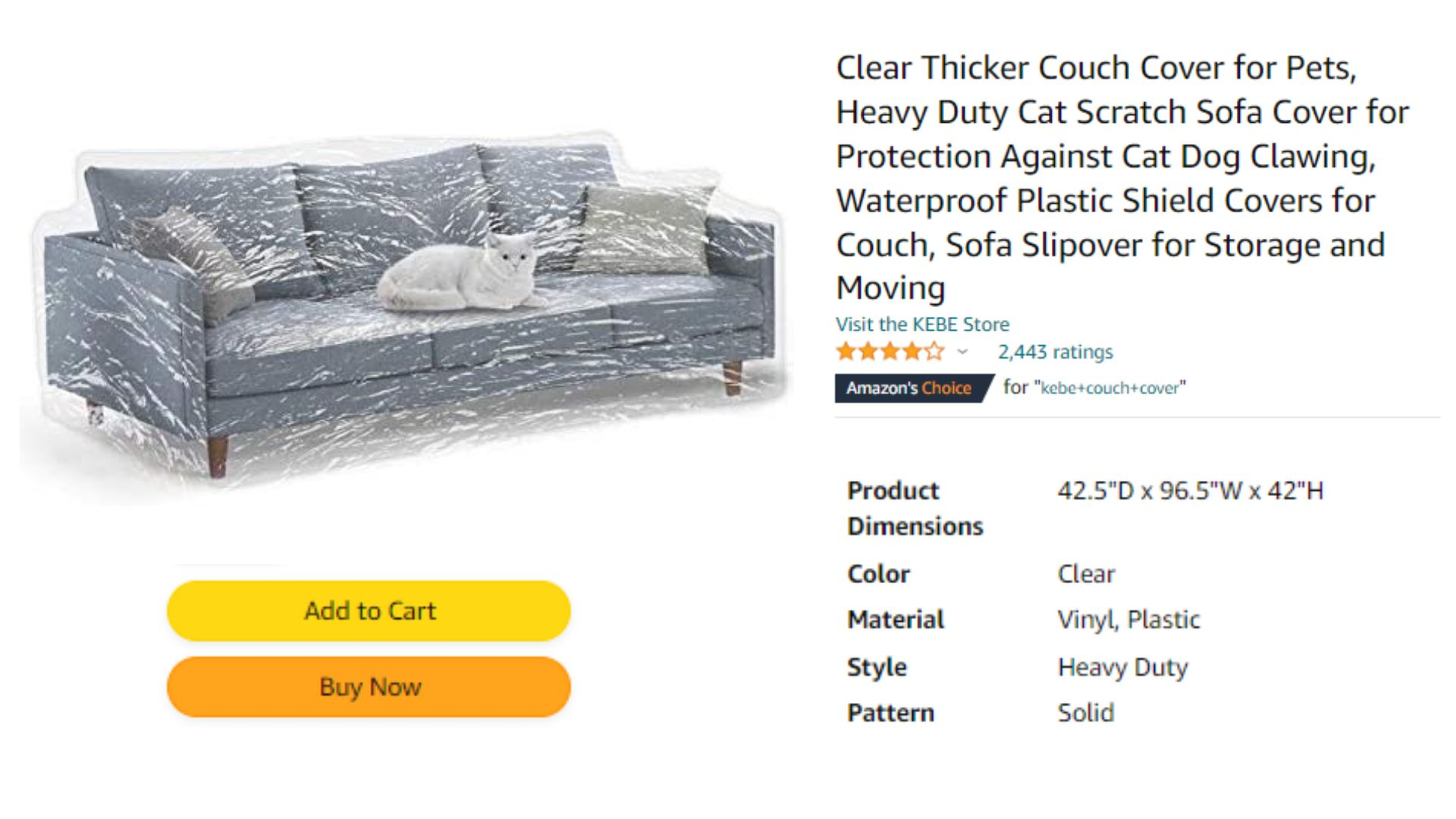 This way, you keep their pristine plastic covering intact without taking any valuable time away from your day. With plastic covers warranting this level of attention and care, who has any reason not to protect their couches?
Besides, sprucing up your plastic cover allows you to display a different color or pattern if that's what catches your eye. Finally, putting a little effort into caring for plastic couch covers can help fend off untimely destruction ––and give you some extra style points!
One of the best plastic covers for a sofa that is easy to wash and clean is the KEBE Thick Couch Cover. This plastic cover for the sofa is easy to clean with a moist towel, meaning you can enjoy your time on the couch without having to worry about stains or dirt. It keeps dust, grime, pet hair, and cat pee away while safeguarding your sofa from cat claws. Keep the couch spotless to extend your life. Plus, it's super affordable, so you can save some money in the long run.
Made of strong, premium grade 0.17mm thick plastic, it will not damage the appearance of your sofa while preventing the destruction of your dogs and cats. The couch cover perfectly protects the sofa from kids and pets and also prevents dust pollution.
With dimensions of 42.5 inches in depth, 96.5 inches in width, and 42 inches in height, this plastic sofa cover is pretty enormous. The enormous plastic sheet cover goes all the way to the floor, fits over your sofa with ease, and provides comprehensive sofa protection. efficiently prevent cats from scratching the armrests, back, or sides of the sofa.
It is an ideal plastic furniture cover during renovations or painting work. So if you're looking for a plastic cover for sofa that is easy to wash and clean, the KEBE Thick Couch Cover is definitely the way to go.
How To Care For Plastic Sofa Covers So it Will Last Longer?
With summer in full swing, heavy-duty plastic sofa covers are emerging everywhere as the perfect solution for shielding furniture from water, spills, and dirt. But if you're not careful, using these covers can end up costing more than you bargained for!
To keep your cover looking pristine for maximum usage, here are a few tips and tricks to caring for plastic sofa covers: First, be sure to launder the cover regularly on the gentle cycle with a mild detergent so it can keep its vibrant colors and soft texture. After washing – but before drying – it is important to double-check that all Velcro straps and fasteners are secured, so they don't get caught up in the machinery and tear the fabric.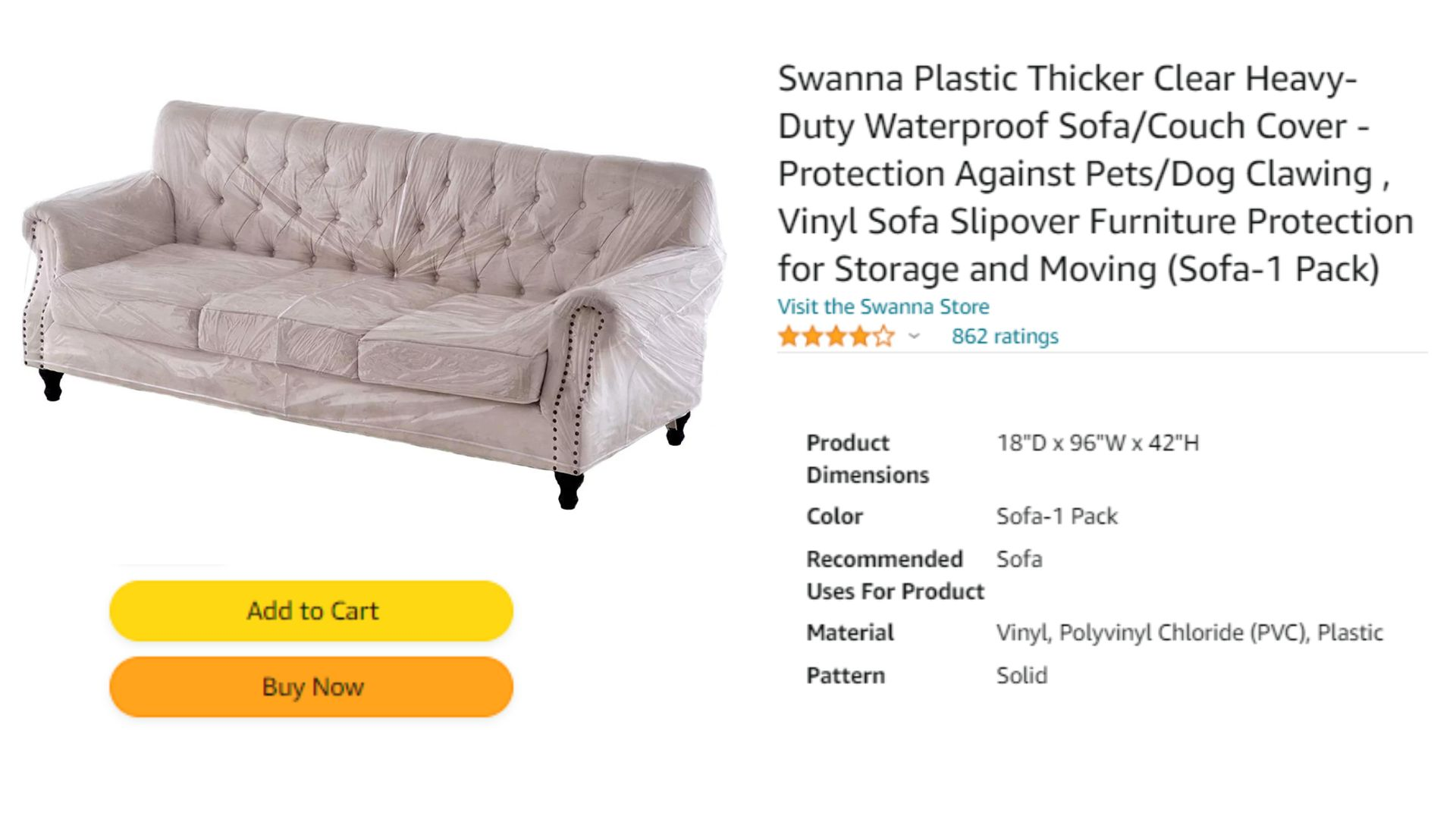 Finally, consider investing in an outdoor umbrella or Gazebo to provide an extra layer of protection against sun bleaching and heavy rainfall. With these guidelines carefully followed, you and your beloved furniture should experience fewer stains, patches, scratches, and tears for lasting quality this season!
One of the best plastic sofa covers to use is the Swanna Sofa Cover. A protective cover called the Swanna Sofa Cover is made to be placed over the upholstery of your sofa or other pieces of furniture to shield it from spills, dirt, and other impurities.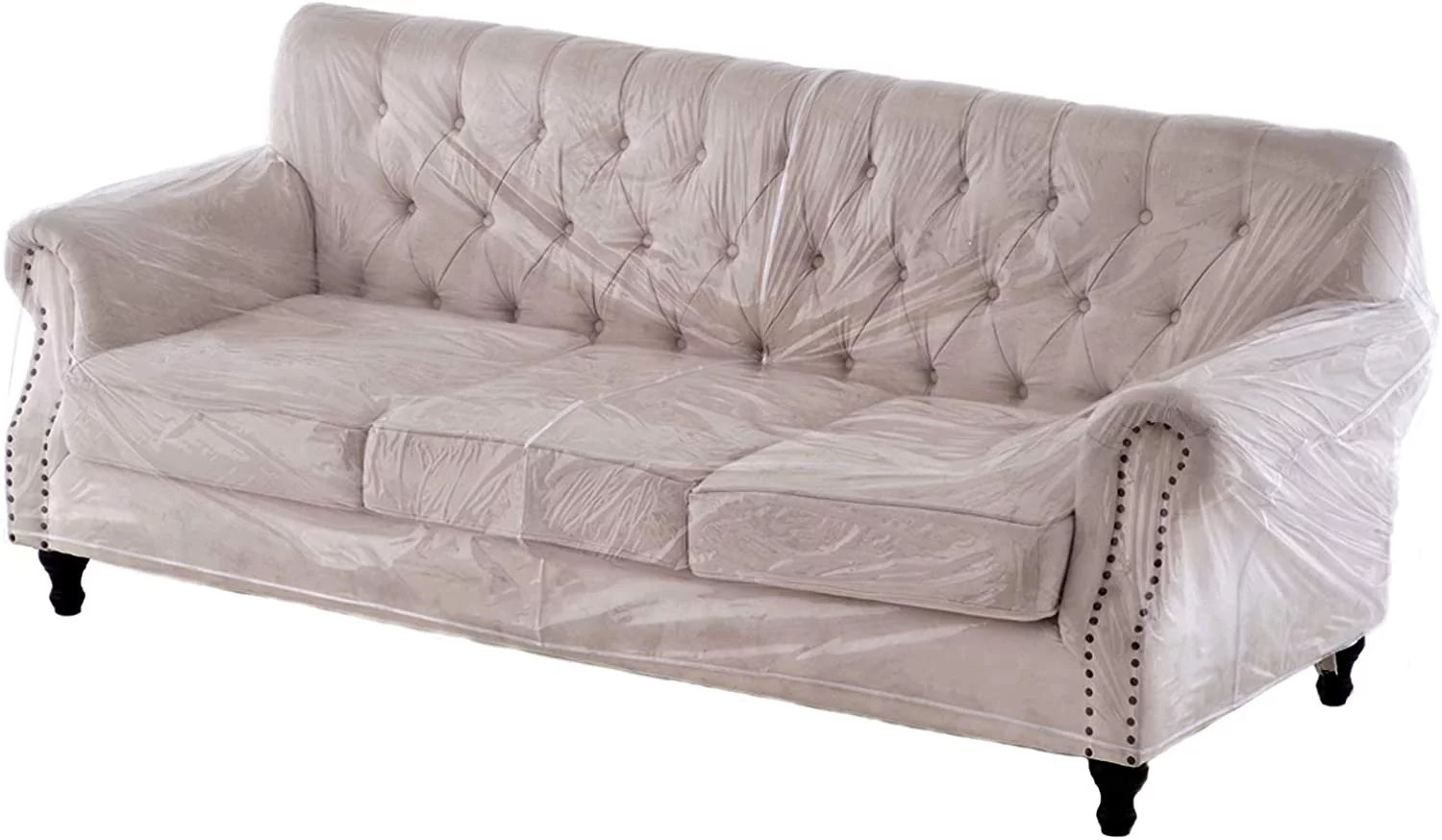 This plastic slipcover, which is made of long-lasting Vinyl and PVC material, may help keep your sofa looking spotless and fresh, preserving its attractiveness for years to come. The slipcover additionally offers an additional layer of defense against stains or damage, making it the ideal friend for households with small children or pets.
Additionally, it is simple to remove for washing or cleaning as required, making it a practical option for
What Are Some Reasons Your Plastic Sofa Covers Will Be Damaged?
Everyone loves the convenience plastic sofa covers offer–easy to wash, very affordable, and lightweight. Yet plastic covers can get damaged if not handled properly; spills don't just happen on fabric furniture, and plastic isn't invincible against the forces of nature. From harsh sunlight exposure to pets and pests, furniture plastic covers face plenty of hazards.
For instance, plastic is susceptible to ultraviolet (UV) radiation which causes it to turn yellow, crack and lose its tenacity. Pets can also cause fraying or puncturing when their claws catch the plastic material, and even standing on furniture for too long could lead to tears or deformation. Of course, as with anything plastic, heat is a major issue.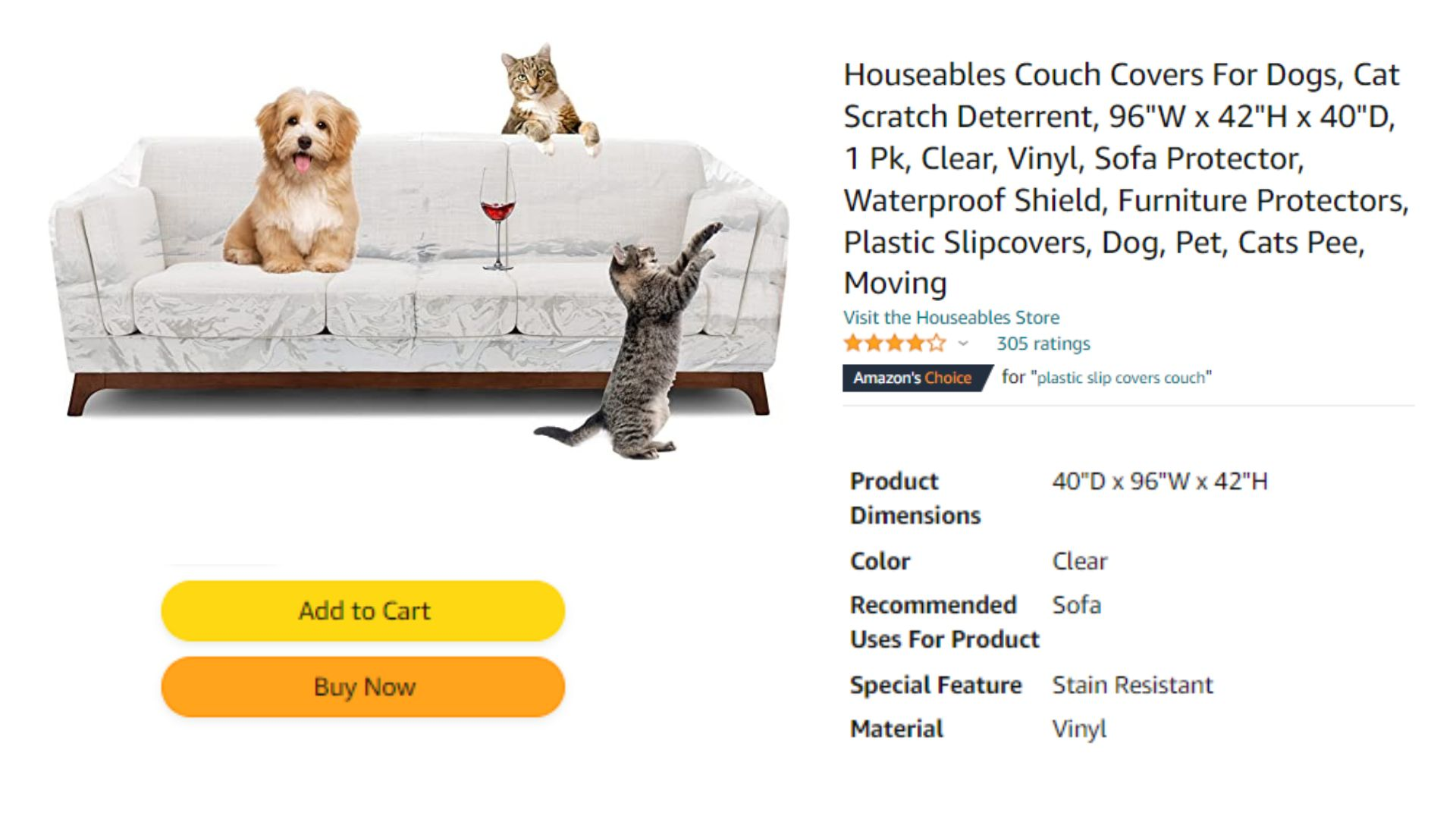 Do not leave plastic furniture covers near a heater or floor vent; the plastic will quickly melt! Of course, you may want to avoid doing any of these activities to keep your plastic sofa covers undamaged in the first place–but hey – accidents happen! Remember that without proper care and maintenance, your plastic furniture can become less than picturesque in no time! Keep an eye out for damage, and all will be good. Enjoy your plastic furniture!
If you're looking for plastic sofa covers that protect your furniture from damage, you can't go wrong with Houseables Couch Covers. These covers are made from durable plastic that will stand up to the wear and tear of everyday use. Even better, they're easy to clean – wipe them down with a damp cloth when necessary. This waterproof couch cover is 96 inches wide, 42 inches tall, and 40 inches deep.
It has strong seams that prevent pets from tearing them apart. Even when numerous dogs and humans sit down or get up from the couch, its form-fitting construction will keep it in place. Gone are the days of getting worked up over cat and dog scratches all over your couch. This couch plastic cover will make it impossible for your beloved pets to do any damage to your furniture.
Plus, if a spill occurs on the couch cover, all you have to do is take a little soap and a damp washcloth to the vinyl cover, and the liquid will be removed in seconds. No more permanent stains!
With this vinyl plastic cover, your toddler (or clumsy spouse) will be saved when they take a spill with a beverage in hand. Whether it's a colorful fruit punch or deep red wine, this couch cover will save your sofa from permanent stains. So don't wait – get your Houseables Couch Cover today.
How Can You Prevent Your Sofa Plastic Cover From Being Damaged When Moving?
If you're moving soon, you might be wondering how to protect your sofa plastic cover for moving from being damaged. Luckily, there are a few simple steps you can take to ensure that your cover stays in good condition during the move.
First, it's important to measure your sofa and sofa cover before you start packing. This will allow you to determine whether or not the cover will fit through doorways and other tight spaces. If it looks like the cover might be too big, it's best to remove it and pack it separately.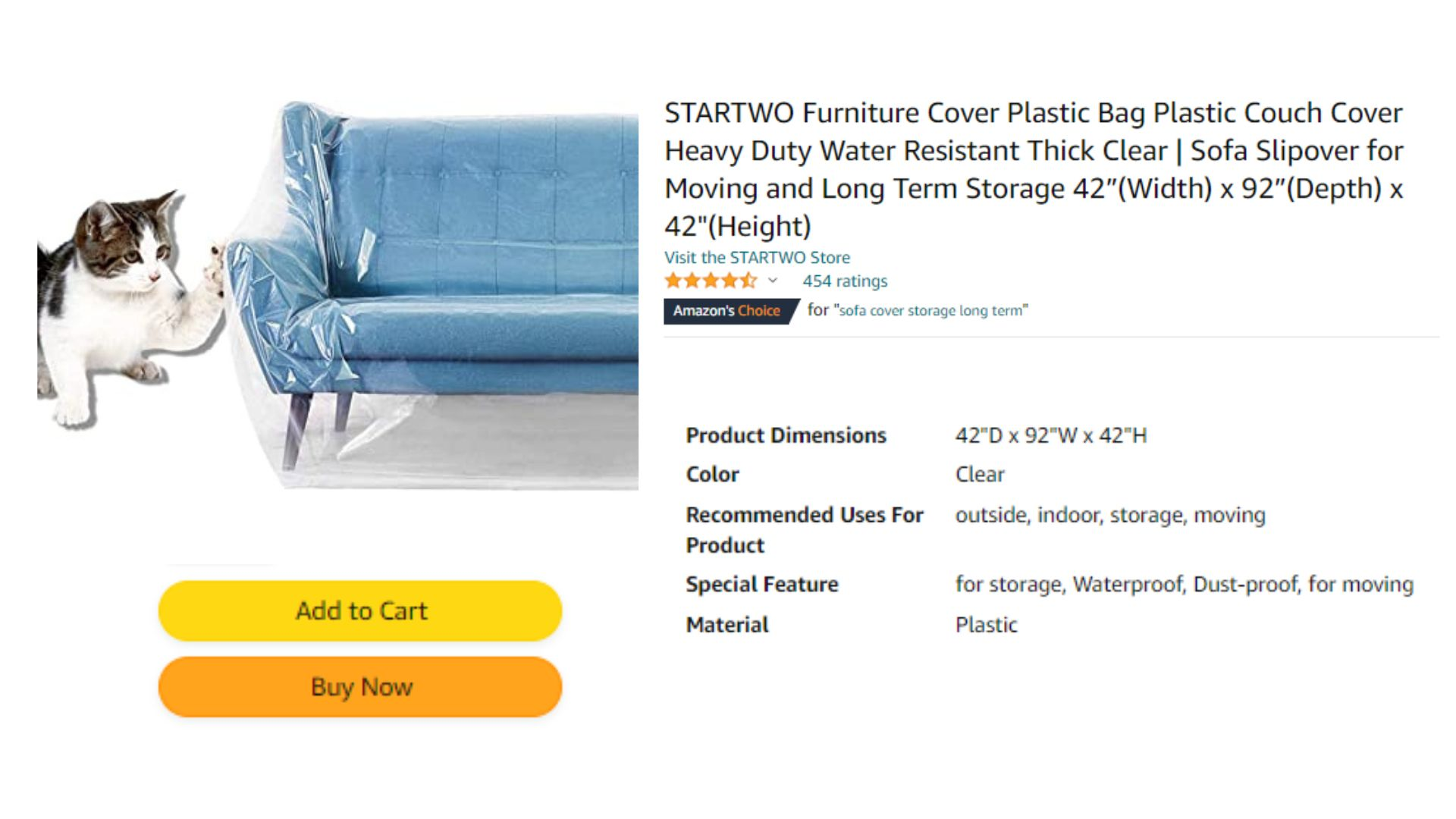 Once you've measured your sofa and sofa cover, it's time to start packing. Be sure to wrap the plastic sofa cover in padding or bubble wrap before placing it in a box or bag. This will help to prevent any sharp corners from puncturing the cover. You should also label the box or bag clearly so that you know which contents are fragile and require extra care.
The last thing you want while moving your furniture is for your couch or other upholstered surfaces to become soiled or ruined. The good news is that STARTWO Furniture Couch Covers are an excellent solution to safeguard your furniture in even the most demanding moving circumstances.
These coverings are constructed to survive even the worst conditions encountered during long-term storage or movement because they are made of 6-mil thick, tear-resistant polyethylene material. These coverings will keep your furniture dry and secure at all times, whether you're remodeling your home or simply putting your couch in storage for an extended time.
This plastic sheet protectors are made to be somewhat broader and longer than other covers on the market because it is intended to completely protect couches of all sizes. This cover can be used for a variety of purposes, including extra protection for your furniture or extra coverage for long, deep sofas. Your furniture will also remain in excellent shape even when being moved or stored for an extended period of time because of its sturdy design and breathable material.
They are also simple to utilize when on the road because they are simple to apply and take off. Therefore, STARTWO Furniture Couch Covers are your finest choice if you require top-notch furniture protection while you
How To Remove Stubborn Stains From Your Plastic Sofa Covers?
It's the bane of plastic sofa covers – those stubborn stains that just won't come off! We've all been there – sitting down to relax on the plastic sofa only to discover a deep, dark stain that mysteriously embedded into the cover. As with any cleaning task, it's important to arm yourself with the knowledge to banish those blemishes for good.
To begin, could you identify what type of plastic material your sofa cover is made from and then look for specific cleaning solutions formulated for plastic surfaces? If you have plastic sofa covers for bed bugs or other insects, be sure to read your product labels carefully, as some chemicals may not be safe to use on these materials.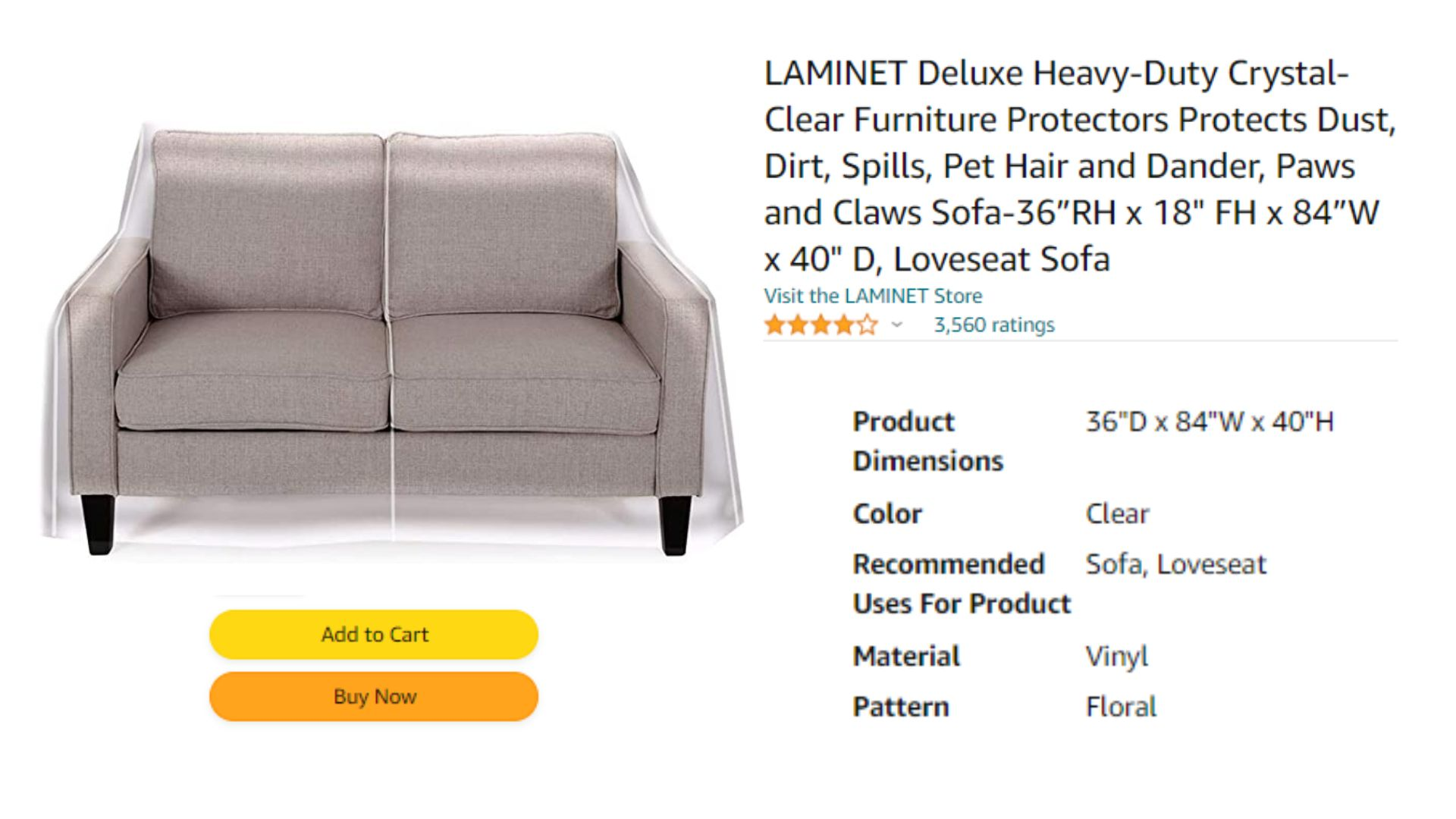 Once you have identified your cleaning solutions, you can pre-treat with a gentle scrubbing brush and mix some solution with warm water in a spray bottle before blotting up excess liquid. Then gently rub the stain in a circular motion with a soft cloth until it lifts away – if necessary, repeat steps until gone! Finally, could you rinse off the area with cold water and air dry your plastic sofa covered under direct sunlight or use a gentle blow-dryer setting before replacing it over the couch or armchairs?
If you've ever tried to clean a plastic sofa cover, you know it can be a frustrating experience. The plastic is often stiff and inflexible, making it difficult to get a good grip on the fabric. And if you're not careful, you can leave behind streaks and smears. But with LAMINET Heavy-Duty Crystal-Clear Furniture Protectors , you can forget about all that hassle. These plastic sofa covers are made of soft, flexible plastic that's easy to grip and clean.
These plastic furniture protectors offer great defense against spills, stains, and other wear and tear that can happen with frequent usage of your furniture because they are composed of sturdy, high-quality vinyl plastic material.
LAMINET Heavy-Duty Crystal-Clear Furniture Protectors include a clear, crystal-clear design that allows you to see the color and pattern of your couch or loveseat while preserving it from dust, debris, and grime. They also preserve your furniture investment. Because of their streamlined and fashionable form, they will not only protect your furniture from harm but also improve its beauty.
These clear plastic furniture covers, in contrast to other products on the market, are constructed from sturdy vinyl that can withstand normal wear and tear. These covers' seamed borders keep them from shifting or bunching up, while their smooth surface makes cleaning them by hand or with a damp towel simple. What's more, LAMINET covers are ingeniously created utilizing no powder coating or glue, which means no mess left.
This plastic couch cover is a great solution for protecting your furniture from spills, damage, and daily use. Cleaning the cover's flat surface by hand or with a moist cloth is relatively easy. They fit snugly over any standard-sized couch at 36 inches deep, 84 inches wide, and 40 inches tall, offering full protection from spills, scratches, dirt, and other hazards.
According to one reviewer, "These coverings are great for keeping your furniture clean, especially if you have pets. They are simple to clean and last a long time!" So next time you need to clean your plastic sofa cover, reach for a LAMINET Furniture Protector – it's the easy way to keep your furniture looking its best.
Should I Keep My Fitted Plastic Sofa Covers in Place All Year Round?
Let's face it, plastic sofa covers are not the most stylish accessories around. In fact, they can make even the chicest piece of furniture look dull and drab. Nevertheless, fitted plastic sofa covers serve an important purpose: they help to protect your sofa from spills, dirt, and other Everyday grime.
So if you're wondering whether or not to keep your fitted plastic sofa covers in place all year round, the answer is a resounding yes! Not only will fitted plastic sofa covers help to prolong the life of your sofa, but they'll also save you a lot of time and effort in the long run. So go ahead and keep those fitted plastic sofa covers in place – your sofa will thank you!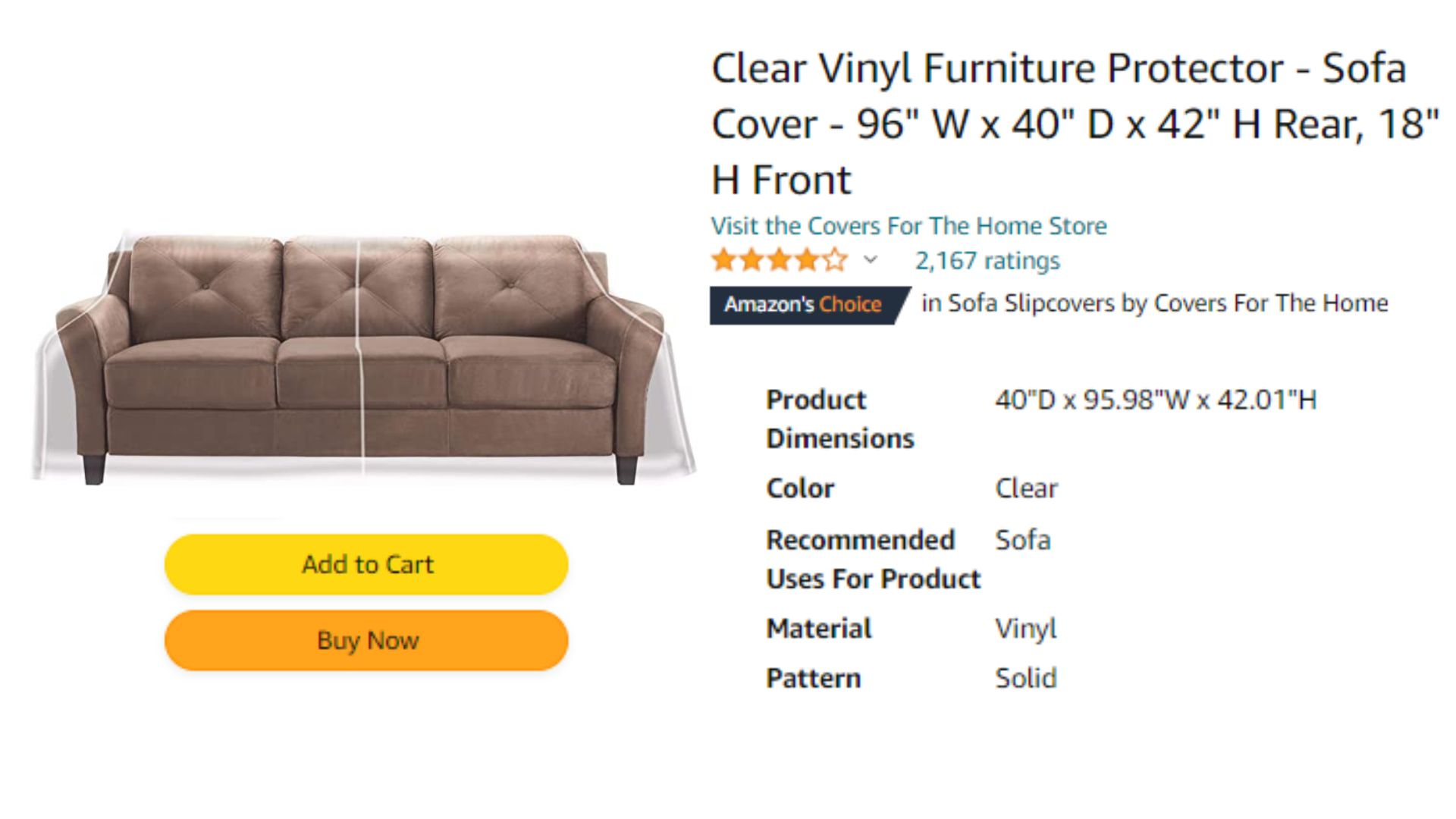 Covers for the Home Clear Vinyl Furniture Protector is ideal for you if you're searching for the best-fitted plastic sofa covers to shield your favorite couch from the elements. These tough and transparent vinyl covers protect your furniture from wear and tear caused by children, grandchildren, or even dogs. These plastic cover offer enduring protection that won't hinder access or visibility thanks to their seamed edges and incredibly sturdy construction.
Measuring 96 inches wide, 40 inches deep, 42 inches high at the back, and 18 inches tall at the front. You are protected from dirt, spills, pet dander and hair, paws, and claws in your armchair or recliner. Protection from children, grandchildren, and dogs is ideal! In addition, a moist towel can be used to clean it.
You can be confident that your furniture will continue to look great for many years to come since these plastic furniture protectors are simple to use and maintain. One of the reviewers says, "Like elastic on the bottom, so it doesn't hang loose – giving a more fitted, neat look – also easier to put on and take off. Vinyl stays clear – not clouding up."
Is It Worth Buying For Plastic Cover For a Sofa?
Do you have a sofa that you're desperate to keep in pristine condition? Are you looking for a way to protect it from spills, pet hair, and general wear and tear? If so, you may be considering buying a plastic cover for your sofa. But is it really worth the investment?
On the plus side, a sofa with plastic cover is much easier to keep clean than one without. Spills can be quickly wiped up, and pet hair can be vacuumed away with minimal effort. In addition, a sofa with a plastic cover will also resist staining and fading much better than an unprotected sofa – meaning it will look newer for longer.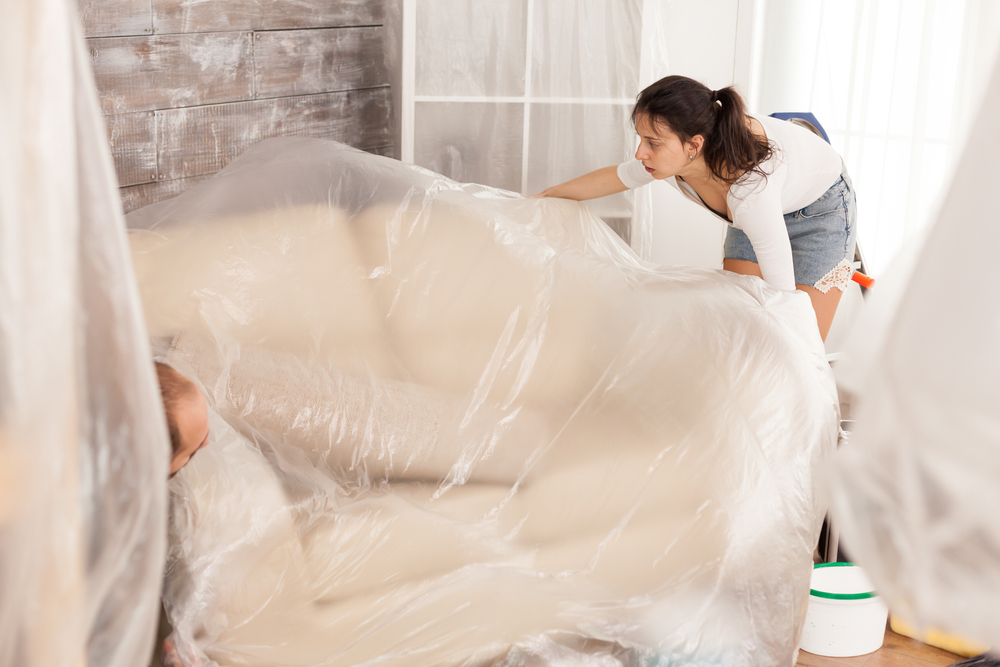 On the downside, however, a sofa plastic cover can feel quite clinical and impersonal. It can also make your sofa quite hot in the summer months, as the plastic traps heat underneath. And if you do have an accident and spill something on your sofa, the plastic cover is likely to trapping the stain underneath – making it much harder to clean.
So is it worth buying a plastic cover for your sofa? Ultimately, that's a decision for you to make. But if you're looking for a way to keep your sofa looking its best for longer, it may be worth considering.
Thoughts
So, there you have it! Now that you know how to properly wash and care for your sofa plastic cover, it should stay looking new and fresh for years to come. And if you ever find yourself in a bind and need to clean it up in a hurry, remember our simple tips – they'll save the day (and your sofa)!