A plastic couch cover can be customized to match your couch and home decor. It is a great way to instantly give any room a facelift without replacing the furniture entirely. Plastic couch covers come in various sizes, colors, and styles that can be tailored to your needs. They are also inexpensive, making them an appealing and affordable furniture update option.
When shopping for plastic couch covers, be sure to measure your couch first so that you can find the right size cover. Consider factors such as fabric type when selecting a plastic couch cover. Different materials offer different levels of durability and comfort, so choose one best suited for your particular needs.
Custom plastic couch covers can match virtually any home decor style. Many come in a variety of colors, which makes it easy to coordinate with the other elements in the room. They can also be customized with designs and patterns to showcase your unique taste and personalize your living space.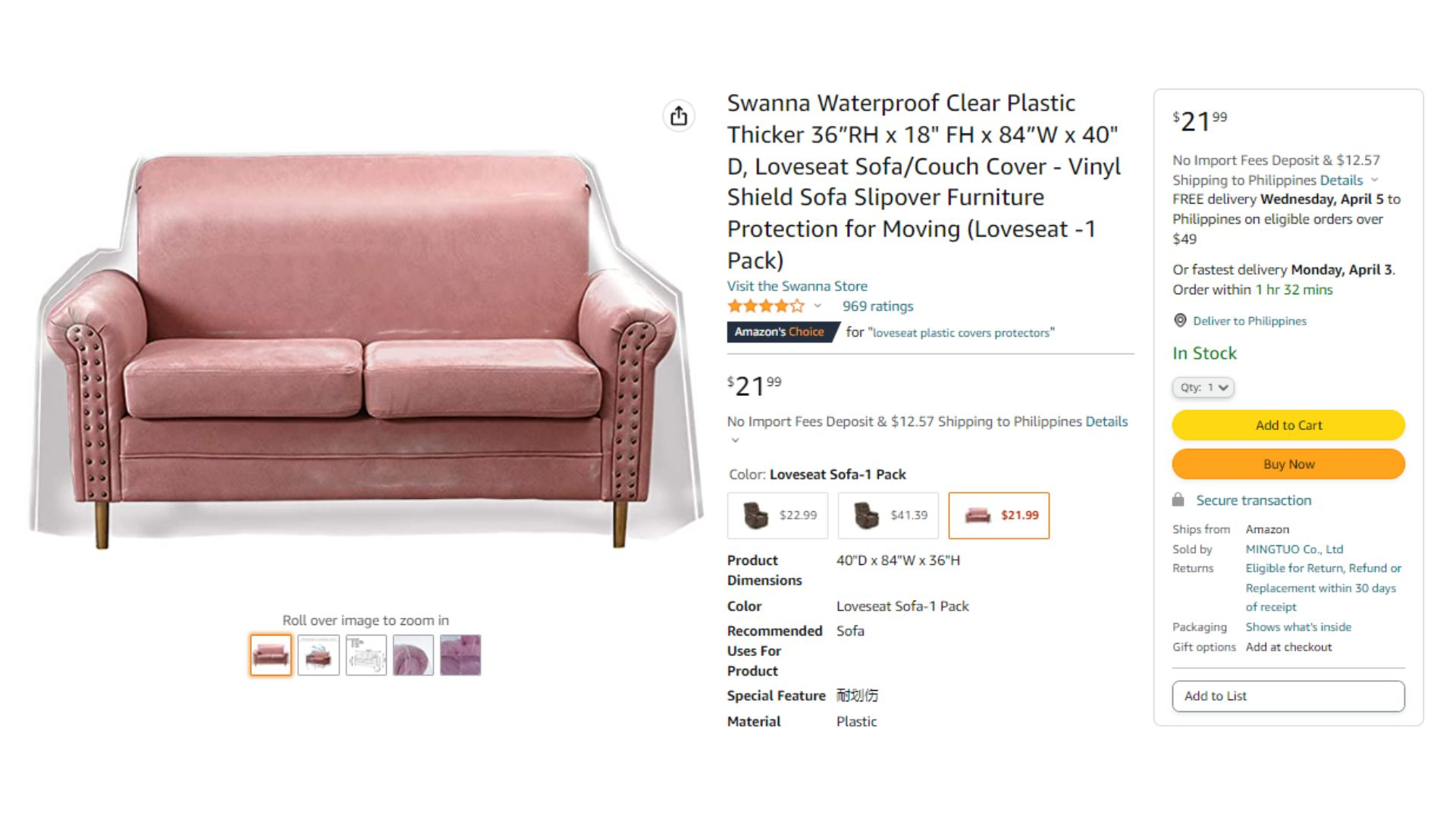 Can Plastic For Couches Be Cut or Trimmed to Fit Your Couch Perfectly?
Plastic couch covers can be cut or trimmed to fit your couch perfectly. Most plastic Couch covers come with raw edges that can easily be modified with scissors or a utility knife. It is essential to take extra care when cutting plastic. The material can be challenging, and mistakes need to be corrected quickly.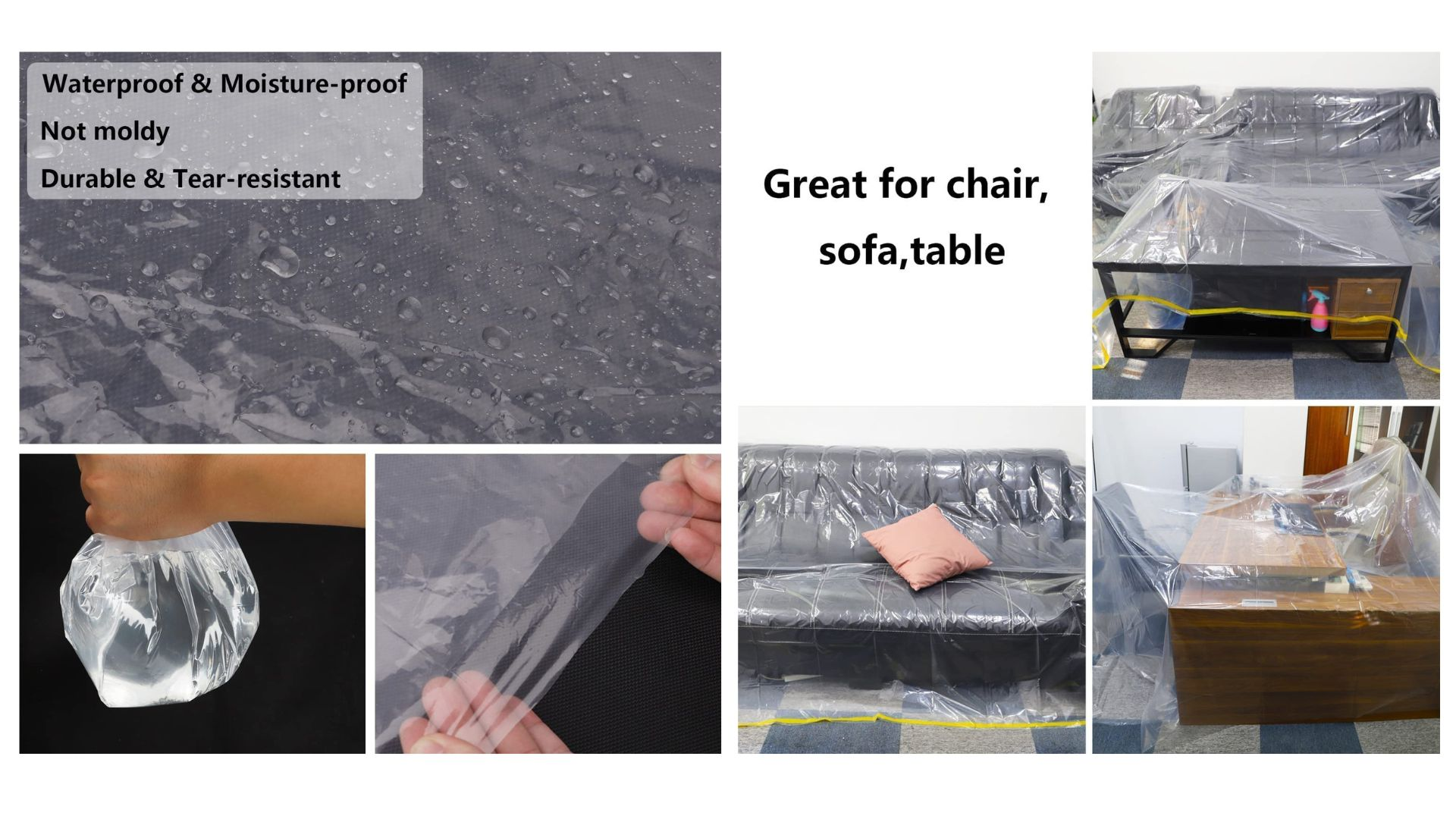 To ensure a perfect fit, measuring your couch and plastic cover multiple times before making any cuts is best. Suppose you need more confidence in cutting plastic yourself. In that case, there are professional tailoring services available that can modify the plastic material for you.
Overall, plastic for couches provides an easy and affordable way to give any room a new look without replacing furniture entirely. You can customize your furniture and decor with the right plastic couch cover to reflect your unique style. Be sure to measure carefully when cutting plastic for a perfect fit!
Can Plastic Sofa Covers be Used on Outdoor Furniture as Well as Indoor Furniture?
Plastic sofa covers can be used on outdoor and indoor furniture. While plastic couch covers are primarily designed for indoor use, they are suitable for outdoor settings too. However, it is essential to consider the material of the plastic cover and how it will hold up against changing weather conditions. When using plastic sofa covers outdoors, look for waterproof or weatherproof plastic. This type of plastic will provide better protection from the elements, such as rain and sun exposure.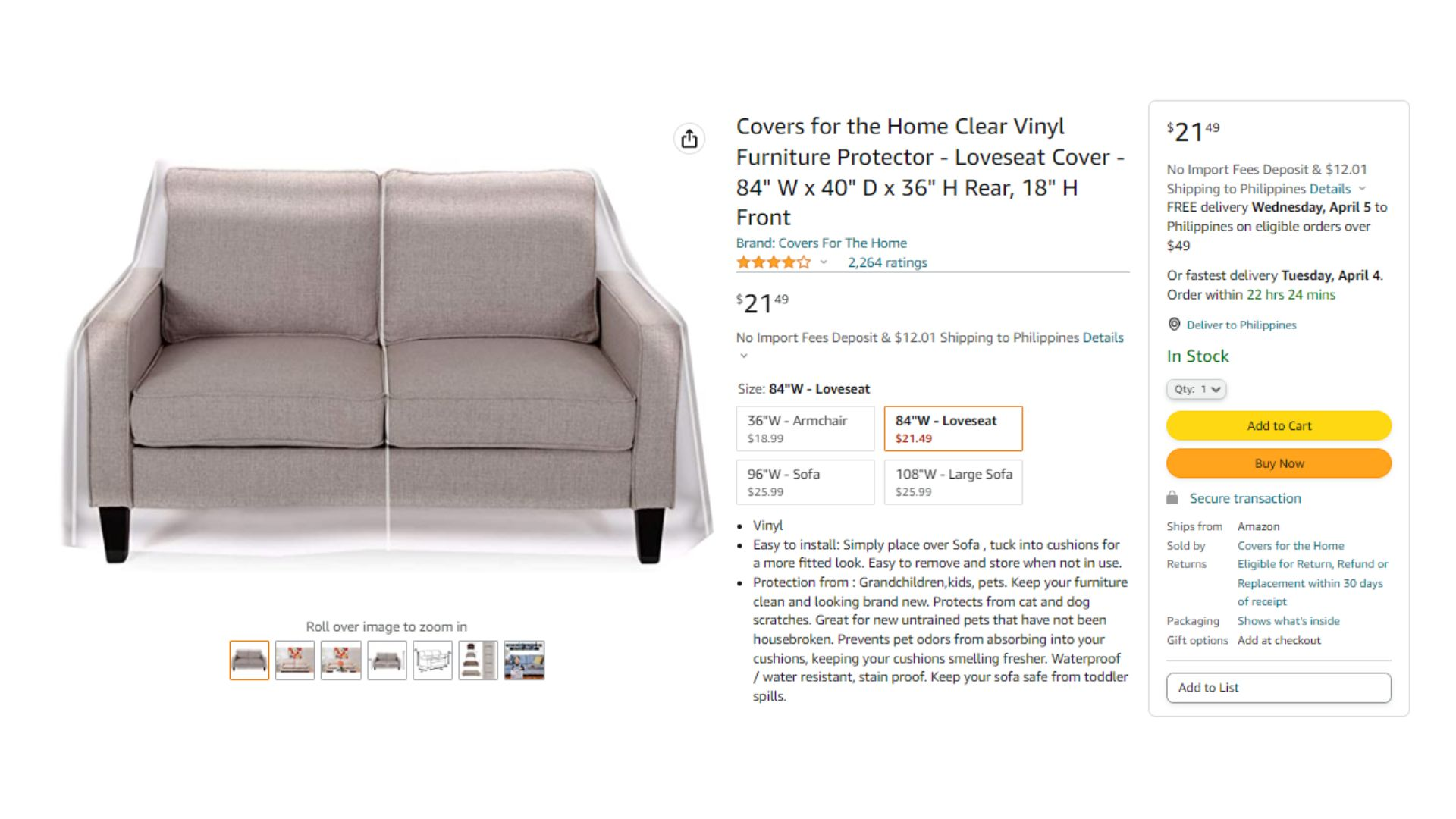 Additionally, if you plan on using plastic couch covers outdoors for extended periods, consider investing in a higher-quality plastic material for more excellent durability. Plastic sofa covers can be used on outdoor and indoor furniture. Select plastic materials that are waterproof or weatherproof for added protection from the elements, and consider investing in higher-quality plastic for extended use outdoors. With careful consideration, plastic couch covers can make a great addition to your indoor and outdoor living spaces!
Is Plastic Couch Covers More Affordable Than Other Types of Couch Covers, Such as Slipcovers or Throws?
Plastic couch covers, like slipcovers or throws, are more affordable than others. Plastic is generally less expensive than other materials and can be cut or trimmed to fit your furniture perfectly. Plus, plastic couch covers come in various colors, styles, and sizes, making it easy to find something that fits your budget.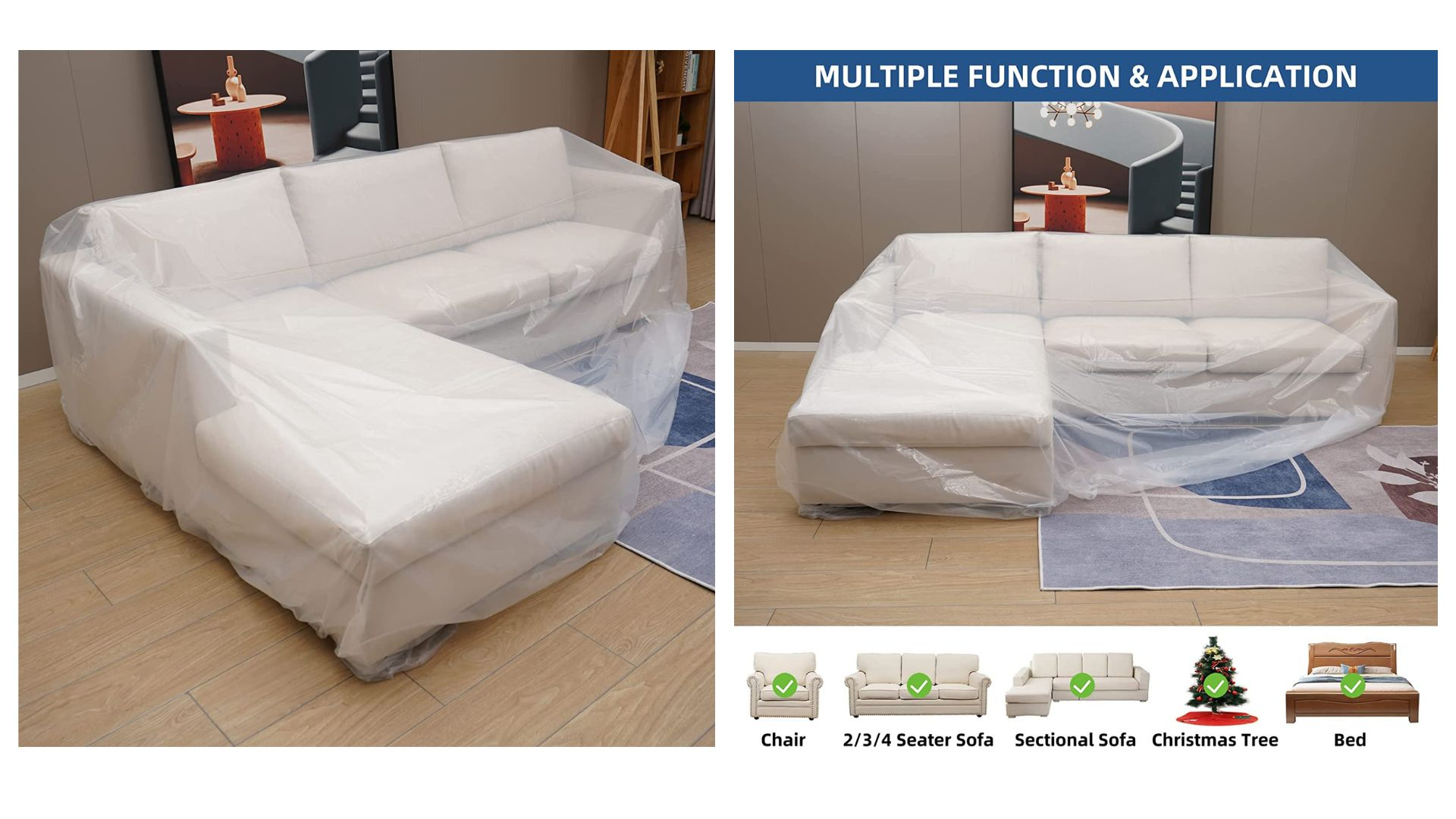 Slipcovers and throws can also be costly, depending on their fabric and design. Custom options may be pricier than plastic couch covers, though they offer more flexibility for unique home decor styles. Decide what works best for you by comparing the options before purchasing.
In conclusion, plastic couch covers are affordable for giving any room a new look. Choose plastic material that meets your needs and budget, then customize it with various colors, designs, and patterns to create the perfect atmosphere in your home. With plastic couch covers, you can quickly transform the look of any space without breaking the bank!
How Does Using a Plastic Cover for Couch Extend the Lifespan of Your Furniture?
Using a plastic cover for couch can help extend its lifespan. A plastic cap is an extra layer of protection to keep the furniture safe from dirt, dust, spills, and other damaging elements. This protective plastic barrier also helps reduce fading from UV rays and wear-and-tear caused by pets or small children.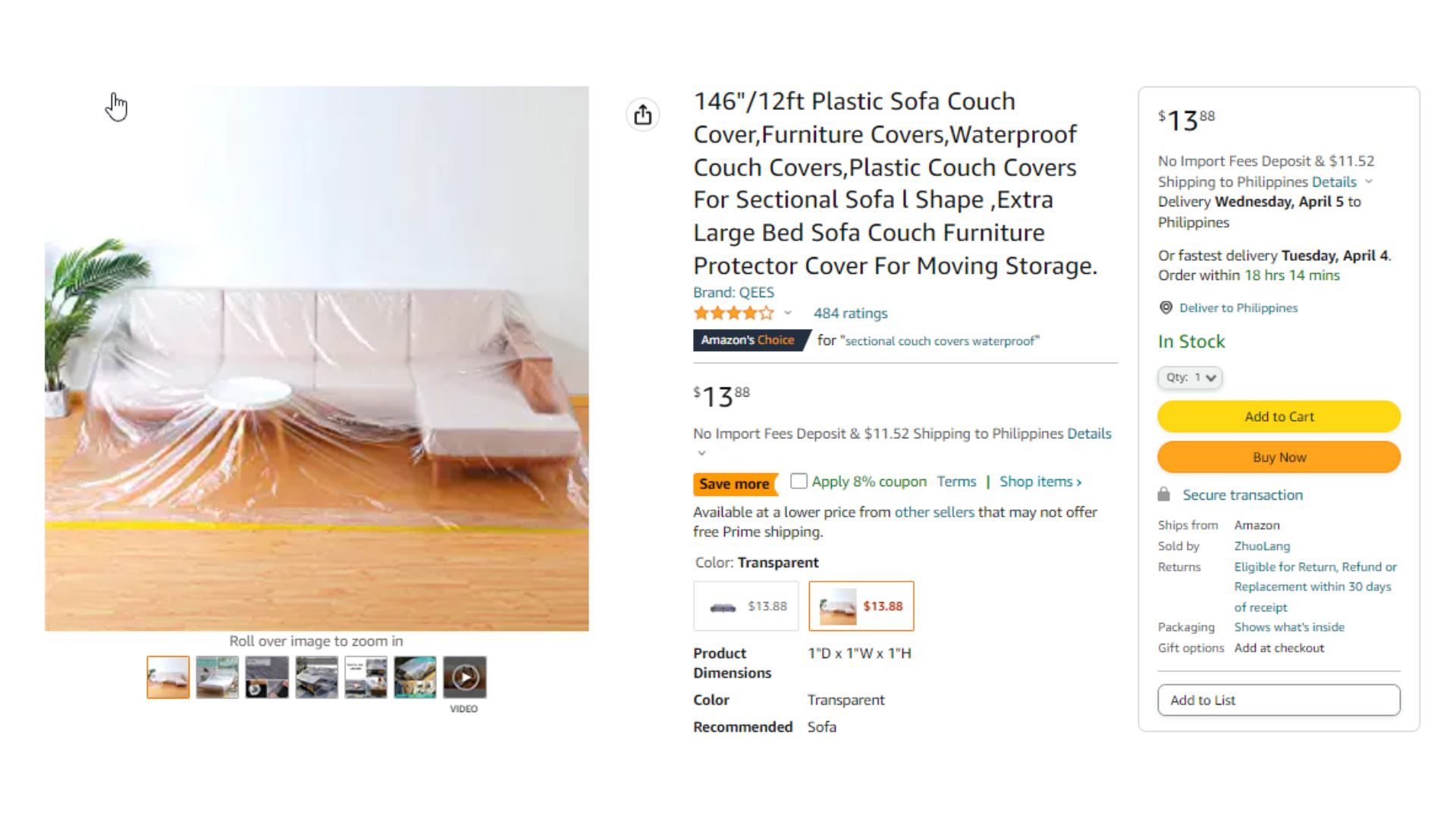 Plastic covers are an affordable and easy way to keep your furniture looking new for longer. You can also easily remove plastic couch covers for cleaning to maintain your furniture with minimal maintenance. Plus, if your plastic couch cover gets worn over time, you can swap it out for a new one without purchasing a new set of furniture. Investing in plastic couch covers is an excellent way to extend the life of your furniture!
Are there any Potential Drawbacks to Using a Plastic Slipcover for your couch?
Plastic slipcovers may have some drawbacks. Plastics do not breathe as well as fabrics, so plastic couch covers can make furniture pieces more uncomfortable to sit on. Additionally, their smooth surface makes plastic couch covers more likely to slide and shift. Finally, plastic couch covers are less durable than other options, such as slipcovers or throws. They may need to be replaced more often.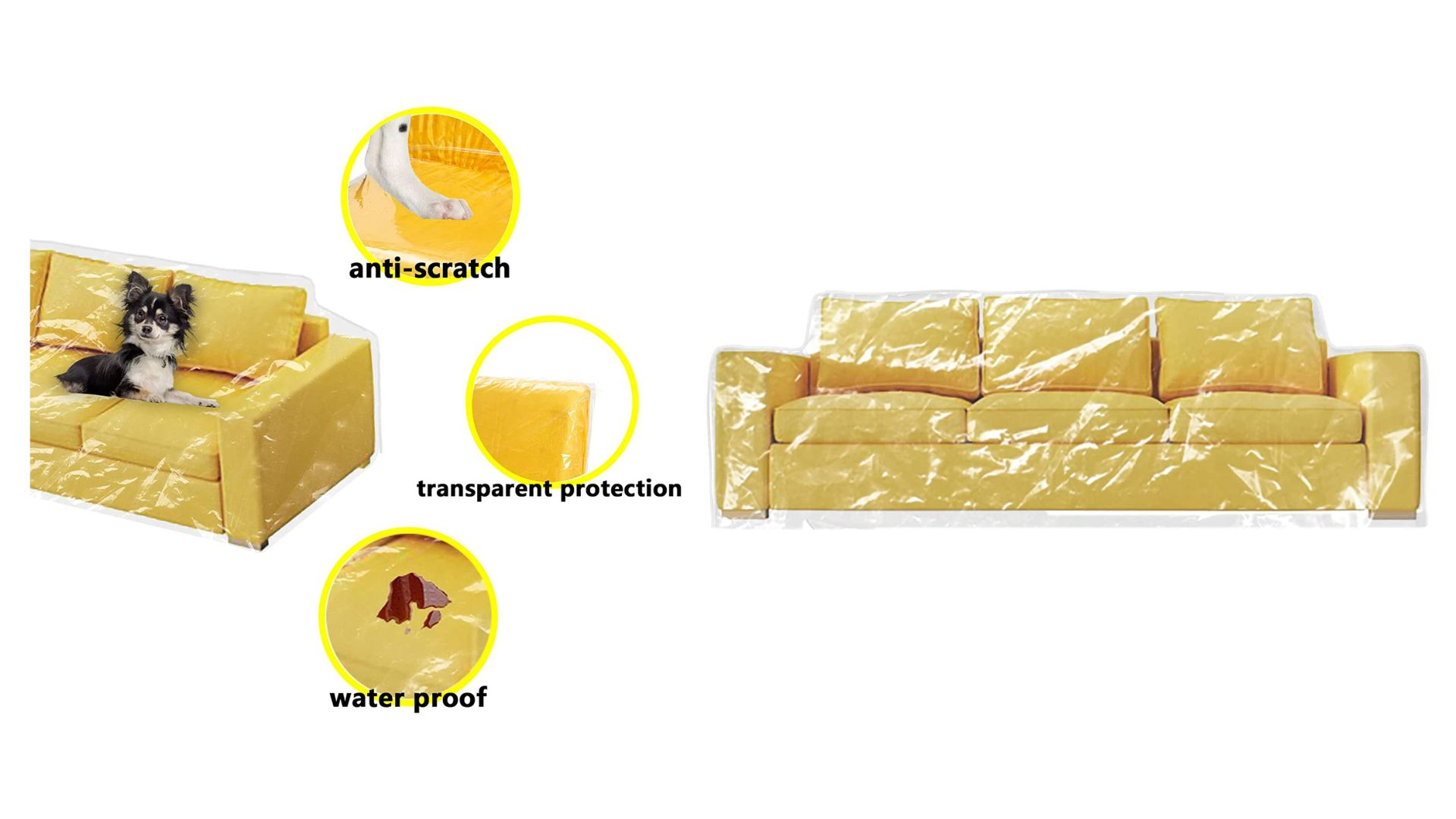 All in all, plastic couch covers are an excellent option for giving any space an instant refresh. Carefully consider the pros and cons of plastic before deciding if it's right for you. With a suitable plastic material, plastic couch covers can be a great way to keep your furniture looking new for longer.
Is a Couch Plastic Cover Lightweight and Portable, Making it Easy to Store When Not in Use?
About this item, couch plastic cover is lightweight and highly portable. They usually come folded in a small package, making it easy to store away when not in use. Items like Plastic couch covers can be quickly and easily removed for cleaning or rearranging furniture without moving it around the room.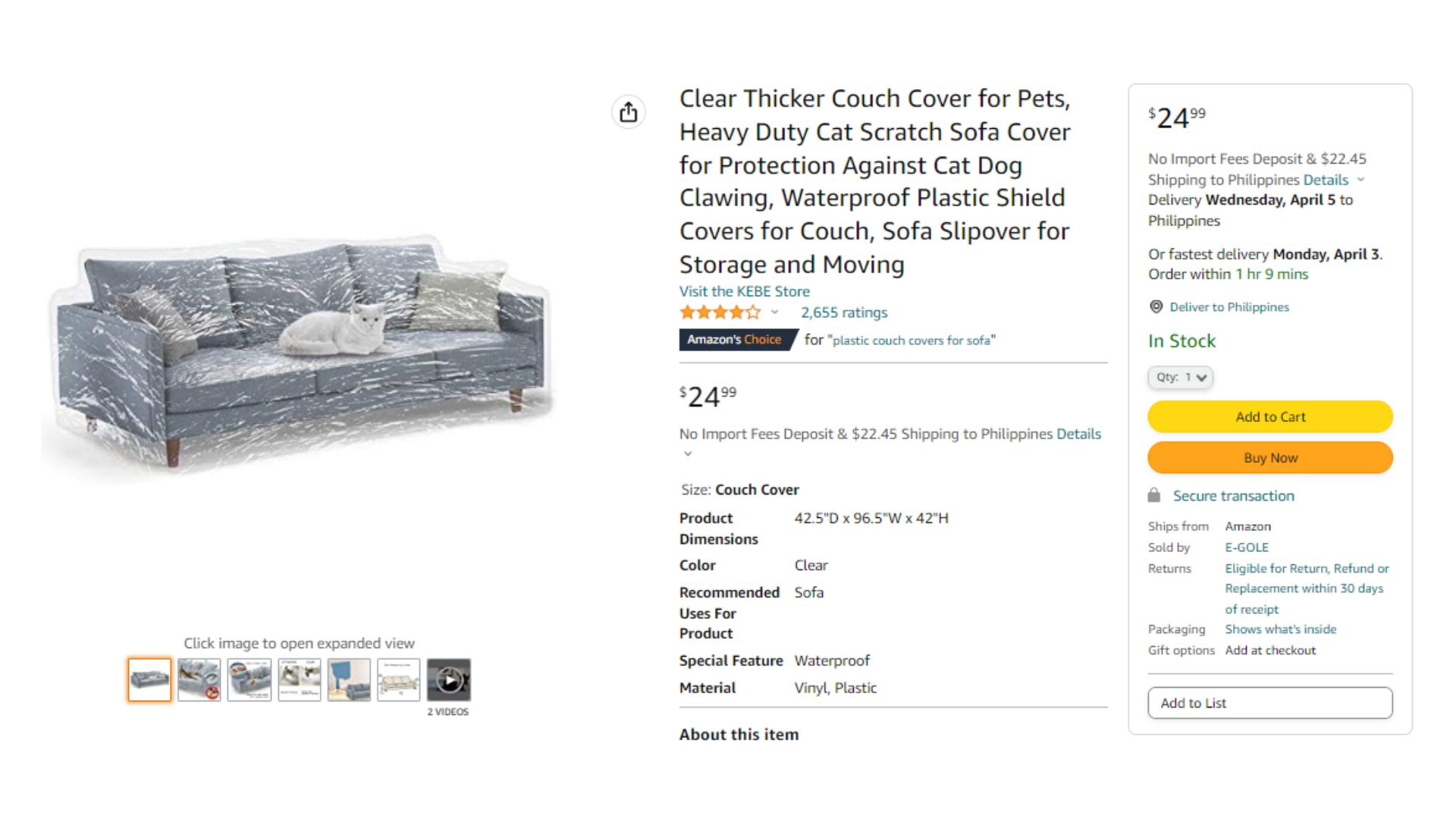 When selecting a couch plastic cover, consider how often you plan to move it and how much storage space you have available. Plastic couch covers in lighter-weight materials are usually more convenient for transport and storage. With a couch plastic cover, you can give your furniture a fresh new look without taking up too much space!
Finally, couch plastic covers can be used to extend the life of your furniture while providing a stylish solution for any room. Lightweight and portable, plastic couch covers are easy to store when unused.
What Are Some Of The Creative Ways In Using Plastic Cover For Sofa?
You can use Plastic couch covers to create unique and stylish home decor. For instance, clear plastic couch covers are a great way to keep your furniture looking new while still showing off the piece's beauty underneath. You could also choose colored or patterned clear plastic covers for a modern look. Alternatively, solid-colored plastic couch covers work well for creating a bold statement. Plastic clear couch covers work great with slipcovers or throws, too. Mix and match colors, patterns, and materials to give your furniture an extra stylish edge.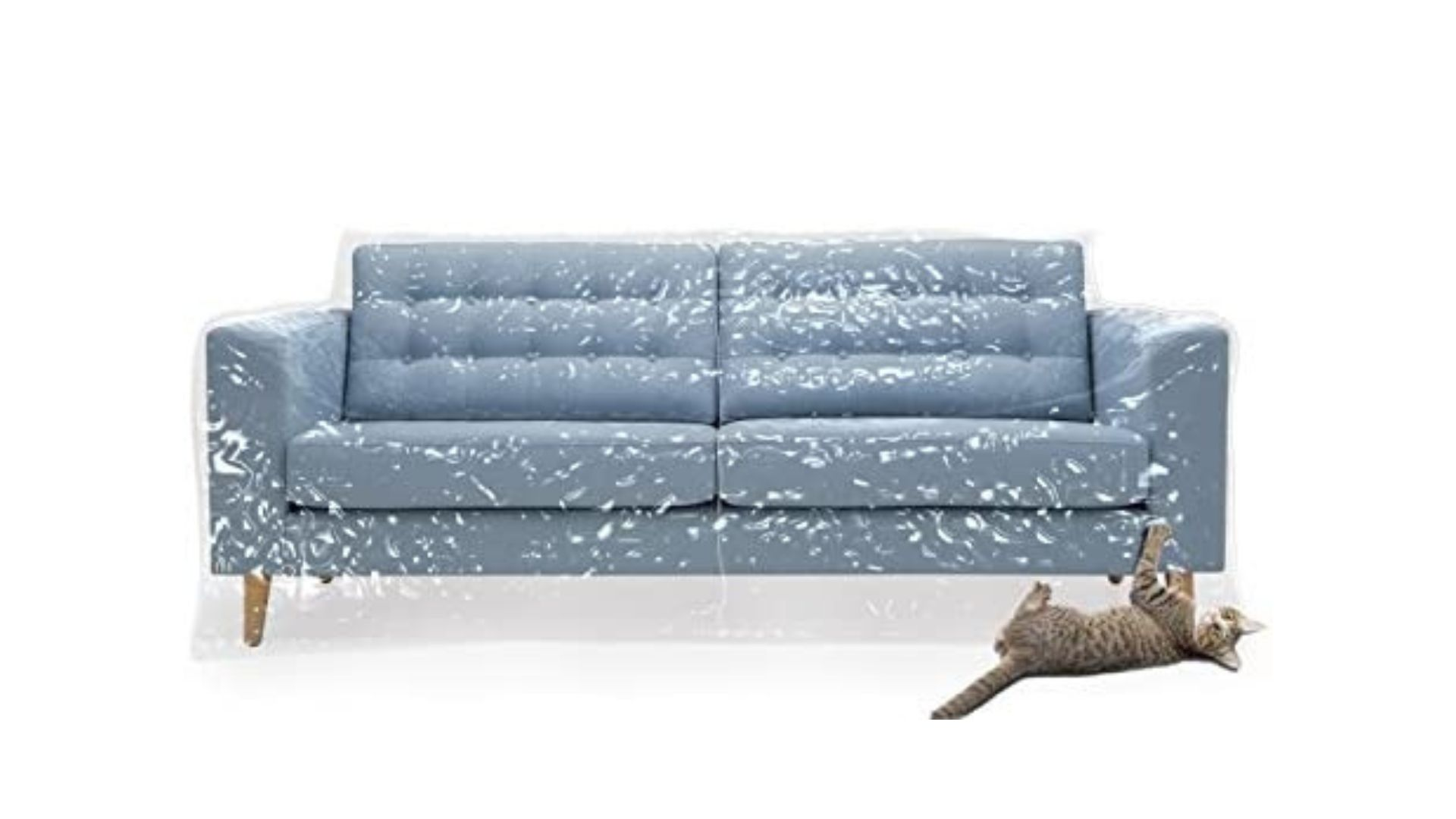 For more of a traditional look, you could use clear plastic covers with your favorite throws or blankets. You can also get creative with clear plastic couch covers by layering them over other furniture pieces. For example, you could layer clear plastic covers over an armchair to create a modern statement piece perfect for living rooms and bedrooms. With creativity and imagination, you can use clear plastic couch covers to create unique and stylish home decor pieces.
What is The Average Price Of Plastic Covers For Couches?
The cost of plastic couch covers usually depends on several factors, such as size, material, and design. Generally speaking, plastic couch covers are relatively affordable. You can usually find plastic couch covers from $20 to $50. However, plastic cover prices may vary depending on the material used and other features included in the product. Additionally, plastic couch covers in larger sizes will usually cost more. Comparing prices can help you find the best deals on plastic couch covers.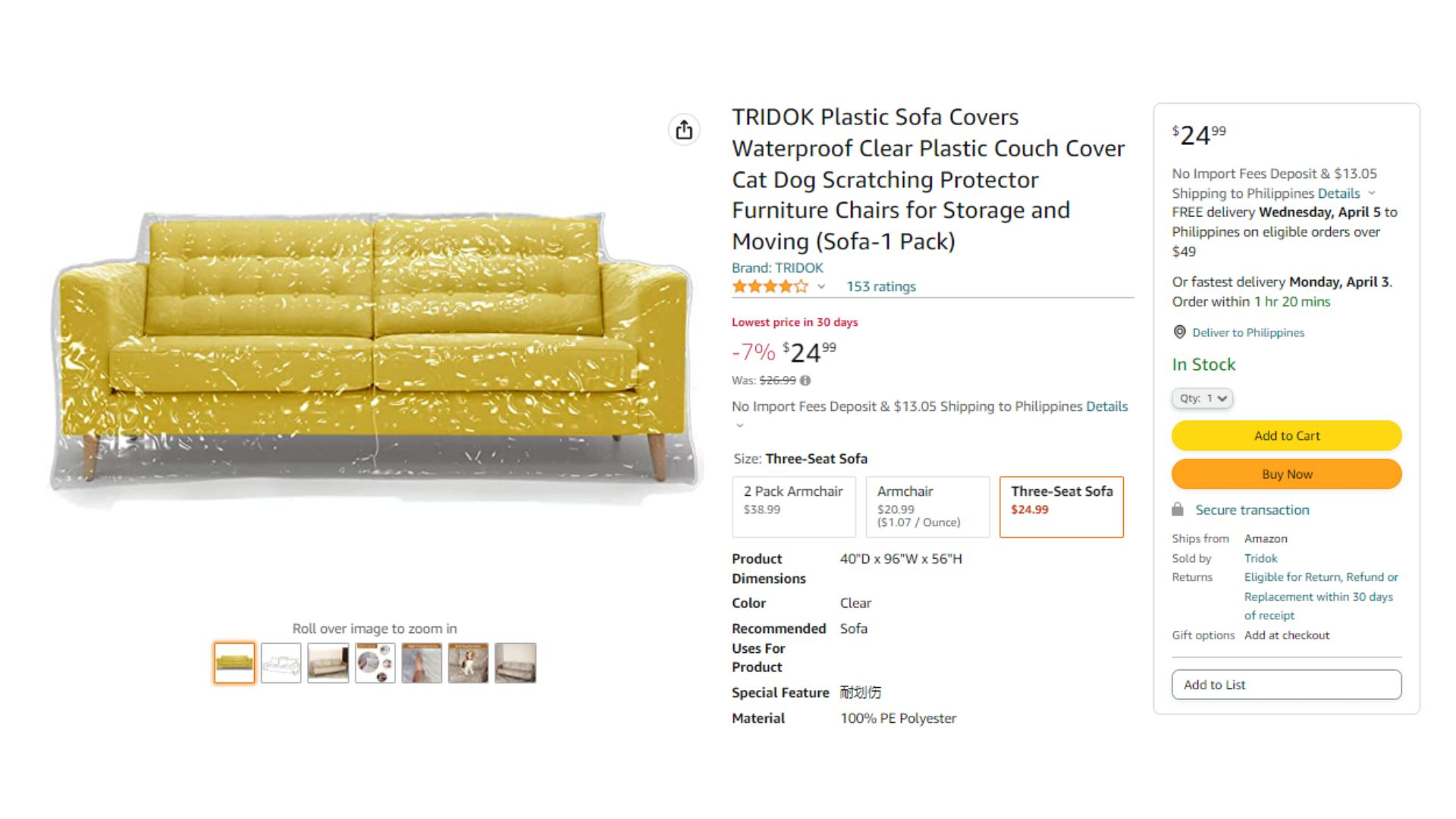 In conclusion, a plastic cover for sofa is an excellent way to give your furniture pieces a fresh, new look without breaking the bank. With careful consideration of size and material, you can find plastic cover options that fit your style and budget. And with plastic couch covers offering lightweight portability, it has never been easier to refresh any room.
Thoughts
If you're looking for plastic covers for couches, AmadeusPlacticSlipcovers.com has you covered. We offer various plastic covers for sofas in different sizes and styles, along with helpful advice on the pros and cons of plastic covers. Plus, all our plastic covers are created to last and have a satisfaction guarantee! Plastic covers can easily give any room a fresh look without spending too much money. And because plastic covers are lightweight and portable, you can switch them up whenever you want for an effortless style update.
Check out our site, add it to cart and you will see results just like in Amazon.com Inc. If your encounter any trouble in server just refresh the site or contact our customer support. For more details, visit our site and shop plastic covers for couches today to give your furniture a fresh look and a change.